Richard Grenell, former acting intelligence chief to President Donald Trump, has not ruled out a bid to become governor of California if the campaign to recall Gavin Newsom succeeds.
Speaking to Newsmax on Tuesday night, Grenell told Trump's former press secretary Sean Spicer he was "going to focus on the recall signatures" when asked whether he would run against the Democratic governor in a recall election this year.
Although Grenell told the conservative network he had no plans to run in the scheduled 2022 election, the former U.S. ambassador to Germany did not rule out an earlier bid—should Republicans succeed in their efforts to recall Newsom.
Grenell told Newsmax: "I don't want to be cute about the governor's race, because I think it's incredibly important. I'm really focused on these long-term fixes. I think it's really important that we not have a flash-in-the-pan moment of candidates who aren't willing to fix California.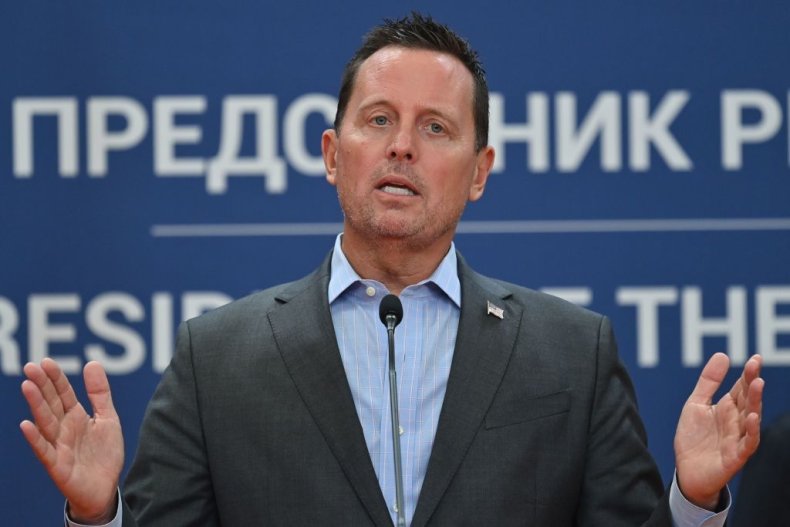 "I want to be able to go through and do the long-term changes in California. And so I've made it clear I'm not running for governor in 2022, because I think nobody should be running on a normal election cycle if we've got a lot of work to do."
Pressed on whether he would run as a recall candidate, Grenell replied: "I'm going to focus on the recall signatures at this point, Sean. That's as far as I'm going to go."
Politico reported last Friday that Grenell had started to interview campaign strategists and speak with potential donors in southern California as he laid the foundations for a run.
However, the former acting intelligence chief told the website it wasn't true that he had started interviewing staff, while another source close to the Trump ally said his decision could "still go either way."
Newsweek contacted Grenell via LinkedIn for further comment.
The Recall Gavin Newsom campaign has gathered just over 1.5 million signatures—the minimum number needed to put the measure on the ballot. However, the group aims to collect 2 million to account for any signatures that are thrown out by officials.
As the calls for Newsom's recall have grown, the California GOP has contributed $125,000 to the campaign, which has to submit its signatures by a March 10 deadline.
"This tremendous assistance from [the California GOP] will guarantee that we bring in enough additional signatures to hold Gavin Newsom accountable for his devastating performance as governor of California," said Anne Dunsmore, campaign manager for the Rescue California political action committee, in a statement on Saturday.
This article was updated to clarify how Newsweek reached out to Grenell for comment.