California GOP Donates $125,000 to Recall Gavin Newsom Campaign After Petition Hits Target
The California Republican Party announced plans to give $125,000 to the campaign to recall the Democratic Governor Gavin Newsom at the weekend, as a petition for his ouster hit its minimum target of 1.5 million signatures.
Funds from the California GOP are expected to be spent on hiring workers to gather more signatures for the petition, Associated Press reported, noting that the campaign had largely relied on volunteers.
The newswire also reported that the money was provided to the Rescue California political action committee, after the Republican National Committee's decision to pass $250,000 to the state GOP to boost recall efforts.
Speaking to the Associated Press, Rescue California campaign manager Anne Dunsmore said the recall campaign expected to gather another 400,000 signatures in light of the funding boost from the California GOP.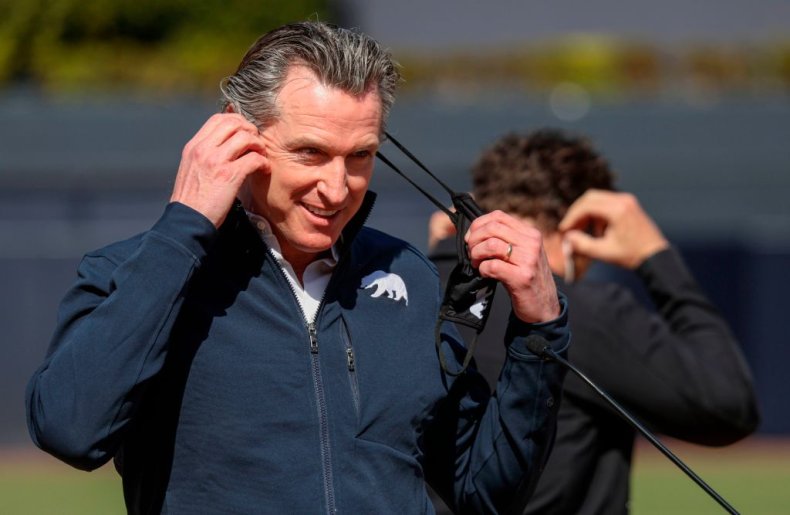 Newsweek has contacted the California GOP and Recall Gavin Newsom campaign for further comment. Gov. Newsom's office has also been approached for comment.
The Republican National Committee announced on Thursday last week that it was handing $250,000 to the California GOP to aid the effort to recall the state's Democratic governor amid lockdown measures and a stalled vaccine rollout.
"Gov. Newsom's authoritarian measures, blatant overreach and complete mishandling of the COVID-19 pandemic have proven that he is woefully unqualified to lead the state of California," RNC Chairwoman Ronna McDaniel told Politico in a statement last week. "It is time the people use their constitutional recourse to remove him from power."
Three major Trump donors also contributed a combined $325,000 to the recall effort last week as it approached its baseline target of 1.5 million signatures—the minimum number of valid signatures needed to put a recall on the ballot.
At the time of writing, the recall campaign claims to have more than 1.5 million signatures toward a goal of 2 million, a number that would counterbalance any signatures deemed invalid and tossed out by officials.
The deadline for the recall petition to be submitted with 1.5 million valid signatures is March 10, meaning campaigners have little less than a month to gather more than 400,000 signatures.
A poll published by UC Berkeley earlier this month found that Gov. Newsom's approval rating had plunged by 14 percentage points in the space of four months. Forty-six percent of California voters said they approved of his record in office, while 48 percent told pollsters they disapproved.
However, only around a third of Californians said it would be a good thing if the governor was recalled, compared to 49 percent who were opposed to the idea.