Former San Diego mayor Kevin Faulconer launched his bid to become governor of California on Tuesday night as Gavin Newsom's approval rating continued to dive after a poor start to the state's COVID-19 vaccine rollout.
Announcing his bid outside a closed school, Faulconer became the first major Republican figure to challenge Governor Newsom, who is facing the looming threat of a recall petition that has almost reached the required number of signatures.
The former mayor used his launch speech to criticize Newsom over state school closures, as well as his record on housing and economic policy. He dubbed his Democratic rival the "promise-breaker-in-chief" and called for a "California comeback."
"This is a movement to decide whether we stay in the past with Governor Newsom's one-party rule or we embrace a new future," Faulconer said. He then made promises to decrease homelessness and reduce taxes if elected governor.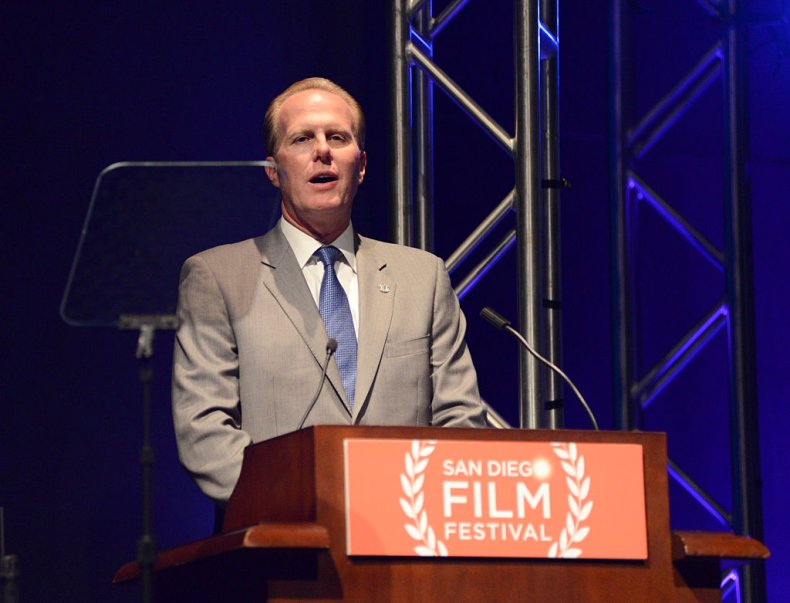 Faulconer levelled similar criticisms at Newsom in his campaign launch video, arguing that California had become "the land of broken promises" under the Democratic governor. He also pointed to the state's lagging vaccine rollout and Newsom's widely criticized decision to dine with around 10 other people at a high-end restaurant last year, flouting his own COVID rules.
"Governor Newsom's ruling class has failed us. They promised equality, but gave us some of the worst income inequality in the nation," Faulconer said. "They promised modern infrastructure, but can't even keep the lights on."
Newsweek has contacted the Kevin Faulconer campaign for further comment.
The ex-mayor launched his campaign on Tuesday as a poll conducted by UC Berkeley found that Newsom's approval rating had plunged by 14 percentage points over the past four months, with only 46 percent of California voters saying they approved of his record.
By comparison, 48 percent of the 10,000 California registered voters polled said they strongly or somewhat disapproved of Newsom's performance as governor, an increase of 12 percentage points on September last year.
A little more than a third of California voters also said it would be a good thing if the governor were recalled, while 49 percent thought it would be bad for the state. Thirty-six percent said they would vote to remove Newsom from office, while 45 percent said they keep him in his post. The US Berkeley poll was conducted online between January 23 and January 29.
The recall petition has so far gathered more than 1.3 million signatures toward a target of 1.5 million, according to the Recall Gavin Newsom 2020 campaign. Petitioners have another month to gather the required 200,000 signatures.