California's Recall Gavin Newsom Campaign Touts 'Major' Announcement after $250K GOP Boost
The Recall Gavin Newsom campaign has said it will be making a big announcement on Friday as the petition edged closer to its target, and the Republican National Committee put $250,000 toward efforts to unseat the California governor.
Speaking to Fox 11 Los Angeles on Thursday, Recall Gavin senior advisor Randy Economy said the campaign would be making a "major" announcement on Friday, and said the petitioners were "very close" to reaching the 1.5 million signatures they need to move forward with their recall effort.
At the time of writing, the campaign claims to have 1.4 million signatures to its petition so far, putting it most of the way to its 1.8 million signature goal—allowing leeway for any signatures that are thrown out or discounted.
"If I were to put this into a football thing, we're probably on the one-yard line," Economy told Fox 11. On Sunday, he tweeted a picture of a mass of papers in the campaign mail room, and claimed that his team had been "swamped" on Saturday.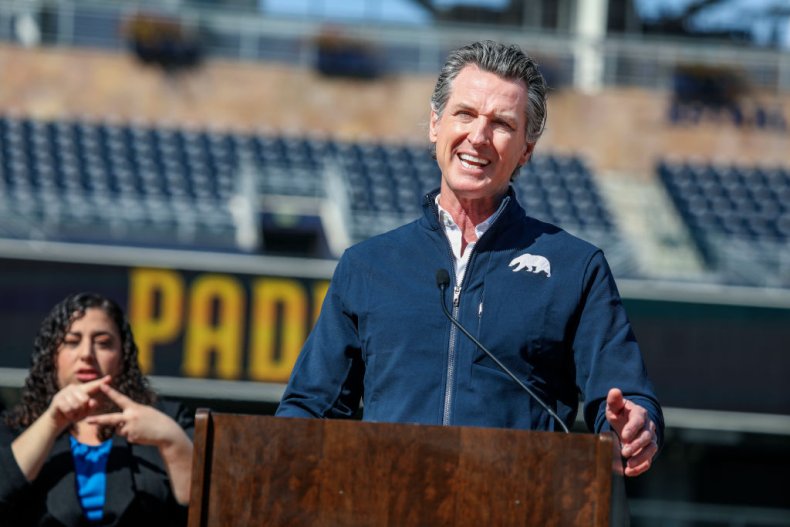 Newsweek has contacted the Recall Gavin campaign for comment on its expected announcement.
The Republican National Committee announced on Thursday that it was investing $250,000 into the California GOP to aid its efforts in helping the Recall Gavin Newsom campaign reach its signature target. Three major Trump donors also backed the recall effort with almost $350,000 in donations.
"Gov. Newsom's authoritarian measures, blatant overreach and complete mishandling of the COVID-19 pandemic have proven that he is woefully unqualified to lead the state of California," RNC Chairwoman Ronna McDaniel told Politico in a statement. "It is time the people use their constitutional recourse to remove him from power."
The California GOP chair Jessica Patterson also told the outlet that she was "thrilled" that her party was "united" behind the effort to recall the Democratic Gov. Newsom, and said holding the state leader accountable had become her "top priority."
The Recall Gavin campaign has a deadline of March 10 to submit a petition with 1.5 million valid signatures of residents calling on Newsom to be recalled for the option to end up on a ballot paper. If the campaign has the signatures it claims to have, it looks set to easily hit the target.
However, it is unclear how much luck they will have in ousting the governor from office. A poll conducted by UC Berkeley earlier this month found that, while Newsom's approval rating had plunged, only around a third of California voters said it would be a good thing for him to be recalled.
Forty-nine percent said the move would be bad for the state, and 45 percent said they wanted to keep Newsom in post, compared to 36 percent who wanted him out.