What Richard Sherman Said About Deshaun Watson Leaving Houston Texans
San Francisco 49ers star Richard Sherman has urged Houston Texans quarterback Deshaun Watson to "get out" of Houston as quickly as possible and head to the New York Jets.
Watson's future has been subject of speculations for several weeks now, with the Texans' star quarterback reportedly increasingly frustrated with the organization.
Earlier this month, the ESPN and NFL Network both reported Watson was "extremely unhappy" after feeling the franchise did not consult him over the hiring of new general manager Nick Caserio.
Meanwhile, Sports Illustrated indicated Watson's frustration stemmed from the Texans' decision to overlook his suggestion to interview Kansas City Chiefs offensive coordinator Eric Bieniemy for their head coaching vacancy.
While the Texans have since interviewed Bieniemy, their relationship with Watson appears to have deteriorated beyond breaking point. Over the weekend, ESPN's Adam Schefter said there was a "growing feeling" within the Texans that Watson may have played his last game for the franchise.
Watson is yet to formally request a trade, but Sherman urged him to force his way out of Houston at the earliest opportunity.
"If I was Deshaun, I would get out of there as quickly as possible," Sherman said in the latest episode of The Cris Collinsworth Podcast, which he co-hosts with Sunday Night Football's color commentator.
"I'd head to New York [...] The Jets. It would be the most beautiful [situation].
"A decent offensive line. They'd have to find threats. They'd have to find some offensive weapons. But I think there would be a lot more people excited to be there."
Houston signed Watson to a four-year, $177.5 million extension in September, which keeps him under contract through the 2025 season. As per figures from Overthecap, the Texans would have to absorb a $21.6 million hit in salary cap should they decide to trade their quarterback, whose salary will account for 8.6 percent of their total cap next season.
The Jets have been mentioned among the potential landing spots for Watson since rumors of his discontent first surfaced. The Jets draft bounty in the upcoming draft consists of nine picks, with five selections in the first three rounds including the second overall pick, which Gang Green received after going 2-14 this season.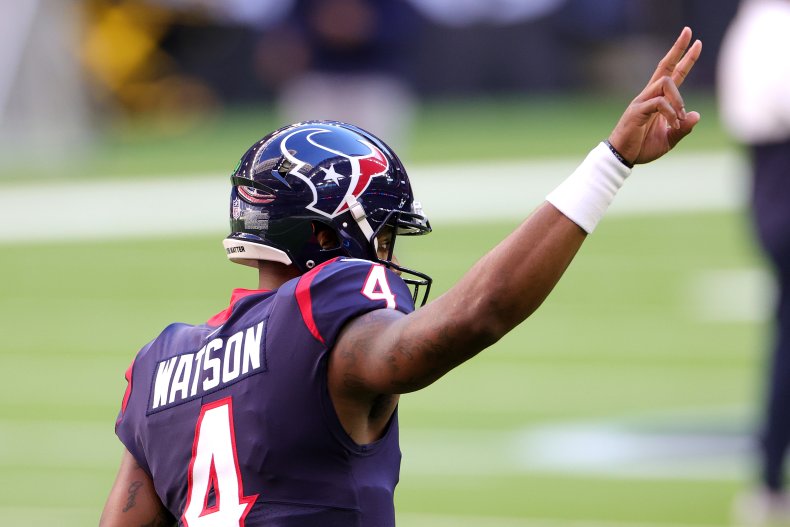 The latter pick would in all likelihood have to be included in any trade package the Jets may put together for Watson, particularly as a series of questionable trades have left Houston without a single first-round pick—the Texans landed the fourth overall pick in the upcoming draft but had already traded the selection to the Miami Dolphins.
Last week, the Jets appointed former 49ers defensive coordinator Robert Saleh—who worked with Sherman over the last three seasons—as their new head coach, while former 49ers passing game coordinator Mike LaFleur—the brother of Green Bay Packers head coach Matt LaFleur—will take over as offensive coordinator.
One of the topics at the top of Saleh's agent will be solving the franchise's quarterback conundrum.
The Jets could attempt to resurrect the career of Sam Darnold, whom they selected with the third overall pick in the 2018 Draft but has shown worrying signs of regression last season.
They could also use their second overall pick to draft another quarterback, presumably Ohio State's Justin Fields or BYU's Zach Wilson, as Clemson quarterback Trevor Lawrence is widely expected to be selected with the first overall pick by the Jacksonville Jaguars.
Alternatively, the Jets could combine Darnold and the second overall pick—together with other selections—in a trade package for Watson. Notably, as per figures from Overthecap, the Jets are projected to have $63 million in cap space available this offseason, the third-most in the NFL behind the Jaguars and the Indianapolis Colts.
"They're going to be able to put a team together, and if [Watson is] at the helm, they immediately become a contender in not only that division but the AFC in general," Sherman added.
The 49ers quarterback is far from alone in calling for Watson to leave Houston. Last week, former Texans wide receiver Andre Johnson, described the franchise as "pathetic" and prone to waste a player's best years.
"If I'm @deshaunwatson I will stand my ground," Johnson, who played for the Texans between 2003 and 2014, tweeted.
"The Texans organization is known for wasting players careers. Since Jack Easterby has walk[ed] into the building nothing good has happened in/for the organization and for some reason someone can't seem to see what's going on. Pathetic!!!"
Johnson's tweet found support from All-Pro wide receiver DeAndre Hopkins, whom the Texans surprisingly traded to the Arizona Cardinals in March.
"When Dre speak listen," Hopkins wrote as he retweeted Johnson's post.
Watson threw for a league-high 4,823 yards this season and his 112.4 passer rating was second only to that of MVP favorite Aaron Rodgers.
He led the league in both yards per attempt and yards per completion—8.9 and 12.6 respectively—and his 33 passing touchdowns were the seventh joint-highest tally in the NFL.
According to Pro Football Focus, Watson's 5,267 yards this season accounted for 83.5 percent of the Texans' offensive production, the highest percentage of its kind in the NFL.