Richard Spencer Reiterates Support for Biden, Disavows 'Useless' and 'Traitorous' GOP
White nationalist Richard Spencer reiterated his support for Democratic presidential candidate Joe Biden Tuesday, days after a spokesman for the Biden campaign rejected Spencer's endorsement.
Replying to a tweet Tuesday morning, Spencer wrote that he recognized how "ineffective, useless, and traitorous the GOP is," reaffirming his decision to vote for Biden in the November election.
Spencer, one of they key figureheads of the alt-right movement, initially voiced his plan to vote for Biden Sunday, tweeting the following day that "Liberals are clearly more competent." The messaging appeared to be a stark change in thinking for Spencer, who voted for President Donald Trump in 2016.
Spencer reiterated his support of the former vice president while responding to a tweet from professor and author Michael Rectenwald, who wrote Monday that Spencer's decision could be explained through Spencer's "rightwing collectivism."
"Spencer is a collectivist, and he found that Trump is not. But Biden and the Democrats are collectivists," Rectenwald wrote.
Collectivism is a movement which prioritizes the needs and goals of an entire group rather than those of individuals. Right-wing collectivism, as demonstrated during the 2017 "Unite the Right" rally in Charlottesville, Virginia, is "fascism, or, in its German form national socialism, nazism," writes professor Deirdre McCloskey in the preface to Jeffrey Tucker's book "Right-Wing Collectivism: The Other Threat to Liberty."
Spencer responded to Rectenwald's tweet Tuesday morning, agreeing with him but adding that Trump's 2016 messaging was "patently collectivist."
"This—along with being a chaotic, wrecking-ball force—was what made [Trump] unique and worth supporting," Spencer responded.
Spencer continued in another tweet, arguing that the GOP and Trump, and specifically his campaign's slogan "Make America Great Again," are still "'collectivist'" because the Republican Party "messages to 'normal white people,' with heavy Southern evangelical inflection."
Now, four years later, Spencer said he realized how "ineffective, useless, and traitorous the GOP is."
Newsweek contacted Spencer for further comment, but did not hear back in time for publication.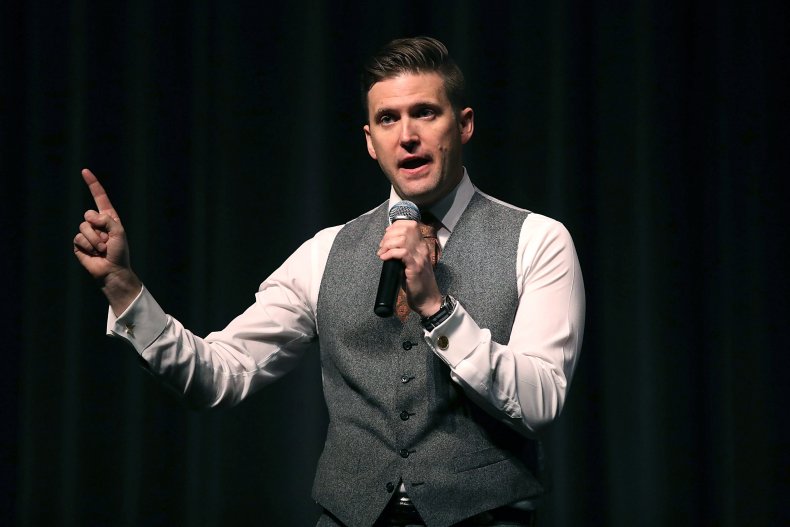 Spencer, 42, has been credited with creating the term "alt-right," according to the Southern Poverty Law Center (SPLC), who called him "a suit-and-tie version of the white supremacists of old."
"America was, until this last generation, a white country designed for ourselves and our posterity," Spencer said during a November 2016 event where he led a crowd in "hail Trump" chanting. "It is our creation, it is our inheritance, and it belongs to us," he said.
Spencer also spoke during the "Unite the Right" rally, which former Ku Klux Klan Grand Wizard David Duke, who endorsed Trump in 2016, also attended. Biden specifically criticized the event, which left one woman dead, in a video when his presidential campaign launched in April 2019.
"I wrote at the time that we're in the battle for the soul of this nation. Well, that's even more true today. We are in the battle for the soul of this nation," Biden said in the video.
Andrew Bates, the director of rapid response for Biden's campaign, replied to Spencer's tweet Sunday endorsing the Democratic candidate.
"When Joe Biden says we are in a battle for the soul of our nation against vile forces of hate who have come crawling out from under rocks, you are the epitome of what he means," Bates wrote. "What you stand for is absolutely repugnant. Your support is 10,000% percent unwelcome here."