Richard Williams Says Hitting Anyone Not OK Unless in Self-Defense: Report
Less than 24 hours after Will Smith slapped Chris Rock at Sunday's Oscars in response to a joke made about his wife, Jada Pinkett Smith, the man who Smith won the Best Actor award for portraying in King Richard has also weighed in.
Richard Williams, the father of tennis legends Serena and Venus Williams and the subject of 2021's King Richard told NBC News through his son Chavoita LeSane that he would never condone violence unless it is in self-defense.
"We don't know all the details of what happened," LeSane told NBC News of his father's response. "But we don't condone anyone hitting anyone else unless it's in self-defense."
LeSane, who has acted as a spokesperson for his father since Williams suffered a stroke in 2016, declined to comment to NBC News on Smith's acceptance speech in which he compared hitting Rock to Williams' actions defending Serena and Venus when they were younger.
"I look like the crazy father, just like they said about Richard Williams," Smith said during his speech. "But love will make you do crazy things."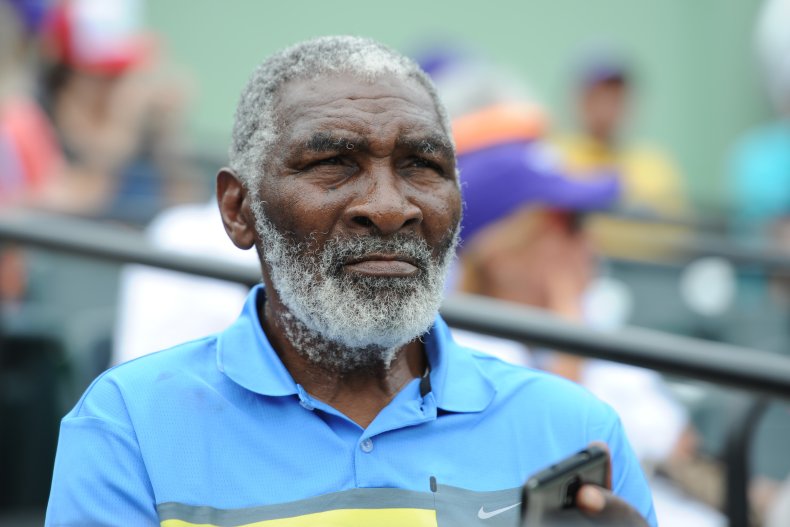 Earlier Monday, the Academy of Motion Pictures Arts and Sciences board said that it was exploring "further actions and consequences" against Smith for the incident.
After making a joke about another couple who were both nominated and possible difficulties that could arise if one won and one lost, Rock focused on the Smith family, pointing out that Smith was nominated for an Oscar while Pinkett Smith was not.
"Jada, I love you. G.I. Jane 2, can't wait to see it," Rock then said, referencing 1997's G.I. Jane, a movie in which Demi Moore plays the main character, a female soldier with a shaved head.
Pinkett Smith, who suffers from the hair loss disorder alopecia, was at the Oscars with her head shaved. Smith initially laughed at the joke, while his wife did not. Smith got up from his seat and approached Rock on stage, slapping him before angrily returning to his seat.
The audio was cut from American broadcasts as Rock and Smith both swore in the seconds following the incident, but international broadcasts that circulated across social media captured the ensuing interaction.
"Wow. Will Smith just smacked the s*** out of me," Rock said.
Smith, having returned to his seat, told Rock to "keep my wife's name out your f***ing mouth!" multiple times.
At this time, neither Smith nor Rock have publicly commented on the incident further.
Update 03/28/22, 6:32 p.m. ET: This story has been updated with additional information.