Uncensored TV Footage of Will Smith, Chris Rock Clash Watched 57M Times
Will Smith slapping Chris Rock proved to be a moment more dramatic than the movies vying for top prizes at the Oscars on Sunday—with uncensored clips of the incident clocking up more than 57 million views on Twitter.
Comedian Rock arrived onstage at Hollywood's Dolby Theatre to present an award when he cracked a joke at the expense of Smith's wife, Jada Pinkett Smith
"Jada, I love you. G.I. Jane 2, can't wait to see it," he said, referring to Pinkett Smith's shaved head, a result of her well documented battle with alopecia.
While Smith was initially seen laughing along with the joke, things soon took an expected turn when Smith stormed onto the stage and delivered a smack to the side of Rock's face.
"Wow. Will Smith just smacked the s*** out of me," said Rock as a stone-faced Smith departed from the stage.
On returning to his seat, Smith repeatedly bellowed to Rock: "Keep my wife's name out your f****** mouth!"
For U.S. audiences, the moment was censored. However, internationally, audiences in a host of other countries—including the U.K., Japan and Australia—watched the moment raw and uncut.
As such, it appears that clips from the broadcasts have proved particularly popular on Twitter, with one clip garnering 32 million views and another getting 25 million.
The incident dominated the remainder of the night, with Smith apologizing when he was named the winner of the Best Actor Oscar for his role in King Richard.
Shedding tears as he held his statuette, the actor said, in part: "I know to do what we do, you've got to be able to take abuse, you've got to be able to have people talk crazy about you. In this business, you've got to be able to have people disrespecting you, and you've got to smile, and you've got to pretend like that's OK.
"Denzel [Washington] said to me a few minutes ago, he said, 'At your highest moment, be careful. That's when the devil comes for you.' It's like, I want to be a vessel for love."
"I want to apologize to the Academy, I want to apologize to all my fellow nominees," he added, before joking that he hopes "the Academy invites me back."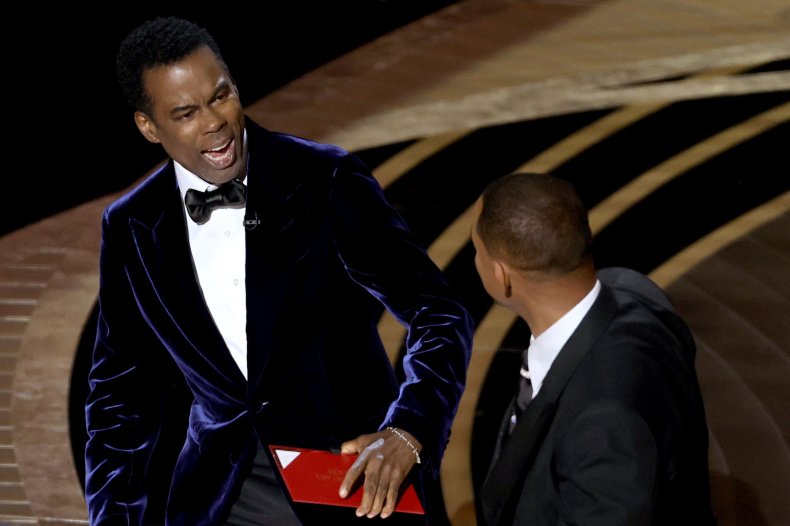 Following the broadcast, the Academy of Motion Picture Arts and Sciences (AMPAS) shared a statement on Twitter, in which the violence shown on the night was condemned in a single sentence, before the winners were celebrated.
"The Academy does not condone violence of any form," read the statement. "Tonight we are delighted to celebrate our 94th Academy Awards winners, who deserve this moment of recognition from their peers and movie lovers around the world."
Additionally, the Los Angeles Police Department released a statement on the incident, revealing that Rock has chosen not to file charges.
"LAPD investigative entities are aware of an incident between two individuals during the Academy Awards program," read the statement. "The incident involved one individual slapping another. The individual involved has declined to file a police report.
"If the involved party desires a police report at a later date, LAPD will be available to complete an investigative report."
Newsweek has contacted representatives of Rock and Smith for comment.