What Did Richie Incognito Do? Carl Nassib's Teammate Used Homophobic Language at Dolphins
Carl Nassib's historic coming-out declaration has had the knock-on effect of revitalizing controversy about his Las Vegas Raiders' teammate Richie Incognito.
Defensive end Nassib made history on Monday by becoming the first NFL player to publicly come out as gay.
"What's up people? I'm at my house here in West Chester, Pennsylvania. I just want to take a quick moment to say that I'm gay," the 28-year-old said as he shared the news via a video he posted on Instagram.
"I've been meaning to do this for a while now, but I finally feel comfortable enough to get it off my chest. I really have the best life, I've got the best family, friends and job a guy could ask for."
Nassib's announcement was widely praised by NFL commissioner Roger Goodell and several current and former NFL stars, including New York Giants running back Saquon Barkley, three-time Super Bowl champion Julian Edelman and Pro Football Hall of Fame quarterback Warren Moon.
Support from the Raiders, franchise owner Mark Davis and head coach Jon Gruden was similarly swift.
"It's 2021. All the more power to Carl," Davis told ESPN.
"It doesn't change my opinion of him as a person or as a Raider."
The Raiders tweeted they were "proud of you, Carl," while Gruden added: "I learned a long time ago what makes a man different is what makes him great."
The franchise's support is particularly significant as the Raiders have a player on their roster who was suspended for misconduct after repeatedly addressing teammates with homophobic and racially derogatory language.
Back in 2013, the NFL Players Association (NFLPA) investigated Richie Incognito's role in the alleged harassment of teammate Jonathan Martin.
Then of the Miami Dolphins, Incognito signed with the Raiders as a free agent in May 2019.
At the end of October 2013, Pro Football Talk and the Associated Press reported Martin, a second-round draft pick in the 2012 NFL Draft, had left the Dolphins facilities due to "emotional" reasons.
Reports from ESPN and CBS subsequently indicated Martin had briefly checked himself into a South Florida hospital for emotional distress. The Dolphins confirmed Martin had been excused with a non-football illness and expressed concerns about his wellbeing.
Shortly after the offensive tackle's abrupt departure, ESPN reported Incognito's role in the alleged harassment of Martin was under investigation by the NFLPA. The probe was broadened to look into allegations of workplace misconduct with the Dolphins and found Martin was not the only target of the abuse.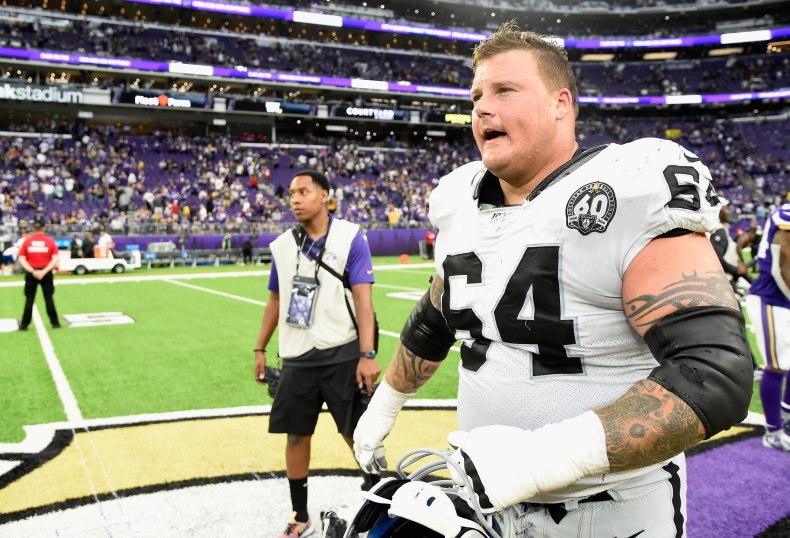 A 144-page independent report, released in February 2014 by investigator Ted Wells, found that Incognito and fellow offensive linemen John Jerry and Mike Pouncey engaged in a "pattern of harassment" directed at Martin, as well as another young unnamed offensive lineman and an assistant trainer, neither of whom were named.
"The Report finds that the assistant trainer repeatedly was the object of racial slurs and other racially derogatory language," Wells said in a statement at the time.
"That the other offensive lineman was subjected to homophobic name-calling and improper physical touching and that Martin was taunted on a persistent basis with sexually explicit remarks about his sister and his mother and at times ridiculed with racial insults and other offensive comments."
The report also found that then-Dolphins offensive line coach Jim Turner participated in taunting in "at least one occasion," despite being aware of a running joke over the sexuality of the unnamed offensive lineman.
Then-head coach Joe Philbin, however, was found to be unaware of the harassment directed at the trio, which spanned for approximately a year.
"The Report concludes that the harassment by Martin's teammates was a contributing factor in his decision to leave the team," the statement continued.
"But also finds that Martin's teammates did not intend to drive Martin from the team or cause him lasting emotional injury."
Incognito maintained Martin was never bullied by any member of the Dolphins' offensive line, and rejected the allegations he kept a "fine book" in which he and other offensive linemen fined players for cracking under emotional stress.
His claim that the treatment of Martin was simple locker room banter was dismissed as the latter actions were deemed to be "consistent with the behavior of a victim of abusive treatment."
Incognito's lawyer Mark Schamel, however, said Wells' report was filled with errors.
"It is disappointing that Mr. Wells would have gotten it so wrong," he said. "But not surprising."
Initially suspended by the Dolphins on November 3, 2013, Incognito missed the remainder of the NFL season. The ban was lifted in February 2014, just days before Wells released his report, but Incognito sat out the entire 2014 season before signing with the Buffalo Bills in February 2015.
One of the most controversial characters in the NFL, the third-round pick of the 2005 NFL Draft was suspended for two games in the 2019 season after being arrested at a funeral home in Florida a year earlier.