Ron DeSantis to Sue Feds if Florida's Billion-Dollar Cruise Industry Isn't Running by Summer
Florida GOP Governor Ron DeSantis said Friday he will file a lawsuit against the Centers for Disease Control and Prevention (CDC) if the agency doesn't lift a no-sail order against cruise lines that was put in place more than one year ago at the start of the coronavirus pandemic.
DeSantis joined Florida Attorney General Ashley Moody and the heads of Carnival, Royal Caribbean, Disney and Norwegian cruise lines last week at a Port Canaveral event to discuss the reopening of the cruise ship industry. DeSantis warned federal government officials that they must lift the order, which has kept all cruise ships docked since March 2020. The move cost the state more than $3.2 billion in revenue in just the first six months of the pandemic, the cruise industry executives said. Last week, the CDC told Cruise Lines International Association directly that it will not lift the order before November.
Moody said Friday that DeSantis' potential lawsuit will aim to get cruise ships sailing again by this summer. The filing would challenge the CDC order by saying it is based on now-outdated medical information.
"The [CDC] did the No-Sail Order in March of 2020…and it's never been really to the point where they're making an effort to really get it back," DeSantis said Friday. "This has a kind of ripple effect throughout all businesses. When they're sailing, there is more economic opportunity for people across a wide range of businesses. It affects a lot of jobs. What we need is a way forward."
Cruise industry leaders including Port Chief Financial Officer Michael Poole announced last June that the industry shutdown had already lost $50 million.
"The cruise industry is essential to our state's economy and keeping it shut down until November would be devastating to the men and women who rely on the cruise lines to provide for themselves and their families," the governor told attendees of the Friday roundtable. "I urge the CDC to immediately rescind this baseless no-sail order to allow Floridians in this industry to get back to work."
"Is it OK for the government to idle an industry for a year with no end in sight?" DeSantis continued.
The CDC sent an email to the cruise industry trade publication TradeWinds on March 24 which said the federal agency will not lift its no-sail coronavirus order any time before November. All cruise lines were forced to dock their ships since March 14 of last year at the outbreak of the U.S. pandemic. Industry representatives say that has cost Florida $3.2 billion alongside 49,500 jobs and $2.3 billion in wages.
"Cruising has resumed with effective health protocols in more than 10 markets across the world. We can do it in the U.S. too," the group said on Twitter. "Tell Congress to urge the CDC to allow for the responsible resumption of cruising in the United States."
On Monday, DeSantis criticized the Biden administration over a Washington Post report that said the president is considering implementing "vaccine passport" restrictions. The move aims to develop a credential system which would allow Americans to prove they have been vaccinated against the virus before traveling.
"We're not supportive of that," DeSantis said at a press conference at the Florida State Capitol in Tallahassee. "I think it's something that people have certain freedoms and individual liberties to make decisions for themselves."
"Had a great meeting about resuming cruises --@CDCgov should rescind its destructive no-sail order," DeSantis tweeted Friday, sharing a picture of him at the Port Canaveral event.
Newsweek reached out to DeSantis' Florida offices Monday morning for any additional remarks about the potential lawsuit on behalf of the cruise industry.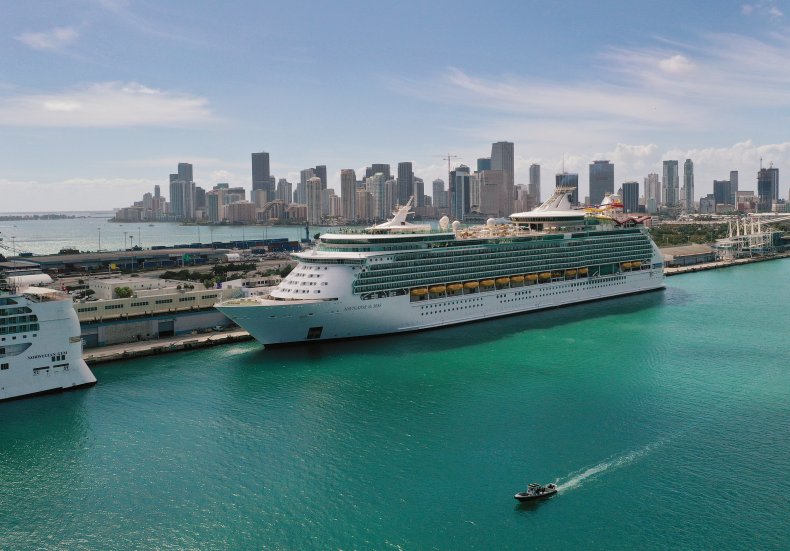 Correction (3/29/2021, 9:30 p.m.): An earlier version of this article and headline referred to Gov. Ron DeSantis as "Rick." Newsweek regrets the error.