'Rick & Morty Babies': How to Watch Adult Swim's April Fools Prank
Adult Swim has become known for its elaborate, involved April Fools pranks, and 2021 was no exception. The adult Cartoon Network strand teased it was regressing into childhood with Adult Swim Junior, a version of the cult network for kids. This strand began Rick & Morty Babies, a redubbed version of the beloved cartoon, but with kids doing all the voices.
How to watch Rick & Morty Babies
Adult Swim is currently running an Adult Swim Junior livestream on its YouTube page. The stream began just after midnight Pacific Time with a redubbed version of Season 2, Episode 4, "Total Rickall."
To fit the junior theme. The show made a few changes. The show was given a new set of opening titles, and show of the more adult language was made more kid friendly—Mr. Poopy Butthole is now named Mr. Poopy Butt Butt, and Rick's use of the word motherf***** has been changed to "motherscrubber."
At time of writing, Adult Swim Junior is playing a redubbed version of Aqua Teen Hunger Force, retitled (of course) Aqua Child Hunger Force. However, viewers can still find Rick & Morty Babies by clicking backwards on the timeline of the lives stream.
According to teaser trailers released by the channel, they have a whole block's worth of unadulterated shows to come this April Fools Day. Among the shows getting the Adult Swim Junior treatment are The Venture Brothers (retitled The Venture Nephews) and Harvey Birdman, Attorney at Law (Harvey Birdman: Junior Associate). Ads have also featured former Adult Swim shows but with characters redrawn as babies, with The Boondocks' Huey Freeman riding a tricycle and the stars of Metalocalypse all in a crib together.
This is the latest in a series of April Fool Day pranks from the channel. This began in 2004, when they aired their shows as normal but with mustaches drawn on the characters.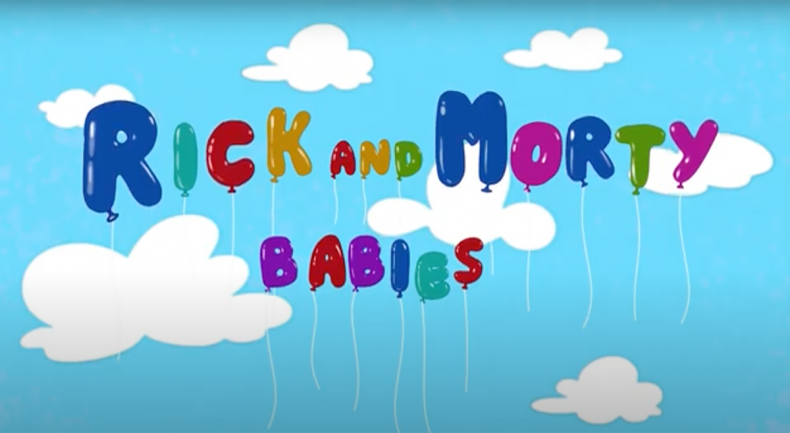 Other pranks the network has performed include playing animes Fullmetal Alchemist and Ghost In The Shell: Stand Alone Complex with fart noises added to the dialogue (in 2006), replacing its programming with the movie The Room (in 2009, 2010 and 2011), and replacing all the faces in its live action shows with cat faces (2013).
In 2016, things took a meta-turn, as the network hyped their yearly stunt with numerous ads, only for shows to air as normal as a kind of anti-prank.
Rick & Morty Babies is just the latest in a line of Rick & Morty-themed April Fools stunts performed by the channel. In 2017, for example, they released the Season 3 premiere of the show as an April 1 surprise, three months before it was supposed to air. The following year, they released Bushworld Adventures, an Australian parody of Rick & Morty.