Rick Perry Denies Quid Pro Quo in Ukraine Scandal Following Mulvaney's 'It Happens All the Time' Remarks
Outgoing Department of Energy Secretary Rick Perry denied Friday there was any quid pro quo request made to Ukraine by President Donald Trump so that the country would investigate former Vice President Joe Biden and his son in exchange for U.S. military aid.
This despite acting Chief of Staff Mick Mulvaney admitting to reporters less than 24 hours earlier that there was a quid pro quo, contradicting weeks of denial by Trump and Republicans.
"There was no quid pro quo in the sense of what those folks out there would like for it to be," Perry told Fox News' Bill Hemmer. "That we're [not] going to give you this money unless you investigate Joe Biden and his son."
Mulvaney, during a rare White House press briefing on Thursday, said that Trump wanted corruption in Ukraine and the conspiracy theory that the hack of the Democratic National Committee in 2016 originated in Ukraine rather than Russia to be investigated before some $400 million appropriated by Congress to help combat Russian aggression would be released.
Text messages between top diplomats have also shown that Trump wanted Burisma, the Ukrainian energy company that Biden's son, Hunter, sat on the board of, to be investigated. There has been no evidence of wrongdoing by the Bidens.
"That's why we held up the money," Mulvaney said. "Get over it. There's going to be political influence in foreign policy."
In a statement Thursday night, the acting chief of staff directly contradicted his own remarks, claiming he did not admit to a quid pro quo.
The foreign aid was put on hold leading up to the July phone call between Trump and newly elected Ukrainian President Volodymyr Zelensky, a conversation in which Trump said his Ukrainian counterpart needed to do him a "favor."
Perry said there were stipulations Trump wanted Zelensky to agree to before his visit to the White House, such as promising Ukraine was "going to be transparent." He pushed back against the notion that Trump wanted Zelensky to investigate Hunter for his Burisma board membership in exchange for U.S. aid.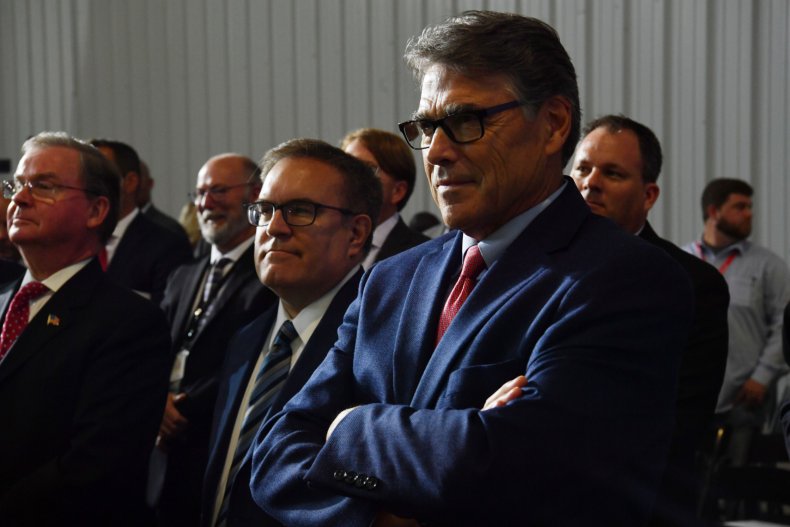 Perry, who announced his resignation this week after becoming a central figure in House Democrats' impeachment inquiry focusing on the Ukraine scandal, said his decision to leave the administration had "absolutely nothing to do with Ukraine." Democrats want to question Perry about his various trips to the country, among other things.
Concurring with what U.S. diplomats have told lawmakers spearheading the impeachment investigation behind closed doors, Perry said he pushed for Trump and Zelensky to speak by phone but was unaware of any discussions about Joe and Hunter "anywhere, anytime, in any conversation."
But he said Ukraine did need "to do some things" before the administration would agree to hosting Zelensky at the White House. Trump would not "send American money to a country that had a history of being corrupt," Perry explained.
"They have to show us they're going to respect the rule of law—you're going to be transparent, they're going to unbundle their midstream gas company," Perry said. "All of those things were part of him coming in. And I think that's completely and absolutely legitimate. That's what we're supposed to be doing."
In a private deposition on Thursday, U.S. Ambassador to the European Union Gordon Sondland told lawmakers that Trump's push to involve his personal attorney Rudy Giuliani in Ukraine policy matters was against his wishes, as well as those of Perry and former U.S. special envoy to Ukraine Kurt Volker.
However, Perry said that was not his stance regarding Giuliani. "You know, I respect the State Department, but I happen to know people in the energy industry that are smarter than the State Department folks," he said.