Rick Scott Claims Democrats Will Use Voting Rights Bill to Cheat in Future Elections
Florida's Republican Senator Rick Scott recently claimed that a voting rights bill championed by Democrats could be used to commit fraud in future elections.
While speaking to Fox News' Trey Gowdy on Sunday, Scott pushed back against plans to alter the current legislative filibuster. Scott also criticized the Democratic Party, calling them the "anti-democracy" party that only cares about winning elections, no matter the cost.
"If you look at the Democrat Party now, they are the ones that are anti-democracy, they talk about packing the Supreme Court," Scott said. "They don't want you to show your I.D. to vote...and by the way, your signatures don't have to match if you use mail-in voting, and we'll have ballot harvesting....and the unmonitored ballot boxes that is good because that could help us cheat. What the Democrat Party is they are the anti-democracy party. That's what they've become."
The comments come as many prominent Democrats attempt to pass the Freedom to Vote Act and the John Lewis Voting Rights Advancement Act. The Freedom to Vote Act is touted as "the most comprehensive democracy reform enacted in decades" and will include revisions to early voting, mail-in voting, voter validation, disabled voter protection and voting rights restoration, according to the Brennan Center for Justice.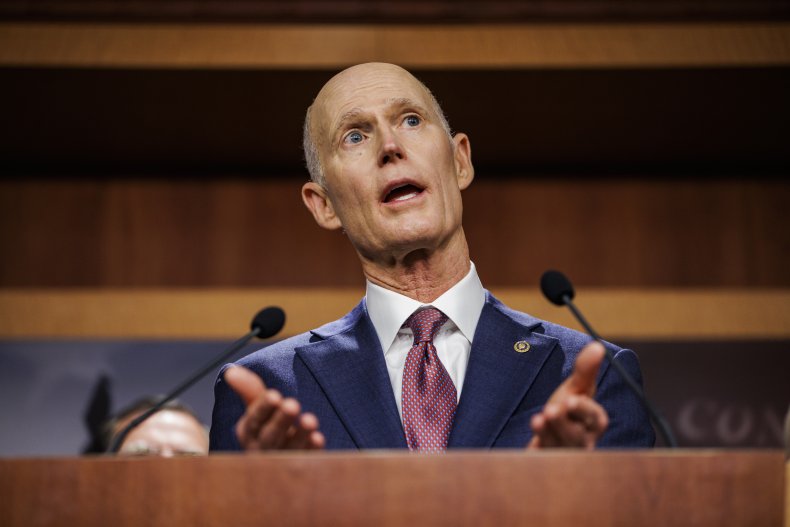 In a similar fashion, the John Lewis Voting Rights Advancement Act is described by the Human Rights Center as a way to "strengthen voting rights by expanding and strengthening the government's ability to respond to voting discrimination" to people of color and LGBTQ+ individuals.
Democrats are now currently planning to use current Senate rules to open debates on the acts after attempts to change them garnered controversy. Despite the outcry from mainly Republicans, Senate Majority Leader Chuck Schumer said that the current filibuster needs to be changed.
"If Republicans continue to hijack the rules of the Senate to prevent voting rights from happening, if they continue paralyzing this chamber to the point where we're helpless to fight back against the Big Lie, we must consider the necessary steps we can take so the Senate can adapt and act," said the New York Senator last week.
President Joe Biden has also expressed similar views.
"I believe the threat to our democracy is so grave that we must find a way to pass these voting rights bills," he said in an address last Thursday. "Debate them, vote, let the majority prevail. And if that bare minimum is blocked, we have no option but to change the Senate rules, including getting rid of the filibuster for this."
Scott has been outspoken about his distrust of the Democrats' plans. Last week, he condemned the "flip-flopping" that he said the Democrats were doing in order to pass the voting rights acts "so they can jam through a bill that would completely upend America's current election system."
Newsweek reached out to Senator Scott's office for comment.