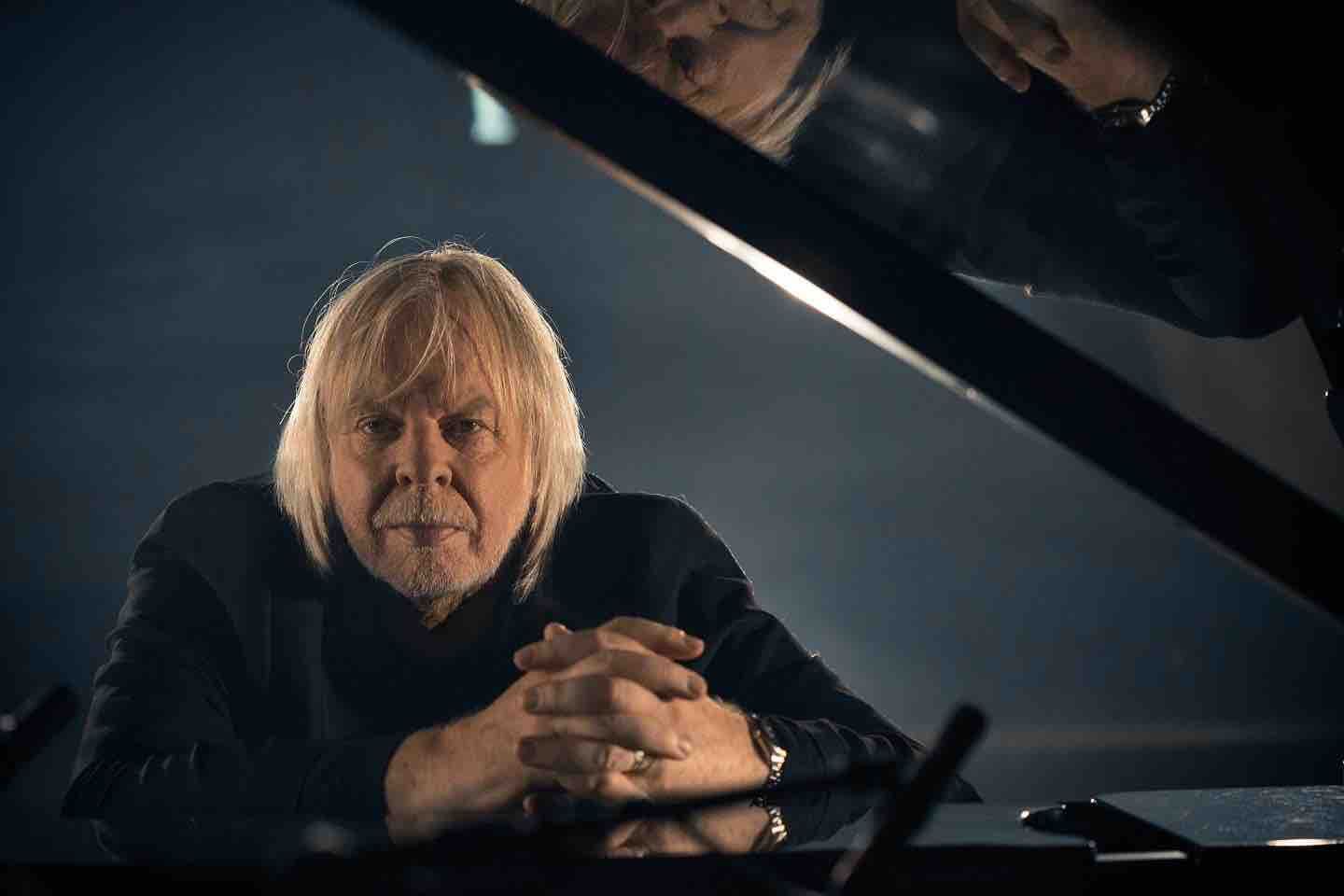 A little more than a year ago, former Yes keyboard wizard Rick Wakeman was on a radio show in the U.K., speaking about one of his main mentors, the late David Bowie. Near the end of the program, the producers informed Wakeman, who performed on Bowie's 1971 album, Honky Dory, that there was a piano in the studio next door. "They asked me, 'Would you finish the show by playing "Life on Mars"?'" Wakeman tells Newsweek.
His stirring performance of the song was webcast on BBC Radio 2's Simon Mayo Drivetime and racked up more than 2 million hits. "Then I literally got thousands upon of emails saying, 'You need to record this for a charity,'" he recalls. Wakeman recorded new piano versions of "Life on Mars" and Bowie's groundbreaking "Space Oddity" (he played mellotron on the song's original version), and the royalties went to Macmillan Cancer Support.
Then, after receiving plenty of phone calls from record labels, Wakeman decided to get moving on his latest album, Piano Portraits, a 15-song set featuring solo renditions of the two aforementioned Bowie classics, Yes's "Wondrous Stories," Led Zeppelin's "Stairway to Heaven" and the Beatles' "Help!" and "Eleanor Rigby," as well as pieces by Debussy and Tchaikovsky and other material. "Nearly all the tracks have a memory for me somewhere down the line, and it just seemed to work," Wakeman says.
But one song, Queen's "Bohemian Rhapsody," didn't work the way he wanted. "We must have spent two solid days trying all different ways, but for whatever reason, I couldn't make it work," Wakeman says. "It's weird like that. I know it sounds silly, but it was very important with these pieces that at the end of the day I was happy."
Last year, the prog-rock legend joined forces with one of his former Yes bandmates, singer Jon Anderson, and another ex-Yes man, guitarist Trevor Rabin, in ARW, which is now on tour.
Wakeman also has a famously grumpy side. Some of the TV and radio appearances he has made over the years include the BBC comedy series Grumpy Old Men. In 2008, Wakeman toured with his Grumpy Old Picture Show, featuring an evening of music and stories from his career.
Wakeman reminisced about working with Bowie, recording Yes albums such as Close to the Edge and Going for the One, and performing with the Strawbs in the late '60s, and he discussed his animal rescue work (he recently saved an Asian black bear, or moon bear, via Animals Asia).
Piano Portraits is quite a departure from your previous solo albums. This time, you're certainly not playing a Moog or even a Hammond organ. Instead, it's just you and a piano.
The piano always will be my favorite instrument to sit down and play and perform at. I love all my keyboards, but I just love sitting at the piano. It's such an exposed instrument—it's an instrument where every single note has to count. It really is an extension of your arms and fingers and your whole body and mind.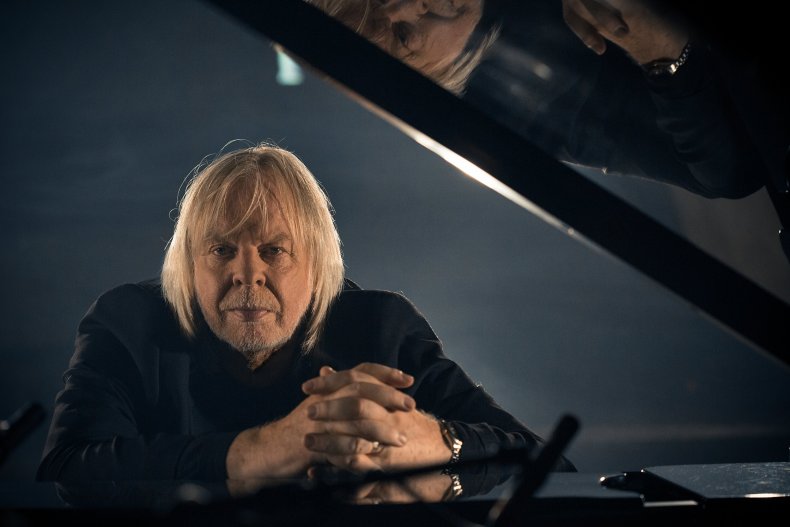 Your earliest sessions with David Bowie were for his song "Space Oddity." What was especially memorable about working with him?
I met first met him in 1968 and worked with him on "Space Oddity" and then on the Honky Dory album. David was incredibly influential to me. I learned more about how to work in a studio from David than anybody. He was tremendous in that respect. He was a very generous musician as a songwriter and singer. When I was in his house, he played for me, on an old, battered 12-string guitar, all the tracks that he was going to put on Honky Dory. I remember him playing "Life on Mars" to me. I sat at the piano at his house, a beautiful grand piano, and he said, "Look, think of this as a piano piece, and we'll work around what you do," and that's basically what I did.
Years later, I lived in Switzerland for four and half years, and David lived on the same mountain, a little bit further up; everybody lives up the mountain in Switzerland! We used to meet up a lot and talk about music. And he spoke about [the importance] of working with musicians that you feel can contribute to your music, not just people that will do what you tell them to do. He was incredible. He didn't hold musicians back in any way.
After working on Fragile and Close to the Edge, you left Yes in early 1974, but then returned to the band in November of 1976.
When I joined again in November 1976, we all met up in Switzerland to record Going for the One, and I ended up staying in Switzerland. I got married there, and I lived in Montreux for maybe five years. There was a club in Montreux called the Museum Club. David and I, whenever we were both back from touring or working in the studio, we used to meet up at the Museum Club and put the world to right, politically and musically.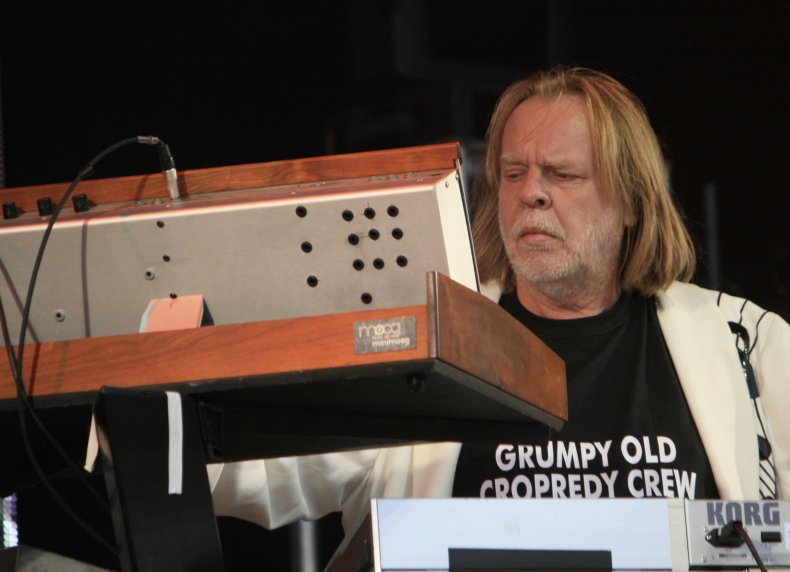 What did you and David talk about regarding Yes?
As you know, he asked me to join Spiders From Mars with [guitarist] Mick Ronson within the same day I got asked to join Yes. And I chose Yes. Even though David was miles bigger [in album sales] than Yes at the time, I felt that with Yes I would have the chance to put my own stamp on everything musically. As much as I absolutely adored David and what he did, there would be a level to how far you could go, because obviously it would be David's music and David's production, and I felt that the best move for me was to take the Yes option.
Interestingly enough, David said at the time that it was absolutely the right decision. I was never really sure whether he was just being polite [back then], but many years later, around 1977, '78, I remember sitting with him in the Museum Club and the subject came up, and he said, "You're tailor-made for Yes, it was absolutely the right decision." And all of a sudden, he said, "I change my musicians and everything around. So who knows what would have happened. You're where you belong."
Why did he feel you were such a good fit for Yes?
I must be honest, I don't recall him saying why. In many ways, funny enough, after he died, a year ago, on a radio station, I was asked about spending quite a lot of time in Switzerland with him. "What did you talk about?" I was asked. And I said we talked about everything. I wish that I'd had a tape recorder and recorded those bits, because there are so many times when you're with somebody, you forget what you talked about.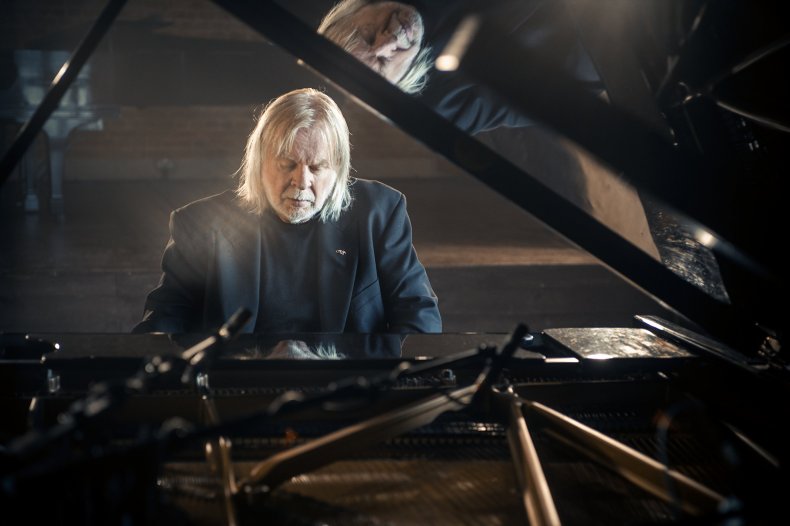 What has it been like collaborating again with singer Jon Anderson and working with guitarist Trevor Rabin in ARW?
Trevor is fantastic. Trevor and I have a sort of musical telepathy; I sort of instinctively know what he's going to do, and he instinctively knows what I'm going to do. Jon is singing better than ever. And Lee Pomeroy on bass—I don't think there's any doubt that he's probably one of the finest bass players there is at this moment in time. And Lou Molino, who is a great friend of Trevor's, on drums, is just outrageous. Call it a Yes lineup, whatever you like—it's undoubtedly the most musical and the most technically able Yes lineup I've ever been in. It seemed like nothing was impossible. It was very strange when I think: a bunch of old-age geezers up on the stage playing away. We did a tour that a lot of bands wouldn't have tried in their 30s, and we just loved every minute of it.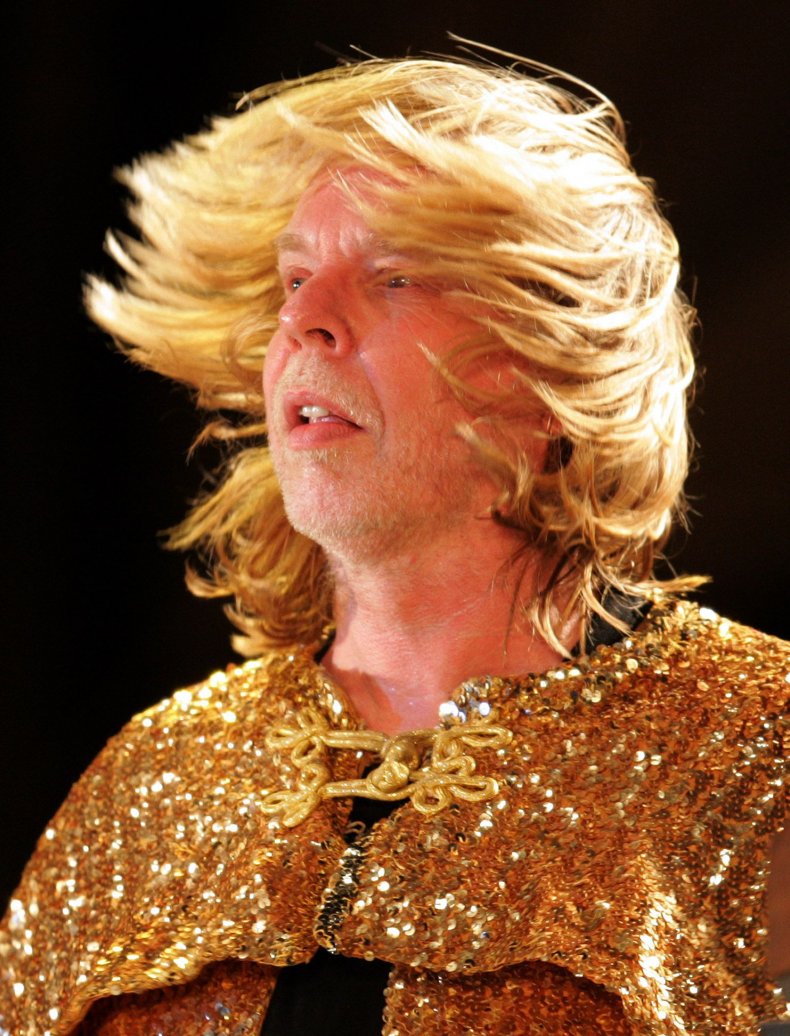 You're performing some quintessential Yes material, including "And You and I" and "Heart of the Sunrise," with ARW. What's been going through your mind while playing those pieces?
I couldn't help think that back in the early '70s, Yes was actually way ahead of the game. I don't think we realized it. Trevor and I, when we first talked about getting back together, we talked about how do we treat the pieces that I'd never played on and the pieces that Trevor had never played on, and we came up with this idea of, How would I have played it if I had been in the band then? Trevor did that on pieces like "Awaken" and "Heart of the Sunrise," and I did exactly the same on pieces like "Rhythm of Love."
Interestingly, you guys opened the ARW show I attended in Red Bank, New Jersey, with "Perpetual Change." Neither you nor Trevor played on the studio version of that song.
That's right, and that was quite deliberate. We wanted to open with something that nobody would suspect that we would even think about doing. We actually started playing it for fun in one of the rehearsals. And Lee Pomeroy came up with the idea, he said, "'Hey guys, if you really wanna be off the wall, why don't we stick 'Cinema' before 'Perpetual Change'? And by the time we finish that," he said, "nobody would have a clue what we're going to do!"
The show certainly kicks off in a tuneful way with "Perpetual Change."
I think certainly in the '70s and '80s, melody was very, very important in Yes music. That will always stand out. You can be as technically clever as you like, but unless you get melody, songs, interesting lyrics and good structure, you won't stand up with a musical performance.
But of course Yes was also able to be extremely clever with its instrumentation.
What was fantastic about Fragile and Close to the Edge, those two more than anything else, was that it was the glory days when record companies and management left you alone in the studio. We had that freedom. We were experimenting all the time; some things worked, some things didn't work. Some things we knew why they worked, other things we have no idea why they worked. And we never had a record company go, "Ah, we need a three-minute single; ah, we need this." Or "you gotta think about this." In fact, I can remember the late. great Ahmet Ertegun said to me, "I never understood a note of it, but I just knew that I loved it and so did millions of others. Why am I gonna interfere?"
Unfortunately, and certainly in the late '80s, record companies were very much taken over by accountants, and then they started with "Oh, we need this, oh, we need that."
What especially comes to mind about your keyboard work on Close to the Edge's title track?
Well, on Close to Edge, the thing that sums it up—which I always wanted to do—was to have two distinct organ sounds, one being the Hammond organ and the other being the church organ [played at St. Giles-without-Cripplegate in London]. And on the "Close to the Edge" track, I got them both in. So to put those two in, on top of all of your mellotrons and your Moogs, that's fantastic. So "Close to the Edge" was always for me something of a fist-waver where we went, "Yeah! That really works." I think to some extent some of those pieces, in prog-rock terms, from that time were probably as near perfect as you can get them. We pushed everything to the absolute limit.
Back in the '70s, another band that pushed prog rock to the outer limits was Emerson, Lake and Palmer. Can you talk about your relationship with Keith Emerson?
Keith and I used to talk a lot. [ELP's keyboardist died last March.] When we looked back on some of the stuff that we played now, we both agreed that if we had been given a printout of our stuff to play, we couldn't have played it. "We played that? Did we really do that?"
Do you feel that you and Keith influenced each other?
It was widely reported that he and I were great rivals; we were actually great friends. Right up until his very sad passing. When he was in England, we used to meet regularly for lunch. I spent a lot of time talking to Keith. He was very depressed about the problems that he had, health-wise, with his hand. Not being able to play as he knew he wanted to play was incredibly frustrating for him. I can't imagine what it would be like not to be able to play as you want to play. The tragedy is that Keith had so much to offer, in production, in writing and other things that he could do. I went to Keith's funeral, which was very sad.
We lost too many music greats last year: Keith, [ELP's] Greg Lake, David Bowie, George Michael, Prince…
2016 was one of the saddest years I can remember. I don't want to waste another minute. I was once asked what I would want on my tombstone, and I said, "It's not fair, I'm not finished yet." When [Deep Purple keyboardist] Jon Lord died, I said the eulogy at his funeral. Jon and I had talked so much about what music we wanted to do together.
In December 2016, it was announced that Yes would be inducted into the Rock and Roll of Fame. A few days after announcing your refusal to attend Yes's induction, you changed your mind due to the hall's decision to pay special tribute to Chris Squire [Yes's co-founder and longtime bassist, who died June 27, 2015]. It's still unfortunate that Yes, Deep Purple and other groups have been inducted at a time when members of those groups are no longer with us.
I find it very sad. When the Who got in, no John Entwistle; when Deep Purple got in, no Jon Lord. And now you're in a situation with Deep Purple, who are very likely to be coming to the end of their playing career, and there's [now] only one member from the original lineup in the band, Ian Paice. And Ian's recovering well from his stroke, but he's had a bad time. You know, induct people when they've got plenty of life in the old dog. Why do this?
And Chris Squire was inducted, and he's not here. I think the whole thing needs looking at. I've been to the Hall of Fame [in Cleveland] quite a few times. I pushed for Yes to go in when I wasn't even in the band, in the '80s, after [the album] 90125. I thought, Gosh, if ever there was a time to get in, it's now.
Chris Squire certainly expanded the role of the bassist in rock music.
I loved Chris to bits. When he was playing, he was just fantastic. When you were waiting in the hotel lobby for him to come and you're gonna miss your plane, because he was always at least two hours late, I wanted to kill him. I love the man to bits. Obviously, him and John Entwistle, I think they did more for bass playing in the 20th century than anybody. And in fact, their heritage will continue for many, many years to come.
Chris accepted that he was the bottom end of everything, but he always felt that there was more to the instrument than that. It's interesting, you mentioned the word melody earlier. That's what Chris brought to the bass. He thought out every line. He thought of the bass as being a melodic instrument, and he used every fret, from top to bottom. And he inspired so many bass players, including Lee Pomeroy, who plays with us [ARW] now.
Over the years, you've worked with a diverse array of music artists, including Black Sabbath—you performed on their 1973 album, Sabbath Bloody Sabbath.
We're still great, great, great friends. And my son, Adam, has played with Sabbath and Ozzy [Osbourne] for years. I'm a huge Sabbath fan and a huge Ozzy fan. I worked with him on his Ozzmosis album [1995]. It's a prog-metal album. There are tracks on there that many prog bands would have been thrilled to have recorded. "Perry Mason" is still one of my favorite tracks of all time.
Never underestimate Ozzy, what he's thinking, what he can do and how he plays; he's a very clever musical guy. I love the man to bits. Tony Iommi, we've been mates for over 40 years. There's no doubt about it, Tony paved the way for metal as we know it today. He's also one of the most kind, loving, lovely men I've ever met. The same with Geezer [Butler]. What a lovely guy as well. People forget that Yes actually supported Black Sabbath in 1971 on an American tour, and I had a most wonderful time. I spent all my time with Black Sabbath, eating and drinking as much as humanly possible. It was hilarious. I had a wonderful time.
You've also been great friends with another legendary guitarist, Queen's Brian May, for many years.
We speak a lot. Apart from our musical loves, we both have a great love of space. He's a doctor of astrophysics. Plus, we're both heavily involved in animal welfare. So we've got a lot of things in common. Brian joined my band onstage and did "Starship Trooper," which is on a DVD, a few years ago. People have gone nuts for it. They would never have believed that Brian would get up there and do that. It was fantastic.
You've been committed to animal welfare and animal rescue for quite some time. Can you update us on that part of your life?
My wife and I have three rescue cats. And we help support two big rescue cat centers in the U.K. And we're a patron of a wonderful group called Friends of the Animals, based in the south of England, which saves and re-homes all sorts of animals, hundreds a year. Also, with Animals Asia, I'm heavily involved with saving moon bears in China, which are horrendously and cruelly treated in farms. Animals Asia has saved nearly hundreds of bears so far. In fact, my wife and I have adopted our own moon bear, called Cyril, who we love to bits.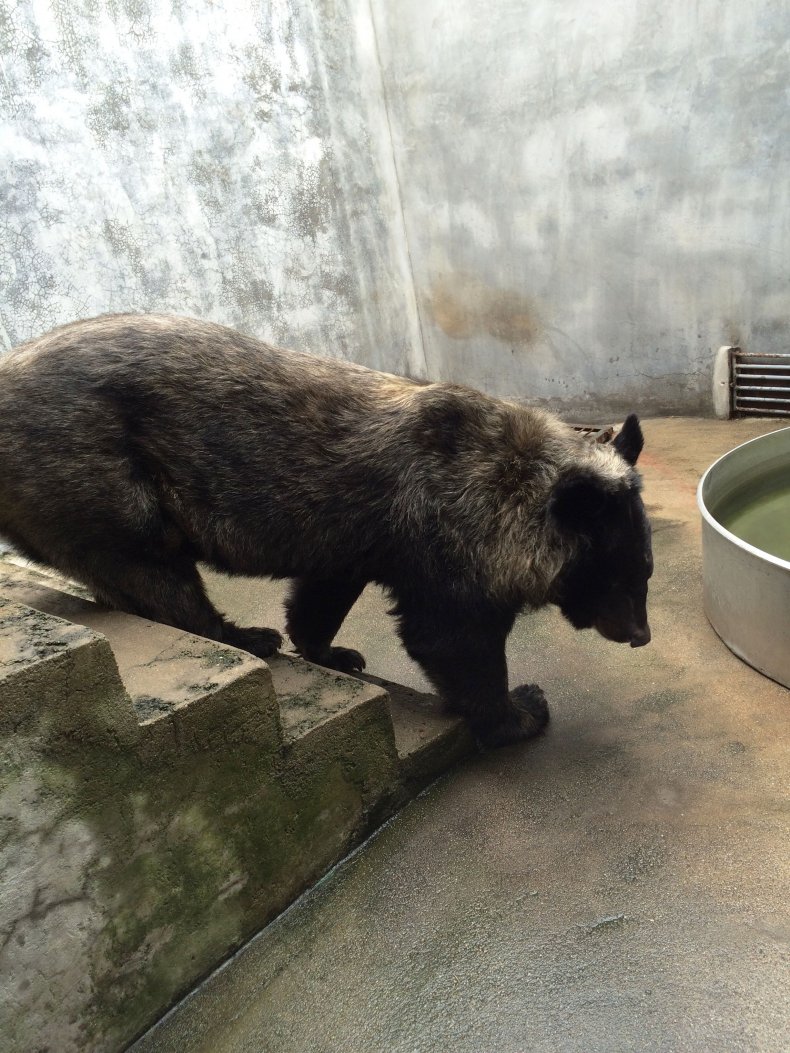 When we adopted Cyril, he hadn't had an official name. They said to me that he was a kind bear who loves people, and I couldn't help not think of my father. He died in 1980. And my dad was the kindest man that I'd ever met in my life. And so they said, Have you got any ideas for a name? And I said, Yeah, I'm gonna name him Cyril, after my father.
If you Google "Moon Bear Play Time," there are two bears on that particular little video clip, one called Harley and one called George. Both had been so cruelly treated, they never walked on grass before. The video was taken when they were first taken to the wonderful sanctuary in Chengdu, China, and there's a bit there that I've seen make people cry. A big child's paddling pool was put outside, and the bears jumped in and played like little children. It's just lovely.
What was happening in the world that prompted Yes to write and record the song "Don't Kill the Whales" for '78's Tormato album? And what do you remember about the making of that song?
At that time, there was a big thing about the harpooning of whales. Chris arrived at a rehearsal one day, and he picked up an acoustic guitar and said he had an idea for a chorus part. I'd gotten hold of a Polymoog, and the Polymoog can do some quite weird sounds. I said, "I can do whale noises on this," and I adapted one of the sounds to incorporate whale noises. By the end of the afternoon session, we put "Don't Kill the Whales" together.
Looking way back to the beginning of your musical career, you were a member of the Strawbs. Anything to say about your transition from the group to Yes?
When I joined Strawbs initially, they were very much a folk band. I loved Dave Cousins's songs and the very interesting chordal stuff that he did, because he used to tune his guitar in a very weird way. And there was also plenty of space to play around in, and I enjoyed that.
They [were an early] folk-rock band when they brought in John Ford and Richard Hudson, and that was very interesting, But it was clear that after [1971's] From the Witchwood that the band wanted to head in a more, what I call, poppy direction, which was not a direction that really appealed to me. I wanted a bit more out of the music, and that was when the opportunity came up, the same day, to join either Yes or Spiders From Mars. So the transition to Yes was great because I had an idea about what I wanted to do. I always wanted to bring an orchestral side to a band, which is ideal for keyboards, obviously, and Yes was the perfect vehicle.
ARW
2017 European Dates
March 12
Cardiff, U.K.
Motorpoint Arena
March 13
Birmingham, U.K.
Symphony Hall
March 15
Brighton, U.K.
Brighton Dome
March 16
Bournemouth, U.K.
Bournemouth International Centre
March 18
London
Eventim Apollo
March 19
London
Eventim Apollo
March 21
Nottingham, U.K.
Royal Concert Hall
March 22
Edinburgh, U.K.
Usher Hall
March 24
Glasgow, U.K.
Royal Concert Hall
March 25
Manchester, U.K.
O2 Apollo Manchester
March 27
Brussels
Cirque Royal
March 28
Utrecht, Netherlands
TivoliVredenburg
2017 Asian Dates
April 17
Tokyo
Tokyo Orchard Hall
April 18
Tokyo
Tokyo Orchard Hall
April 19
Tokyo
Tokyo Orchard Hall
April 21
Osaka, Japan
Osaka Archaic Hall
April 22
Hiroshima, Japan
Hiroshima Club Quattro
April 24
Nagoya, Japan
Nagoya Shimin-Kaikan Chu Hall
July 15
Loreley, Freilichtbühne, Germany
Night of the Prog Festival