Even for the Republican strategist whose book carries the title, Everything Trump Touches Dies, Rick Wilson's latest assessment of the U.S. president was particularly withering.
In an op-ed for The Daily Beast, Wilson said that the media conference that Donald Trump gave in the Oval Office on Wednesday with Finnish President Sauli Niinisto showed he was an unhinged leader who will take the Republican party down with him.
During a 16-minute rant, Trump's visible anger at the media, the chair of the House intelligence committee, Adam Schiff, and the whistleblower who sparked an impeachment probe against him, led Wilson to use an Islamist image he would draw on later, describing Niinisto as someone who "looked like he was the very unwilling star of an ISIS hostage video."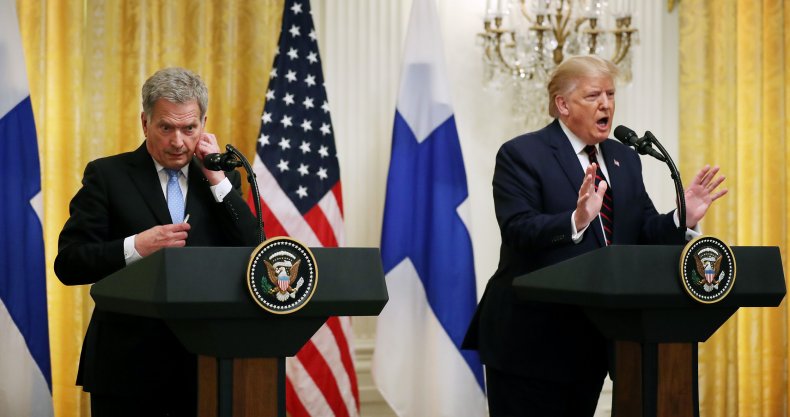 Wilson wrote: "In private, Republicans are in the deepest despair of the Trump era. They've got that hang-dog…fatalism of men destined to die in a meaningless battle in a pointless war.
"They've abandoned all pretense of recapturing the House, their political fortunes in the states are crashing and burning, and the stock-market bubble they kept up as a shield against the downsides of Trump."
He said that Republicans have held few town-hall meetings since early 2017 because they think that "Trump is the cancer they deny is consuming them from the inside out," and that they are "salesmen for a brand no one is buying."
Wilson said: "I have some bad news, Republicans. It never gets better. There is no daylight at the end of this tunnel.
"Trump is a suicide bomber, and you've strapped yourselves to him so tightly that when he explodes, you're going out to meet the 72 porn stars of the Trumpian afterlife with him. (Spoiler alert: They all look like Ivanka.)
"Trump's manic performance Wednesday was distressing to watch, even for his supporters. Far from being the master of transgressive politics, his anger and frustration are evident and ugly. He's lost control of the story and of himself.
"Trump can't keep the process running on his terms and his timetable, and it's driving him deeper into what I call the Eccentric Dictator Phase of his Presidency."
Many others took to social media to criticize Trump's performance during the press conference.
California Governor Gavin Newsom took exception to Trump's attacks against House Speaker Nancy Pelosi over her pursuit of an impeachment probe into claims the president pressured his Ukrainian counterpart to investigate election rival Joe Biden.
Newsom tweeted: "Actually watched your press conference—mainly just feel bad for the poor President of Finland who had to endure that."
Meanwhile, Bill Madden tweeted to his 125,000 followers: "We just witnessed the US president having a psychotic episode on live TV. The mental decline of Trump has been nothing short of stunning."