Ricochet and Aleister Black Have Final NXT Match at Takeover: New York; Triple H 'Concerned' During Finish
NXT Takeover: New York saw the final matches for Aleister Black and Ricochet on WWE's third brand.
After weeks of competing as a tag team, winning the Dusty Classic tournament in the process, Black and Ricochet fell to the NXT Tag Team Champions, the War Raiders in arguably the best match of the night.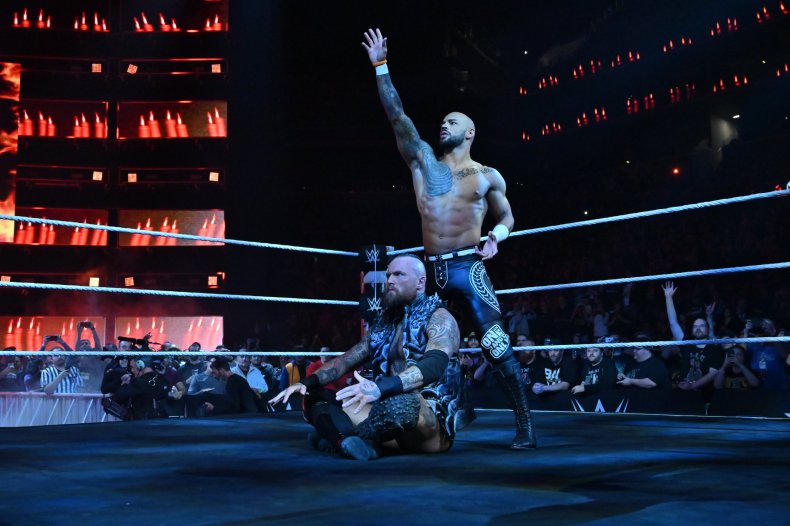 Following the pin, the sold out crowd in the Barclays Center gave both men an ovation to cap off their NXT careers.
"It's always a bittersweet thing," Paul "Triple H" Levesque told the media in a post-show conference. "You want that next challenge and in many ways you look at NXT as college football and you're leaving your school and teammates, and moving on to the next thing. You have to be able to step up... That's where the real work starts. So far [Black and Ricochet] have done it amazingly well and their future is incredibly bright for both of them. I told them both when they were done that this is always their home."
However, the end of their Takeover match left the audience and fans watching at home worried after Ricochet took the War Raiders' finisher, Fallout. It seemed the high-flyer took the move awkwardly, which left him laid out on the floor as a trainer came to the ring to check on him.
Triple H would give a brief update on Ricochet's condition after the show. "He's fine. It was an immediate concern. That's one of those things where we saw the landing and we all went into protection mode for him. Luckily he was good. We don't like to take chances on that."
But this isn't the end of the line for Black and Ricochet's WWE careers, both men will team up again in a Fatal Fourway tag match for the SmackDown Tag Team Championships at WrestleMania 35 this Sunday.
What did you think of the NXT Tag Team Championship match? How do you like Black and Ricochet's chances on Sunday? Let us know in the comments section below.