Right-Wing Activist Praises Rioters For 'Restraint' In Not Executing Lawmakers
In a recent video, right-wing conspiracy theorist and former FBI agent John Guandolo praised the rioting supporters of President Donald Trump for their "restraint" in not killing Congressional lawmakers while ransacking the U.S. Capitol on Wednesday.
"What happened at Capitol yesterday was incredibly restrained from my perspective," Guandolo said on the Thursday installment of Focus Today, a program of the Christian broadcast network The Dove. "I was there, I watched it, I was in and amongst it." The clip was first surfaced by Right Wing Watch.
"It is amazing to me that patriots haven't strung up these traitors already with the amount of evidence on the table of what they're doing," Guandolo continued. "[Senate Majority Leader] Mitch McConnell is an agent of the Chinese government, and has been for years, and we're just sitting and taking it. And then he dares to stand in the Senate, and lecture us about liberty and the Constitution."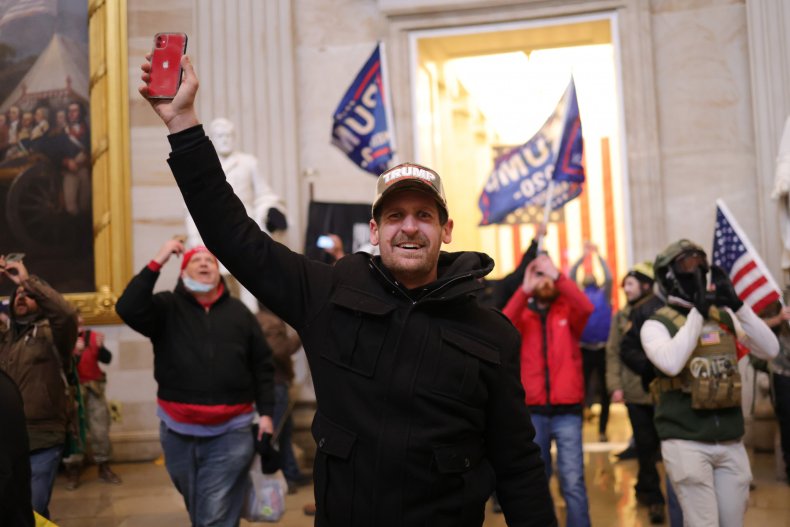 As Congress began the process of certifying the presidential election results on Wednesday, rioters outside entered the building. Police officers had to draw their guns inside the House chamber and all congresspeople were evacuated until the building was secure.
After the Senate reconvened, several Republican senators spoke out against the rioting and several who initially planned to object to certifying the Electoral College's votes in favor of President-elect Joe Biden said that they would no longer do so, in light of the violence that had occurred.
"This is the 2021 Boston Massacre," Guandolo said of Wednesday's insurrection at the capitol building. "This is a turning point. This is a point when patriots realized the U.S. Senate, run by Republicans, has turned around to patriots and flipped them the bird, again, for the 50th time in a row."
Guandolo's "Boston Massacre" comment may refer to the four rioters who died during Wednesday's riots: one was shot by police, one was trampled to death by other rioters and two died from medical complications while rioting. The five men killed in the 1770 Boston Massacre were all shot by British soldiers.
"A Republican Senate has opposed the president, has opposed the will of the people and has opposed liberty," Guandolo said of Senate Republicans failure to overturn the election results based on Trump's claims of widespread voter fraud which were dismissed in nearly 60 court cases due to lack of evidence.
"I don't see any other way out, then a real armed counter-revolution to this hostile revolution," he continued.
Progressive groups like Right Wing Watch and Muslim organizations have called Guandolo an anti-Muslim conspiracy theorist. In December 2019, Guandolo said the U.S. should bomb Mecca, Islam's holiest city, in retaliation for the mass shooting by a Saudi aviation student at the Naval Air Station in Pensacola, Florida on December 6.
Newsweek contacted Right Wing Watch for comment.