Right-Wing Pastor Blasts Trump for Vaccine Support: 'He Is Going to Lose His Voter Base'
Controversial right-wing pastor Greg Locke recently criticized former President Donald Trump for supporting coronavirus vaccines, insisting that Trump "is going to lose his voter base" if he continues to do so.
Locke, who previously touted election conspiracy theories in favor of Trump, told members of his church that he is "sick" of the former president promoting the protective COVID-19 measure.
"He was lied to and he knows it. And his arrogance won't let him change his mind. I'm telling you right now, on the authority of the Bible, if Donald Trump does not get out in front of this vaccine nonsense he is going to lose his voter base in the next coming election," Locke said during a recent sermon, according to a video posted by Right Wing Watch on Monday.
"He needs to quit pushing this mess. Because the greatest president that we've ever known is going to be blamed for more deaths than we've ever seen, and his arrogance won't let him see it."
Locke's comments come as Trump has repeatedly touted the efficacy of coronavirus vaccines and taken credit for their progress under his administration. Last month, Trump told conservative political commentator Candace Owens that the COVID-19 vaccine is "one of the greatest achievements of mankind."
"The vaccine[s] work, but some people aren't taking them. The ones that get very sick and go to the hospital are the ones who don't take their vaccine," he said, while adding "look, the results of the vaccine are very good. And if you do get it, it's a very minor form. People aren't dying when they take the vaccine."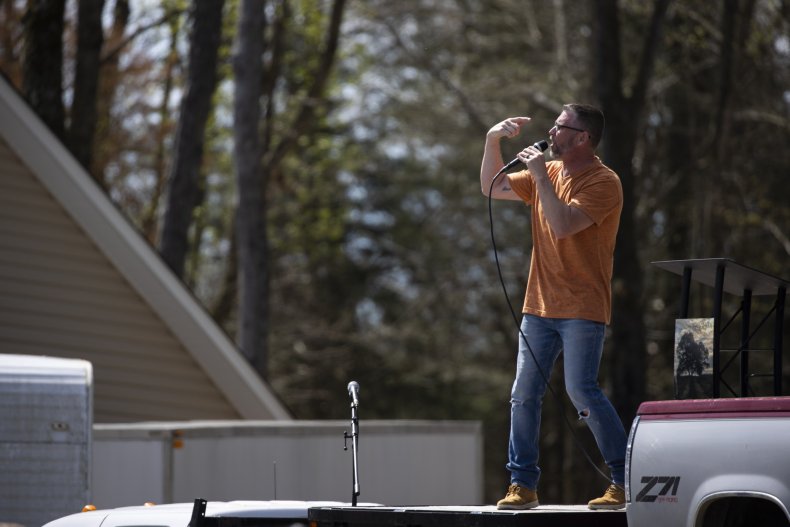 The former president also announced in December that he received his vaccine booster shot, which sparked anger and confusion among some members of his base. In Texas, a crowd booed Trump at an event when he revealed that he and co-host Bill O'Reilly were fully inoculated.
Locke, who heads the Baptist Global Vision Bible Church in Juliet, Tennessee, has long been a Trump supporter but has repeatedly pushed coronavirus misinformation. He has called the pandemic "fake" and discouraged his supporters from getting inoculated during sermons.
Locke has also supported conspiracy theories related to the 2020 presidential election and the QAnon movement and has referred to President Joe Biden as "demon-possessed."
The U.S. Centers for Disease Control and Prevention (CDC) maintains that COVID-19 vaccines are the most effective way to prevent infection and severe illness from the virus. According to the agency, over 74 percent of the U.S. population has received at least one dose of the vaccine, while more than 62 percent are fully vaccinated.