Donald Trump Touts COVID Vaccines, Says Those Dying and Hospitalized Didn't Get the Shots
Former President Donald Trump has doubled down on his support for COVID-19 vaccines, pointing out in an interview this week that most of those dying and hospitalized from the coronavirus have not received the life-saving shots.
Trump supporters and conservatives are among the groups most likely to reject inoculation, according to numerous polls. But the former president has repeatedly touted the efficacy of the vaccines, describing their rapid development as a signature achievement of his administration's Operation War Speed in 2020.
During an interview with Daily Wire host Candace Owens this week, Trump again touted the vaccines even as the conservative host attempted to cast doubt on their efficacy. He described the vaccine as "one of the greatest achievements of mankind."
"I came up with a vaccine, with three vaccines," Trump said. "All are very, very good. Came up with three of them in less than nine months. It was supposed to take five to 12 years."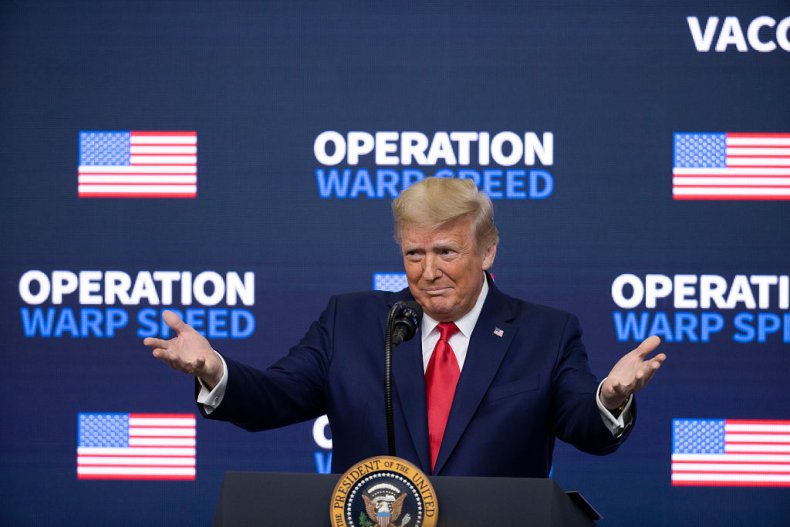 Owens then interjected, saying that "more people have died under COVID this year" despite vaccines being widely distributed throughout the country. Trump quickly cut her off, noting that the vaccines work and those dying and hospitalized are largely unvaccinated.
"Oh no, the vaccine[s] work, but some people aren't taking them," he responded. "The ones that get very sick and go to the hospital are the ones who don't take their vaccine. But it's still their choice, and if you take the vaccine you're protected. Look, the results of the vaccine are very good. And if you do get it, it's a very minor form. People aren't dying when they take the vaccine."
The former president's remarks came after he was booed at a Dallas event this past Sunday when he said he'd received a vaccine booster shot. "Don't! Don't! Don't! Don't! Don't!" Trump told the crowd at the rally as they responded negatively to the news that he'd gotten the third dose.
As Trump told Owens, public health experts and doctors have consistently explained that the surges this year in hospitalizations and deaths from COVID-19 have been driven by the unvaccinated population. Although breakthrough infections do occur, these cases are largely mild and do not generally require hospitalization. Nor do they often result in death. Even with the rise of the Omicron variant in recent weeks, medical professionals and scientists have pointed out that full vaccination is the best protection against serious illness.
Although Trump has repeatedly criticized COVID-19 vaccine mandates, he has consistently touted the safety and efficacy of the life-saving shots. As he explained to Owens, his administration put substantial effort and financial resources into the rapid development of the vaccines. Nonetheless, October polling by the Kaiser Family Foundation showed that the majority of the unvaccinated population in the U.S.—about 6 in 10—identifies as Republican or Republican-leaning.
Overall, about 62 percent of the entire U.S. population has been fully vaccinated against COVID-19, according to data compiled by The New York Times. Among adults (those 18 and older), nearly three-quarters have been fully vaccinated. Among the elderly (65 and older), 88 percent have received both doses of the vaccine.
As the Omicron variant has led to a surge in new infections, public health experts and the White House have warned that the unvaccinated are at serious risk.
"If you're vaccinated and have your booster shot, you're protected from severe illness and death," President Joe Biden said in a speech last week. The president warned that those who are not vaccinated face "a winter of severe illness and death."