Right-Wing Paul Pelosi Conspiracy Theories Blasted After Video Released
San Francisco Police on Friday afternoon released body camera footage depicting an assailant attacking former House Speaker Nancy Pelosi's husband Paul Pelosi with a hammer, offering clarity to what really took place in the events leading up to his hospitalization last October.
In the video, police can be seen responding to a call at the Pelosi home where suspect David DePape appears in the doorway holding a hammer in one hand and Pelosi by the arm in another. Police then ask DePape to drop the hammer, after which DePape—who originally entered the house asking, "Where's Nancy?"—can be seen rearing the weapon and striking Pelosi, 82, on the head.
The main function of the video, however, was not to show the lurid details of what transpired. It was to contradict an unsubstantiated narrative that Pelosi was not the subject of a random assault by a disgruntled constituent, but rather was targeted by someone with whom he had a prior relationship with, a conspiracy theory that had been amplified by figures like Twitter CEO Elon Musk in the days after the attack.
Meanwhile, Fox News host Sean Hannity ran a news segment on Thursday night suggesting Pelosi's response to DePape's alleged intrusion potentially raised more questions than answers, questioning why Pelosi didn't simply just run away once the police arrived.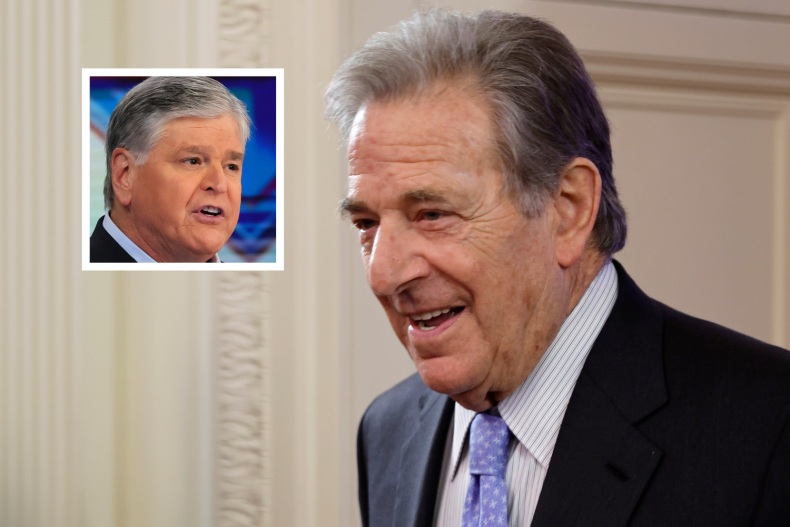 "If I'm a victim, and I have an intruder in their house, my first instinct is going to be trying to get to 911," Hannity said. "If I can't, I'm going to be in the business of protecting my home myself, my family. Now if you get to make the phone call and then the police show up, it doesn't seem like a natural reaction to say, 'oh, come on in guys.'"
The Fox News host continued: "That does not seem like normal behavior to me. If you have an intruder in your house and the cops show up, you run out the door and tell them 'he's in there,' and the cops go in and do their job. Does that seem normal to you?"
Meanwhile, others at the time made jokes about the violent incident.
"It is not impossible to protect our kids at school. [Democrats] act like it is," former Arizona Republican gubernatorial candidate Kari Lake said at a campaign stop during her "Ask Me Anything" tour last fall. "Nancy Pelosi—well, she's got protection when she's in D.C. Apparently her house doesn't have a lot of protection."
However, the newly released video showed that Pelosi clearly could not get away, prompting numerous Twitter users to call out Musk, Hannity, and numerous other conservative figures, who suggested there was more to the story or even, poked fun at the attack.
"Every journalist/host who sowed doubt and ridicule on the bonafides on the hammer attack on Paul Pelosi should feel a tinge of shame and regret," Geraldo Rivera, a frequent Fox News commentator, tweeted. "But you won't."
"Can we please dig up every person's tweet who made fun of this or cast doubt?" former Representative Adam Kinzinger, an Illinois Republican, tweeted. "This was a sick attack and politicians minimizing it suck."
Newsweek has reached out to Fox News for comment. Some, however, are already casting doubt that the video of the hammer attack will actually put the conspiracy theories to rest.
"Conservative media spun conspiracy theories about the Paul Pelosi attack before the police footage was released and they'll continue to do so after," Jason Campbell, a researcher with Media Matters for America, tweeted. "Spouting baseless conspiracy theories is what they do. It's a business model."
DePape, 42, was arrested for the assault. In late December, he pleaded not guilty to charges of attempted murder, first-degree residential burglary, elder abuse, assault with a deadly weapon, false imprisonment and threatening a family member of a public official.
He is being held without bail pending a trial. A trial date is expected to be set next month.
San Francisco Superior Court Judge Stephen Murphy ordered the public release of the body camera footage as well as other audio and video recordings of the attack. DePape's attorney had argued against the release of the recordings, stating potential jurors could become prejudiced against his client if they viewed the material.