'The Righteous Gemstones' Season 2 Cast Explains Why Christians Shouldn't Be Offended
Hollywood's interpretation of religion often comes from a "cynical place," but you won't see any of that in The Righteous Gemstones, according to creator and star Danny McBride.
Season 2 of his HBO comedy returns on Sunday, January 9, with the whole Gemstone family returning to preach the good word from the confines of their luxurious homes and megachurches. McBride, John Goodman, Adam DeVine, Edi Patterson, Cassidy Freeman, Tony Cavalero and Tim Baltz are all back, while Eric Andre joins the cast.
They all sat down with Newsweek to discuss Season 2 of The Righteous Gemstones.
The delay between seasons was longer than anticipated after production on Season 2 was shut down because of COVID following just two days of shooting back in March 2020. Even without the delay, McBride admits he had to ask himself the "hard questions" when sitting down to write the second season of The Righteous Gemstones.
He told Newsweek: "Second seasons are definitely a little bit harder to write. I noticed that when we were on Vice Principles and on Eastbound [& Down]. But that's cool because you have to ask: 'What is this show about? What are we exploring here?' Which is fun because what are you asking people to invest in? So let's just keep pushing what we're capable of doing with the show and see if the audience continues to join us or not."
Despite there being a longer delay, Patterson, who plays Judy Gemstone and is a writer on the show, found it easy to settle back in.
"Getting back into the vibe was thankfully so smooth and easy," she told Newsweek. "Filming with our entire cast is very much that thing of, if you have a best friend who you haven't talked to in six months and you see them, you still get on and it's immediately easy and chilled and fun."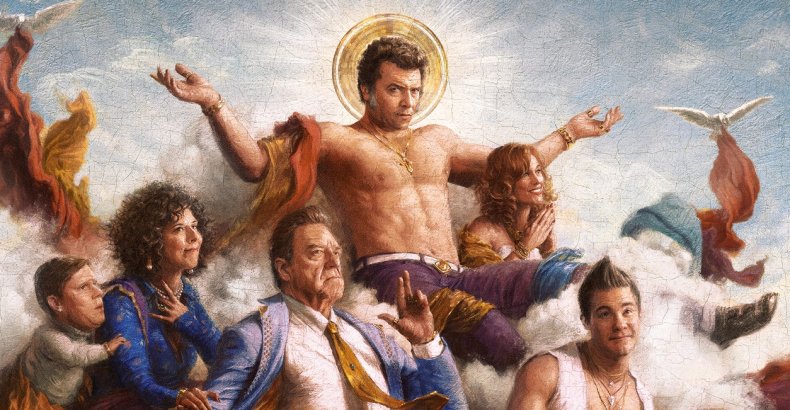 The creators of the show actually used their extra time efficiently, according to Cavalero, who plays reformed Satanist Keefe Chambers. "There were so many fun little punch ups and changes that went into Season 2 after the COVID delay," he told Newsweek.
Cavalero admits he's thrilled to return as Keefe, a character who he says is likely to be "super polite" if invited to a dinner party, but may also "clog the toilet."
The delay meant that when the cast returned, they were shooting on a COVID-compliant set, but Goodman believes the makers of the show rose to the challenge. "There's always a lot to shooting a series anyway and this [COVID protocols] added a degree of difficulty, which was met and met well by the company," 69-year-old Goodman told Newsweek. "I felt totally safe with the masks, the testing, the protocols in place."
Hypocrites Are the Target, Not Christians
While The Righteous Gemstones is a show based around the topic of religion, focusing on a wealthy family of televangelists who preach pop-Christianity, McBride and the cast have always been adamant that Christians are not the butt of the jokes.
McBride says he had a "very religious" upbringing with an aunt who is a minister, and he told the cast ahead of shooting Season 1 to make sure they knew that religion and religious people weren't the target.
"So many times I would see Hollywood take on religion or Christianity, it always came from such a cynical place that I felt made it not fun or interesting. That's because it was people who don't believe in it, then they're just making fun of it. And I think that that's f***** up. I don't find that entertaining," he said.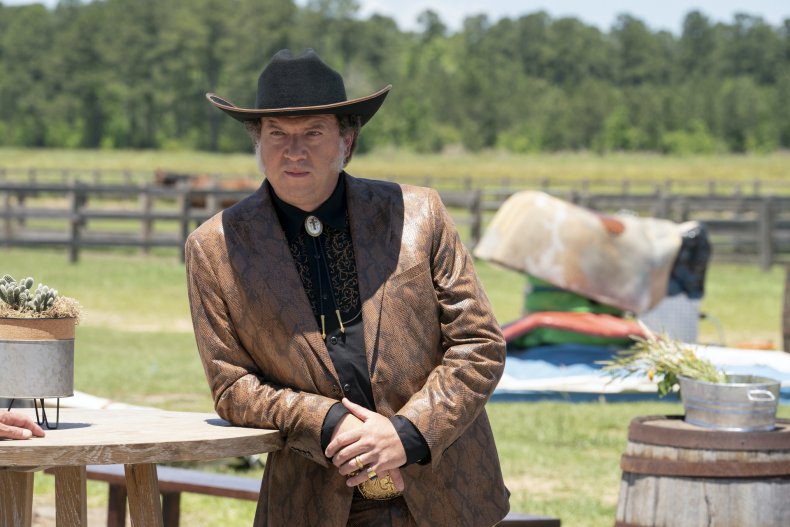 "The last thing I would ever want to do is create something that's trying to like lampoon what they believe in. It's not where my heart is, and it's not what I believe."
McBride continued: "I try to make the butt of the joke, very clearly, the sort of people that grift off of religion and use it for their own gains, which you know, if it's my aunt who's a minister, then they don't like those kind of people either."
McBride's onscreen brother DeVine, who plays youth pastor Kelvin Gemstone, agrees with his co-star, and that no Christian should see themselves reflected in The Righteous Gemstones. He said: "We actually barely talk about religion in the show, so if you relate to these people, these monsters, then that's on you, buddy.
"Mostly we're just sort of taking down the hypocrisy of these guys that run these mega churches that are very much taking advantage of people."
DeVine joked: "I think no one is pro-hypocrisy. So unless you are, then yeah, maybe this show's not for you, you might get offended by this one."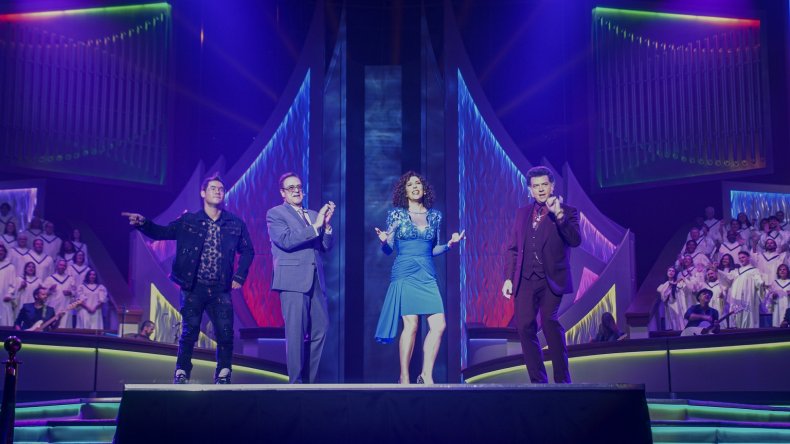 Season 2 and Beyond
New characters are introduced in Season 2 to complicate the lives of the Gemstone family. The likes of Eric Andre, Eric Roberts and Jason Schwartzman arrive to shake things up, and Freeman (Amber Gemstone) says they help create a "constant sense of surprise of being on the edge of your seat."
"Season 2 is like a nonstop roller coaster," Freeman added," And there is a roller coaster. There is a ceiling right? Well I think we continuously blast through it, and that to me is why I think people will be stoked for Season 2."
Baltz and Patterson, now onscreen husband and wife BJ and Judy, think Episode 4 is a particular highlight of this season. "No spoilers but I think it's really really fun," Baltz told Newsweek. "There's a lot of stakes and personalities that kind of come crashing into that episode, and it's a bottle episode, that's all we can say."
Andre wants audiences to "expect the unexpected" when it comes to his new character Lyle Lissons. "I want you to be on the edge of your screens... salivating," Andre teases. "He's a pompous Texan performer. I Like Lyle's flair, he's got style, pizzazz, charisma."
When it comes to the future of the show, McBride and his cast members are keen to carry on past this second season.
"Any season of a show I've made, I always approach it as if it's the last one because you never know what's gonna happen," McBride said. "I don't want the audience to feel like they're left in the lurch if the show doesn't come back.
"But you know, I love working with these people and I like writing this show, so as long as we can carry that on, I'm up for it."
Season 2 of The Righteous Gemstones returns this Sunday with two new episodes. It airs at 10 p.m. ET on HBO and will be available to stream on HBO Max.