Rihanna Calling Baby Son 'Fine' Sparks Debate: 'Creepy'
After revealing she was pregnant during her Super Bowl show on February 12, Rihanna surprised her fans once again, this time appearing on the cover of British Vogue with her growing family.
The Fenty Beauty boss and her partner, rapper A$AP Rocky, both 34, posed for a feature story in the magazine with their 9-month-old son.
Rihanna then shared some of the images to her own Instagram where she gushed over her baby—whose name the couple are yet to reveal—dubbing him "so fine."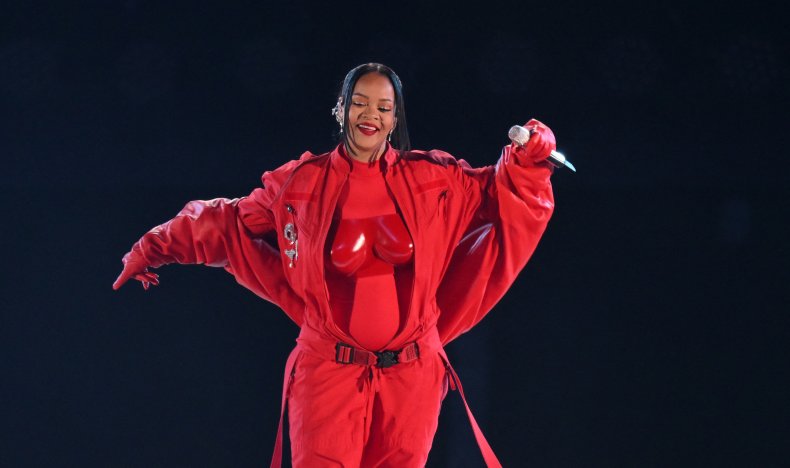 "my son so fine! Idc [I don't care] idc idc!" she captioned the post, before revealing she didn't know she was pregnant during the photo shoot.
"How crazy both of my babies were in these photos and mommy had no clue thank you so much @edward_enninful and @inezandvinoodh for celebrating us as a family!"
It is only the second time Rihanna has revealed her son's face. The first was when she uploaded her first TikTok post showing the baby boy laughing in his car seat.
Despite the glamorous photos and one of the first glimpses at her baby, some fans were annoyed that Rihanna referred to her son as "so fine."
"riri ik u did not just say "fine" .." wrote one fan in the comments.
Another added: "tell me this isn't creepy? like huh?"
However, another fan leapt to the Barbadian singer's defense: "The women in my family talk like that about babies as well. I think it's a Caribbean thing to say that. It's the same thing as saying handsome."
Rihanna revealed her latest pregnancy with Rocky during her highly anticipated return to live performing at Super Bowl LVII in Glendale, Arizona on February 12.
"I want to put on a show," Rihanna told British Vogue ahead of the show, her first in five years. "I want to have fun. I haven't done this in a minute and I'm doing this for the people that love my music, the people that have supported me and gotten me to this place in my career. And who miss me as a musician in particular."
The singer added: "It's me really just getting back onstage—a crazy stage to be back on—but I'm really doing this for my fans."
Rihanna also said that the decision to post photos of her son on TikTok and to make him a Vogue cover star was to keep control of how she introduced him to the world.
When some paparazzi managed to get a shot of the baby, Rihanna and Rocky decided to beat them at their own game. The couple uploaded the video of him to TikTok to make the photographers' snaps less valuable.
"We get to decide as parents when and how we do that. End of story," Rihanna explained, and added, "Throw me to the wolves. Do what you want with me. But he doesn't have a say in any of this.
"We've been protecting him thus far and you don't have any consent to be posting photos or selling photos of my child, a minor. Get the hell out of here with that."
She added: "As parents, it just feels so icky, like a violation."