Rihanna's Super Bowl Halftime Show Dubbed 'Boring' By Fans—'Waste of Money'
Fans have slammed Rihanna's Super Bowl halftime show, with some even labelling her return to the stage as "boring."
The singer and make-up mogul made her live music comeback, returning to the stage for the first time in five years to perform a medley of some of her biggest hits.
The 13-minute performance saw Rihanna and her fellow performers descend and dance on long, floating, LED-lit platforms. The stage was rolled out onto the field on 15 carts; each section of the cart was made up of platforms about 10 by 17.5 feet, along with 512 lights that followed Rihanna's performance, according to Wired.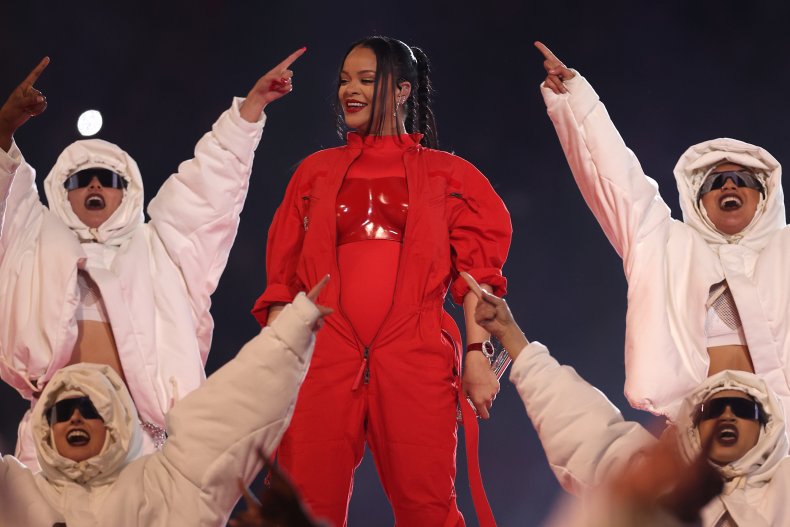 Around 800 staff were required to pull off the performance from camera operators to the 80 dancers that surrounded the singer, clad in puffy white outfits.
"This will be, in my opinion, the most technically advanced Super Bowl halftime show that's ever been done because of the amount of tech used to move the platforms," Aaron Sieber told Wired. Sieber worked as project lead for Tait Towers, the company which made the platforms.
Along with her return to the stage, Rihanna also made headlines for revealing she was pregnant with her second child during the show. She welcomed a son with partner and rapper, A$AP Rocky, in May 2022.
Her pregnant belly was visible throughout the performance—which she completed in an all-red outfit. The singer later donned an oversized red parka in tribute to André Leon Talley, Vogue magazine's editor-at-large who died in January 2022.
Despite the pageantry, some fans took to social media to express their displeasure with her performance.
"Rihanna's Super Bowl performance is going down as one of the most BORING performances in history just disrespectful 😭my eyes," wrote one disgruntled fan on Twitter.
MTV's Amanda Garcia added: "Rihanna is gorgeous and I like her but if y'all don't think that was boring n coulda been better you FAKE FAKE."
And a third tweeted: "Nothing like rubbing her crotch, smelling her hand, then wrinkling her nose, for a family-friendly SuperBowl Halftime Show. Plus, it was very boring. Total waste of money."
While halftime headliners don't get paid for performing, the cost is covered by the NFL and whichever company co-sponsors the show, which in this year's case was Apple Music.
Some half-time shows have cost up to $10 million to produce and Rihanna may have contributed some of her money to cover the cost. In previous years, The Weeknd and Dr. Dre each spent $7 million of their own money for their respective halftime performances in 2021 and 2022.