Rihanna's Halftime Show: The 5 Best Memes To Describe Super Bowl Event
The halftime show often becomes the biggest talking point from the Super Bowl, and this year proved no different after Rihanna took to the stage during the game between the Philadelphia Eagles and the Kansas City Chiefs.
Rihanna's performance impressed viewers, but it also led some to make hilarious jokes about aspects of her show such as the stage she used and the dancers who performed with her.
Here are some of the best memes and jokes that viewers came up with and shared on Twitter following the "Umbrella" hitmaker's performance.
Rihanna's Halftime Show: The 5 Best Memes To Describe Super Bowl Event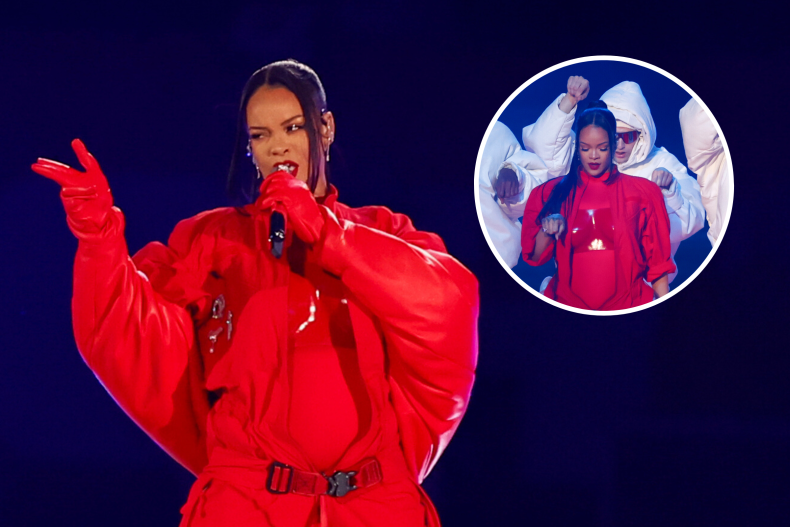 1. Rihanna's Stage
When Rihanna ended her medley she performed to her hit song "Diamonds," and during her rendition she stood on a platform that raised up into the air alongside other platforms for her dancers.
Some viewers took the opportunity to joke about her stage being similar to the Nintendo video game Super Smash Bros. which sees iconic characters from the company's franchises go head-to-head in different arenas. In the game, several arenas feature platforms just like the ones Rihanna was using, leading to several amusing comparisons.
One person joked on Twitter: "Respect to Rihanna for performing in a Super Smash Bros stage."
2. Beauty Mogul
As well as making music, Rihanna has launched her own brand, Fenty, which has a clothing and lingerie line as well as beauty products.
During her halftime show, the singer took a moment to retouch her make-up using one of her Fenty Beauty products and this surprised fans.
One person took to Twitter to joke that Rihanna "will always be promoting Fenty," while another said there "was nothing more Rihanna" than using a product from her range onstage.
3. Getting Into the Show
While Rihanna belted out her greatest hits, some viewers were more focused on the efforts of the sign language interpreter who was working during the show, Justina Miles.
Miles wowed some fans with her enthusiastic interpretation of Rihanna's music into sign language, with one viewer commenting that she "deserves a raise" because "she was giving it her all."
4. A$AP Rocky
Rihanna was supported by her beau A$AP Rocky at the Super Bowl, and the rapper was certainly a focus of attention for fans, particularly when Rihanna revealed she was pregnant with her second child.
A$AP Rocky became the center of several memes, including those from fans who joked that Rihanna wouldn't be releasing new music "until 2050" because she was pregnant again after giving birth to their son in May 2022.
Others commented on how supportive A$AP Rocky was of Rihanna and shared a video of him filming the singer whilst she performed onstage, with one Twitter user writing: "Get you a man that looks at you like ASAP looks at Rihanna."
5. Rihanna's Dancers
A different source of inspiration for memes from the Super Bowl was Rihanna's dancers, and particularly the outfits that they were wearing for her performance.
The performers' puffed jackets, which were worn with the hood up, and sunglasses led to comparisons to Damian in Mean Girls and the Oompa Loompas from 1971 film Willy Wonka & the Chocolate Factory.