Kari Lake Refuses to Stand for Super Bowl Black National Anthem
Photos posted to social media show former Arizona gubernatorial candidate Kari Lake refusing to stand for the Black national anthem at the Super Bowl on Sunday.
Actress Sheryl Lee Ralph performed "Lift Every Voice and Sing" before Super Bowl LVII, pitting the Philadelphia Eagles against the Kansas City Chiefs at State Farm Stadium in Glendale, Arizona. The song, written more than 100 years ago, became a rallying cry during the civil rights movement, and the NFL began including it in its games following the Black Lives Matter protests in 2020. The league has faced backlash over its inclusion from some conservatives.
Right-wing pundit Benny Johnson shared a photograph of Lake, who rose to national prominence during her bid to become Arizona's top executive during the 2022 midterm elections, refusing to stand for the performance.
Lake, through her campaign's "war room" Twitter account, addressed why she refused to stand for the song.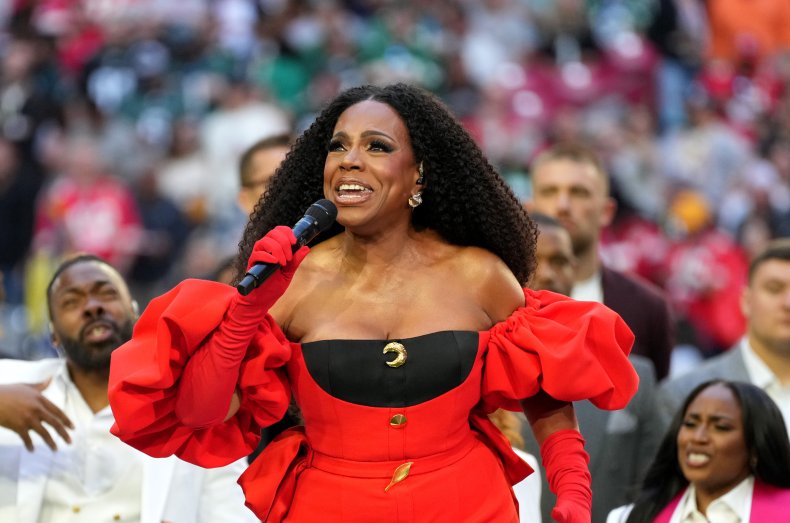 "Our girl is against the idea of a 'black National Anthem' for the same reason she's against a 'white National Anthem,'" her campaign team wrote. "She subscribes to the idea of "one Nation, under God."
Other high-profile conservatives also took to social media to speak out against the inclusion of the Black anthem. Representative Lauren Boebert, a Colorado Republican, accused the NFL of trying to "divide" viewers by airing the performance. However, critics argued that Boebert's tweet was more divisive than the show.
"America only has ONE NATIONAL ANTHEM. Why is the NFL trying to divide us by playing multiple!? Do football, not wokeness," Boebert tweeted.
Former Republican Senate candidate James Bradley tweeted: "Having a black national anthem is just another way that Democrats keep us divided."
Despite conservative criticism, many on social media praised Ralph for her rendition of the song.
"Sheryl Lee Ralph SANG the Black National Anthem chile. I felt it in my spirit," tweeted WTXF-TV news anchor Shiba Russell.
"Let The Super Bowl begin. Wow Sheryl Lee Ralph!" tweeted ABC News journalist Deborah Roberts.
History of the Black National Anthem
"Lift Every Voice and Sing" was first written by NAACP leader James Weldon Smith in 1900. His brother, John Rosamond Johnson, composed the music for its lyrics, according to the NAACP. It was first performed by a group of students from a segregated school in Jacksonville, Florida, to celebrate President Abraham Lincoln's birthday.
As the civil rights movement arrived, the song had become well known in Black culture and was performed during meetings in which civil rights leaders planned the Montgomery Bus Boycott, according to Time magazine. Martin Luther King, Jr., has quoted it in his speeches.
The NFL, while aiming to confront concerns of racism raised by many of its players, began including the song in its games following the Black Lives Matter protests, drawing condemnation from conservatives, who argue it is divisive. NFL spokesman Brian McCarthy defended the song in a 2021 New York Times interview, describing its inclusion as "an opportunity to highlight messages that are important to the league, players and personnel and our communities."
Newsweek has reached out to Lake's press team for comment.