Sean Hannity Blasts NFL Plan to Play Black National Anthem Before 2021 Games
Fox News anchor Sean Hannity launched into an angry tirade on Twitter over the prospect of the NFL playing the "Black national anthem" before games this season.
Hannity decried reports that the song could become a feature at games in the 2021 league, claiming, without evidence, that it was the result of efforts by the Democrats to "DESTROY FUN."
"Why do the Dems have to inject politics into sports? The NFL is playing the 'Black national anthem' & the Olympic committee is redesigning its flag logo," he wrote. "We already have a flag & an anthem!"
The conservative television host was referring to a report by Front Office Sports that "Lift Every Voice and Sing"—written as a poem by former NAACP leader James Weldon Johnson but now sometimes dubbed the Black national anthem—would be played at games over the coming season.
The NFL introduced the song to games as the Black Lives Matter protests erupted across the country.
Front Office Sports said the introduction of the song was being considered as one of a number of ways the NFL planned to combat systemic racism and promote social justice, including with stadium signage and decals on player kits.
A Fourth of July performance of "Lift Every Voice and Sing" by Vanessa Williams earlier in July sparked controversy on social media, with some users calling it "divisive," while others said the backlash was "ridiculous" and showed support for the performance.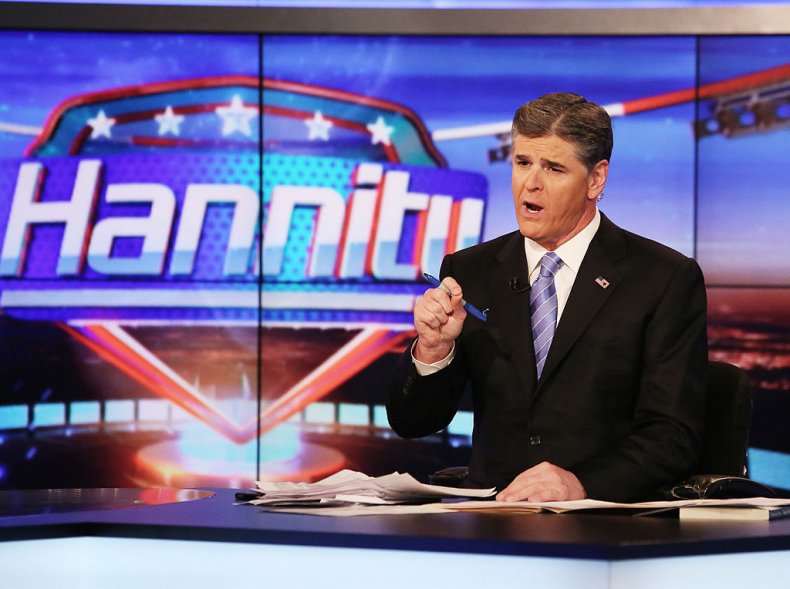 Earlier this week, Hannity expressed his dismay at the prospect of an adaptation of the Stars and Stripes on the logo used by the United States Olympic and Paralympic Committee (USOPC).
He said on Monday that the USOPC was considering whether to change how the American flag was depicted on promotional materials and documents.
While not being looked at as a replacement for the cloth of Old Glory, Hannity was still unhappy that a redesign was being considered.
"Stop wasting your time and your money with a redesign of the United States of America and the U.S. flag," he said.
"It's an awful idea, because our Stars and Stripes should be the only thing representing this country at the Olympics and Paralympics."
In a statement to Fox News, the U.S. Olympics body said it was in the early design stages "of potentially exploring new brand executions for the United States Olympic and Paralympic Committee" after 2022.
"It is common practice in creative development to share a variety of concepts with stakeholders to [elicit] reaction and feedback that will then be used to determine next steps," the statement said.
Newsweek contacted Hannity for comment.