Fox News anchor Sean Hannity has unfurled fury at the prospect of an adaptation of the Stars and Stripes on the logo used by the United States Olympic and Paralympic Committee (USOPC).
Hannity said on Monday that the USOPC had put the feelers out among Olympic and Paralympic associations over whether they would be open to a change in how the American flag was depicted on promotional materials and documents.
While not being looked at as a replacement for the cloth of Old Glory, which will be hoisted countless times above proud podium finishers at the Tokyo Olympics starting in July, Hannity was still unhappy that a redesign was even being considered.
During his monologue, a graphic of the proposal appeared on screen. It consists of a cut-down version of the original Stars and Stripes in the unmistakable Red, White and Blue that clearly resembles the American flag.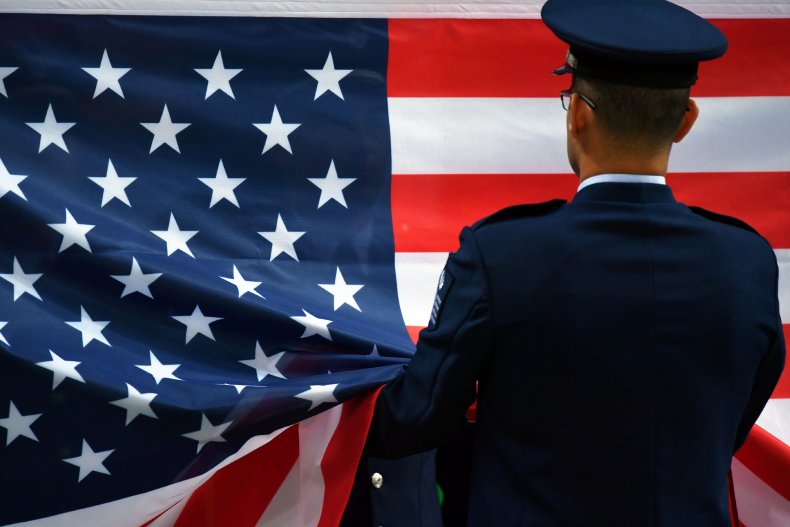 However, the new look does consist of only three stripes and five stars that sit above the five rings of the Olympic movement and three dashes of color on the right.
Hannity rallied round the flag, saying, "stop wasting your time and your money with a redesign of the United States of America and the U.S. flag."
"It's an awful idea, because our Stars and Stripes should be the only thing representing this country at the Olympics and Paralympics," said the anchor.
"We don't need your new flag, we already have our own," he said, before adding: "With the exception of a few far-left woke socialists, most Americans love their country."
In a statement to Fox News, the USOC said it was in the early design stages "of potentially exploring new brand executions for the United States Olympic and Paralympic Committee" for after 2022.
"It is common practice in creative development to share a variety of concepts with stakeholders to [elicit] reaction and feedback that will then be used to determine next steps," said the statement.
It described the one that Hannity referred to as "just one of dozens of ideas shared in this brainstorming and surveying process."
Meanwhile, American Civil Liberties Union (ACLU) strategist Brian Tashman noted on Twitter U.S. flag redesigns for logos were used by the GOP presidential election campaigns of Donald Trump and Mike Pence and George W. Bush and Dick Cheney.
In June, a debate about what the American flag represents was sparked when hammer thrower Gwen Berry turned away from it as the national anthem played during a ceremony at the Olympic track-and-field trials.
Last week, a survey found that a majority of Americans (79 percent) agreed that was important for athletes "to publicly respect the American flag on the international level."
Newsweek has contacted the USOPC for comment