Tributes are pouring in online after former NFL defensive tackle Tony Siragusa, known during his career as "The Goose," passed away on Wednesday.
Siragusa, 55, retired from the NFL in 2001 after playing 12 seasons—seven with the Indianapolis Colts and the last five with the Baltimore Ravens.
His death was first confirmed by Colts owner Jim Irsay, who wrote on Twitter, "The Goose, Tony [Siragusa] has passed away at 55.. I'm heart broken as is all of Colts Nation."
Following the news, Twitter tributes flooded in from teams, players and fans alike. The National Football League Player's Association (NFLPA) wrote, "It is with heavy hearts that we mourn the passing of Tony Siragusa. Tony was a beloved teammate, charismatic broadcaster and Super Bowl Champion. Our thoughts and prayers go out to his family and friends during this difficult time. #RIPGoose."
CBS Sports host Damon Amendolara tweeted, "Well before social media and 'building your brand,' Tony Siragusa used Super Bowl XXXV to become a media star. He leveraged his wild persona to become a broadcaster, actor and pitchman. He even landed on The Sopranos. He was so savvy and such a character. RIP Goose."
Courtesy of the Baltimore Ravens, former linebacker Ray Lewis' statement on Siragusa's passing was shared, in which he stated, "This is a tough one. I love Goose like a brother. From the first day we met, I knew that life was different. I knew he was someone who would change my life forever."
Lewis added, "Hug your loved ones close for Goose. We were all so blessed that God gave us that time together celebrating our 2000 team a few weeks ago."
Baltimore Ravens owner Steve Bisciotti made a statement that was shared on the Ravens' Twitter account, saying, "He was a special person and clearly one of the most popular players in Ravens history."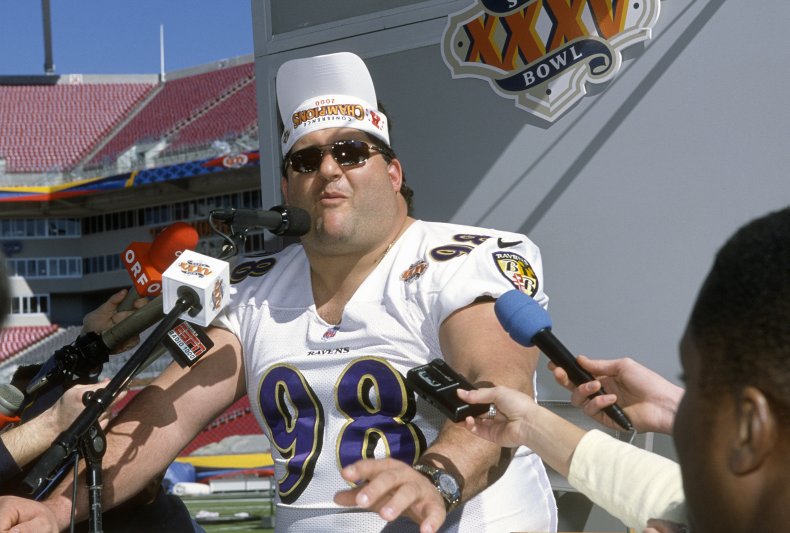 "Tony's larger-than-life personality made an enormous impact on our organization and throughout the Baltimore community," Bisciotti wrote. "On the football field, Goose was a difference-maker who contributed immeasurably to the success of many great Ravens defenses, including the record-setting 2000 Super Bowl team.
"Our deepest prayers and sympathies go out to Kathy, their three children and the rest of the Siragusa family."
Baltimore sportscaster Gerry Sandusky tweeted, "This is one of the saddest days in Ravens history. The deaths of Jaylen Ferguson and Tony Siragusa on the same day leaves every Ravens fan stunned. A player so young with potential, and a legend who brought so joy and impact to the field. Gone. Tough to wrap your head around."
Earlier today, the Baltimore Ravens also announced the death of linebacker Jaylon Ferguson, who was 26.