Rittenhouse Judge Bans MSNBC From Courthouse Over Photographing Jury Allegations
The judge presiding over the Kyle Rittenhouse trial banned MSNBC from the courthouse in Kenosha on Thursday after a person claiming to work for the network was accused of following the jury and attempting to photograph them.
"I have instructed that no one from MSNBC news will be permitted in this building for the duration of this trial. This is a very serious matter and I don't know what the ultimate truth of it is but ultimately, it will go without much thinking that someone who is following the jury bus—that's an extremely serious matter and will be referred to the proper authorities," Kenosha County Judge Bruce Schroeder told the court on Thursday.
Schroeder said police reported that a person, who identified himself as James J. Morrison and who claimed to work for MSNBC, followed the jury bus on Wednesday evening under the instruction of a supervisor, who instructed him to take photos of jury members.
Police said they stopped the man because he was within a block's distance from the jury bus and ran a red light while doing so. He received a ticket for the traffic violation.
"Last night a person who is alleging to be affiliated with a national media outlet was briefly taken into custody and issued several traffic-related citations. Police suspect this person was trying to photograph jurors," the Kenosha Police Department said in a Thursday statement.
"There was no breach of security regarding the jury, nor were there any photographs obtained. This investigation remains active and open, no further information," police added.
NBC News apologized for the incident but claimed that the freelancer had never intended to contact the jurors.
"Last night, a freelancer received a traffic citation. While the traffic violation took place near the jury van, the freelancer never contacted or intended to contact the jurors during deliberations, and never photographed or intended to photograph them," NBC News said in a statement shared with Newsweek.
"We regret the incident and will fully cooperate with the authorities on any investigation," the network added.
The jury in the case, which has not been sequestered, has been transported in a bus daily from an undisclosed location to the courtroom with the windows of the bus covered.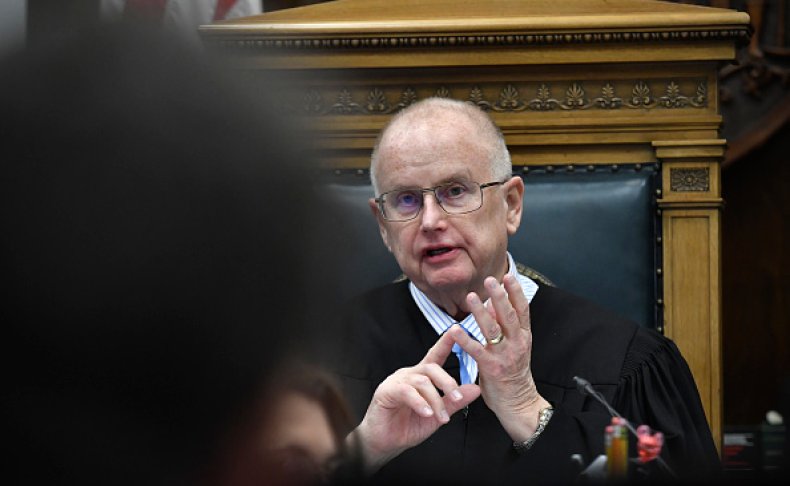 Earlier this week, MSNBC host Joy Reid faced criticisms after a clip of her comparing Rittenhouse crying during his testimony in the trial to Supreme Court Justice Brett Kavanaugh during his confirmation hearing went viral.
In the video, Reid alleged Kavanaugh "cried his way through the hearings to make him a permanent member and associate justice of the United States Supreme Court."
"In America, there's a thing about both white vigilantism and white tears, particularly male white tears. Really white tears in general, because that's what Karens are, right? They Karen out and then as soon as they get caught it's extreme waterworks," Reid said.
"White men can get away with that, too," she added. "And it has the same effect, even as the right tries to politicize the idea that masculinity is being robbed from American men by multiculturalism and woke-ism. They still want to be able to have their tears."
On Fox News, former Trump spokesperson and current host Kayleigh McEnany celebrated the judge's ban.
"They have so poorly misbehaved," McEnany said. "That means Joy Reid will have essentially no facts for her show. MSNBC not in the courtroom. She's been among the worst offenders to defame this young man, among others at her network."