As Rittenhouse Jury Deliberates, Jacob Blake Wants Media Attention to Die Down
Jacob Blake, a Black man from Kenosha who was shot seven times by a police officer in the summer of 2020, is hoping the media attention around him will die down, but he may have to wait as the nation prepares for a verdict from the jury in the highly politicized trial of Kyle Rittenhouse.
"I pretty much cut off the cable so my kids don't have to see my face on TV. I'm happy it kind of died down, but now it's picked back up because of what's going on with Kyle," Blake told TMZ on Wednesday. "I'm not an individual that wants everybody in my business."
Blake was thrust into the national spotlight in the summer of last year after the father of six was shot by a white police officer seven times and left seriously injured.
The shooting, which was captured in a video that was widely circulated, came after protests for racial justice sparked across the nation in the wake of George Floyd's death and drew its own flurry of protesters who poured into Kenosha.
On the third night of protests, Rittenhouse, who was 17 at the time, says he traveled from Antoich, Illinois, to Kenosha amid the unrest and racial justice protests to protect local businesses from arson and looting, according to his defense team.
On August 25, 2020, the teen is charged with fatally shooting Joseph Rosenbaum and Anthony Huber and wounding Gaige Grosskreutz with his AR-15 rifle. Rittenhouse is facing five felony charges in the shootings, including intentional homicide.
He has pleaded not guilty to all charges and contends he acted in self-defense.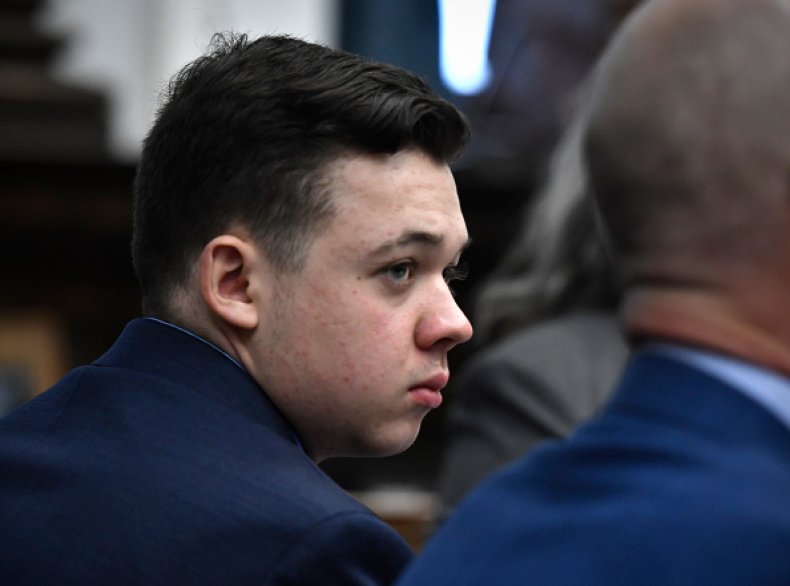 Thursday marks the 14th day of the Rittenhouse trial and the third day of jury deliberations.
Both Black Lives Matter protesters and Rittenhouse's supporters have gathered on the steps of the courthouse this week in anticipation for the jury's decision.
On Wednesday, Blake stopped short of revealing what he hopes the verdict will be, but said there would be no debate on whether or not Rittenhouse is guilty if the teen wasn't white.
"I do still feel very strongly if he was a different ethnicity or people group, he'd be gone. There would be no 'Oh he's a hero,' this, that and third," Blake said. "They would have said that he was underage, he traveled to a different state with a firearm that didn't belong to him."
"The judge seems like he really likes [Rittenhouse]," he added. "Honestly, the kid might not be a bad person. I'm not saying he's a bad person at all, but what he did—he shouldn't have been there."
Blake said regardless of the verdict, he hopes responses to the jury's conclusions don't become violent.
"I don't know if they're going to riot, if they're going to protest off of this, but I'm hoping whatever the outcome is, there's none of that, because it's not going to fix nothing," Blake said. "It's not going to fix anything. Destroying stuff does not fix stuff."
The 30-year-old also said he has since forgiven Rusten Sheskey, the Kenosha police officer who shot him.
"I don't even hate the police. I don't hate Sheskey. I forgave him at least seven months ago," Blake said. "I was worried when I found out his address was handed out. I was worried about him and his family, straight up. Just like I was about mine 'cause my address was out there. People threatened to kill and burn down my house so I can relate."
Earlier this year, both Kenosha County prosecutors and federal prosecutors said they would not file charges against Sheskey. He returned to regular duty in April.