'Riverdale' Season 4, Episode 3 Recap: What the Major Death Means for Rest of the Season
The CW aired Riverdale Season 4, Episode 3, which saw Alice Cooper's (played by Mädchen Amick) ordeal with The Farm finally come to an end after she seemed to shoot and kill its leader Edgar Evernever (Chad Michael Murray).
The murder in the episode (which is titled "Dog Day Afternoon") could have major repercussions for the rest of the season⁠—after all, Alice is the second of Betty's (Lili Reinhart) parents to kill someone, suggesting we could see a return to the "bad Betty" storyline from previous seasons.
Riverdale, however, had other major plot points take place in Season 4, Episode 3, including the return of Hiram Lodge (Mark Consuelos) and the emergence of a new nemesis for Jughead (Cole Sprouse). Read on for a full recap of the events of the latest episode of the show.
What happened in "Dog Day Afternoon?"
The principal plot of Riverdale Season 4, Episode 3, carried straight on from the revelation in the last episode that The Farm were hiding out nearby to the town. Alice and Charles send in an agent who gets killed and Edgar warns them not to try anything funny again. Later, he gets in contact with Betty, to tell her that he will leave Riverdale if she gets him $250,000 and everything he needs to escape.
To act as an extra incentive, Edgar sends Betty her sister Polly (Tiera Skovbye), strapped in a suicide vest. Betty is able to stop the vest exploding with some quick thinking (and a hairpin), but it is clear that Betty has no choice but to get the quarter-million dollars.
Betty is not the only one who needs money. Archie (KJ Apa) wants to turn the boxing gym into a community centre, but balks at the cost. His mother Mary (Molly Ringwald) also wants him out of Riverdale and asks him to come back with her to Chicago. However, she later decides to stay and help Archie with his project, which might be the only way to stop the organized crime spiral the town has been in for decades.
Meanwhile, Jughead is getting settled into his new prep school when he sees a familiar face in the form of his roommate Moose (Cody Kearsley), or as he is now calling himself, Marmaduke. Moose has come to the school after a nervous breakdown and is a crucial ally to Jug, especially as more and more people warn him about his other roommate, "diplobrat" Bret Weston Wallis (Sean Depner).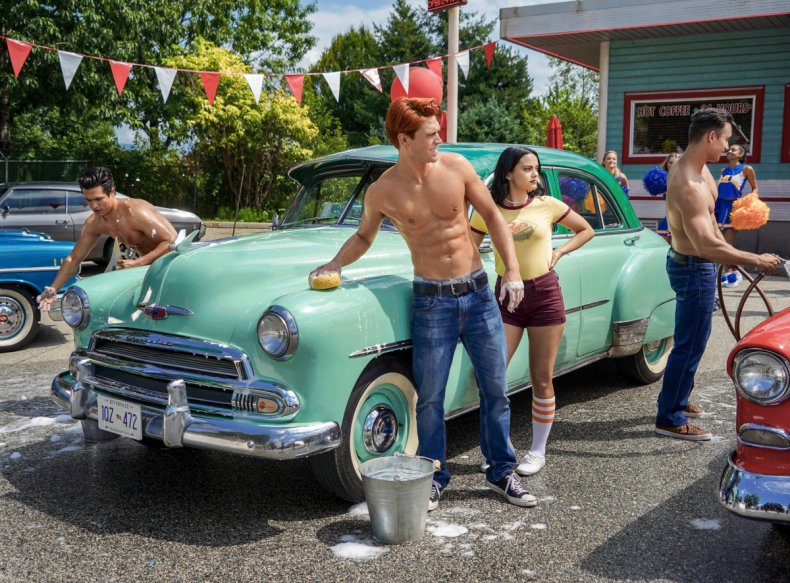 After Jughead criticizes one of Brett's short stories in a seminar, animosity seems to develop between the two of them. However, Moose becomes the first victim of this feud after Bret fills the school with pamphlets detailing his dark past. What that means for Moose is sure to play out in the next episode of Riverdale.
The rivalry between Jug and Bret is also likely to play out across the rest of Season 4, especially as we know that, at some point in the timeline, Jughead is set to go missing.
Archie also has a nemesis of his own in Riverdale Season 4, Episode 3, as we meet Dodger (Juan Riedinger), who is recruiting young people to sell drugs via his arcade and who fights Archie in the episode.
While this plot plays out on The CW show, Betty gets enough money for Edgar thanks to Veronica (Camila Mendes), who gives her some of her mother's "Glamergé Eggs." Betty follows the rest of Edgar's demands and gets let into The Farm's compound, only to have Edgar's daughter Evelyn Evernever (Zoé De Grand Maison) knock her out. She wakes up at home and decides to plan a raid on the compound. This works, and Edgar is shot dead by Alice just as he tries to escape in the rocket he has built.
This makes Alice the second Cooper to have committed murder, after Betty's dad Hal (Lochlyn Monroe) was revealed as the Black Hood in Season 2. This is sure to lead to a return to the "Betty has the killer gene" plot that has propped up now and again across the series, especially as we know at some point in the future she will do something that will leave her, Archie and Betty covered in blood. As for Alice, she may not face charges for killing Edgar (she was working as an F.B.I. agent at the time), though Season 4 may see her face reprisals from Evelyn.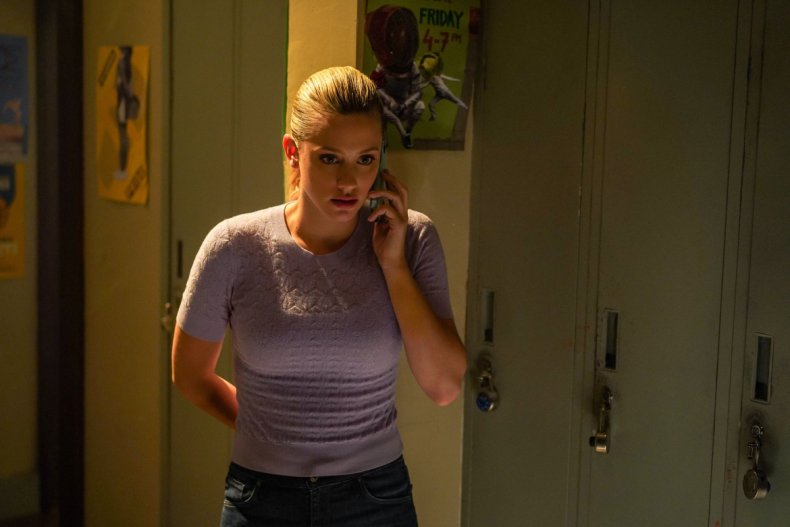 Veronica has troubles of her own in this episode, after she goes back on her idea to change her name to remove any association with her mother and father. Speaking of her father, Hiram leaves prison to tell her that he too changed his name as a child. Hiram, it turns out, has a deal with the warden of the prison he is in (which he also owns) to come and go as he pleases, meaning his threat is far from vanquished and suggests he could be back to cause trouble later in Riverdale Season 4, particularly after Veronica decides to change her name despite him telling her not to.
Cheryl has perhaps the strangest plot of the episode as she wakes up to Nana Rose (Barbara Wallace) having visions of Polly's twins (or as Rose calls them, "triplets") Juniper and Dagwood burning in the fire. Toni tries to help by hiring home help, but this causes huge trouble for Cheryl as it leads to her girlfriend discovering that Cheryl is keeping the body of her dead brother Jason (Trevor Stines), which is slowly being eaten by rats.
Riverdale Season 4, Episode 3, therefore sets up a lot of the upcoming plot for the season after a relatively restrained two episodes. Jughead is battling with Bret, Archie against Dodger, Veronica against her father and Betty against whoever left a mysterious videotape on her step in the closing moments of the episode.
Riverdale Season 4 continues Wednesdays at 8 p.m. ET on The CW.
'Riverdale' Season 4, Episode 3 Recap: What the Major Death Means for Rest of the Season | Culture