RNC Speakers Reach for God as Trump's Support Slips among White Evangelicals
Religion was a major pillar of the platform on opening night of the Republican National Convention (RNC) Monday, with Trump supporters praising him and the Grand Old Party as symbols of religious freedom battling against Democratic foes trying to tear it down.
While these are not new themes for the Republican Party or for Donald Trump, they do come at a crucial moment in Trump's re-election campaign. His recent slide in the polls among a core group of supporters who aided his 2016 victory—white evangelical voters—could jeopardize his chances of staying in office.
From the opening prayer by Cardinal Timothy Dolan of New York through a parade of speakers throughout the evening's lineup, the religious rhetoric went a step further than the quintessential "God bless America" that is so zealously ingrained in U.S. politics.
One of the president's sons led the charge, billing it as a battle of faith versus lawlessness.
"People of faith are under attack," said Donald Trump, Jr., the president's eldest son and a senior campaign official. "You're not allowed to go to church, but mass chaos in the streets gets a pass. It's almost like this election is shaping up to be church, work and school vs. rioting, looting and vandalism."
The RNC's Monday night speakers made sure that viewers at home knew religion is top of mind for Trump and Republicans, appealing directly to the white evangelicals who helped Trump win in 2016. Trump received fervent endorsements from several supporters who invoked God and their faith.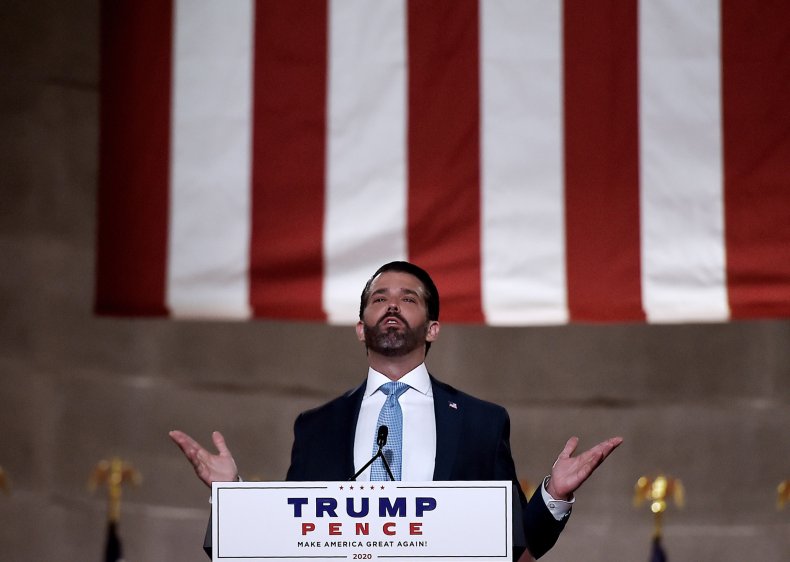 Representative Jim Jordan (R-Ohio), one of the president's staunchest defenders on Capitol Hill, said that "Democrats won't let you go to church, but they'll let you protest."
"I pray every night, 'God, give him some more time,'" former NFL player Herschel Walker said in his speech. "'Give him four more years.'"
Trump won 81 percent of the white evangelical vote in 2016. But polls in recent months suggest that while a majority of this group still supports him, his approval is slipping.
A six-percent dip in his job approval rating from April to June left Trump with 72 percent support among white evangelicals. A separate survey showed Trump slipping by 15 points from 77 percent approval in March to 62 percent at the end of May. And among white Catholics, the same poll showed a 23-point drop, from 60 percent in March to 37 percent in late May. In 2016, Trump won 60 percent of the white Catholic vote.
"Trump's vision for America is a country where you...worship in a church without shame, and express your beliefs without retribution," said Mark McCloskey, a Missouri man who, along with his wife, was charged for pointing firearms at peaceful and unarmed Black Lives Matter demonstrators.
Charlie Kirk, the 26-year-old leader of the young conservative group Turning Point USA, said that "Trump was elected to protect our families—our loved ones—from the vengeful mob that wishes to destroy our way of life, our neighborhoods, schools, church and values."
"In President Trump's America," said Kimberly Guilfoyle, a former Fox News host who is now a Trump campaign official and dating Don Jr., "we kneel in prayer and we stand for our flag!"
Trump's grip on white evangelicals began to wane with the onset of the pandemic in March. Since then, he's shifted focus toward religious issues, including when he violently dispersed peaceful Black Lives Matter protesters outside the White House to secure a photo-op with a Bible in front of a historic church that had been vandalized. The president has also pushed for states to allow churches to reopen amid the pandemic, against the advice of health experts and officials.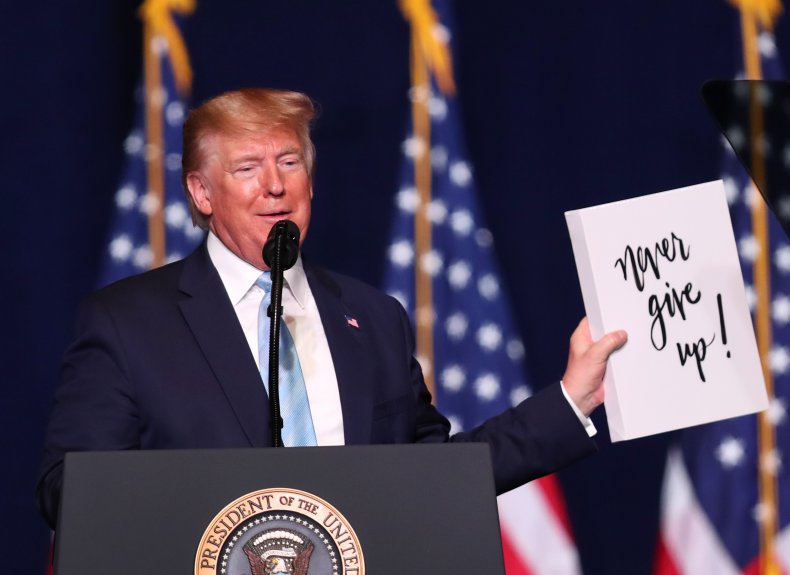 But despite the grim polling numbers and this week's efforts at the RNC to further court white evangelicals, little is likely to change, according to Richard Flory, the senior director of research and evaluation at the University of Southern California's Center for Religion and Civic Culture. That's because, Flory told Newsweek, those voters are likely to vote for a Republican no matter what.
"It's just not natural for evangelicals to vote for Democrats," Flory said. "In the end, they'll support Trump because he tells them what they want to hear. The fear taps into a deep strain of the American evangelical of the way they understand the world: it's going down and you gotta get saved."
Plus, while Trump won 81 percent of white evangelicals in 2016, his poll numbers in the run-up to the election showed him with 20 points less support among such voters. In an anomaly that may be related to the religious basis for this support, a June Pew Research survey showed that although Trump's approval rating among white evangelicals had fallen to 72 percent, 82 percent said they would still vote for him.
In addition, Trump could see a slight election boost with white evangelicals thanks to the historic peace deal Trump announced earlier this month between Israel and United Arab Emirates.
"Some could defect," Flory said of Trump's general evangelical backing. "My guess is, it isn't going to change significantly."