Road Rage Shooting Captured by In-Car Camera Viewed More Than 450K Times
An instance of road rage has a Florida man in hot water, with an onboard video of the violent incident spreading online.
Police identified the man at the heart of the incident as Michael Phillip Popper, 30, of Deerfield Beach, Florida, CBS Miami reported. At approximately 7 a.m. on June 21, 2021, Popper became frustrated with another driver as he headed southbound on I-95, eventually leading him to open fire on the other car with a handgun.
On Friday, local talk show host Andy Slater shared footage of the incident taken by an in-car camera. In the clip, Popper can be seen getting increasingly frustrated before reaching into the center console of the vehicle and pulling out a small handgun. After another moment, he fires on the other vehicle 11 times, with several shots hitting the target. On Twitter, the video has been viewed over 450,000 times as of Saturday morning.
According to Slater, Popper has been arrested and faces charges related to the road rage incident. He also reported that Popper claimed that the other driver had opened fire at him first on that morning in June.
Newsweek reached out to the Miami-Dade Police Department for a comment on this story and to clarify the charges that Popper is currently facing.
CBS Miami obtained an arrest report from the department, which goes into greater detail about what happened during the incident.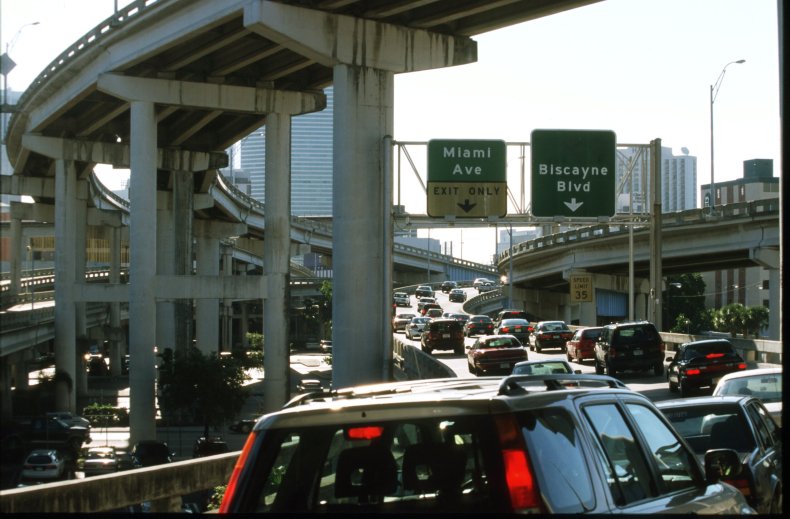 "The defendant [Popper] changed lanes in front of the victim and abruptly cut him off. When the victim honked his horn, the defendant shouted an expletive and abruptly applied his brakes," the report detailed.
At this point, the other car reportedly began to tailgate Popper and make several vulgar hand gestures at him. From there, Popper retrieves the handgun from his center console, as seen in the video.
"When the defendant begins to pass the victim on the right, the defendant points the handgun towards his right-front passenger door. As the victim passes the defendant, he throws and strikes the victim's vehicle with an unknown object."
NBC Miami was able to obtain another dash cam video in which Popper defends his actions.
"I was just shot at. My car was hit," Popper can be heard saying in the video, according to NBC Miami. "I returned fire back at the individual."
The driver of the other car reportedly told police that they did not have a gun in their car during the incident. Robert Gershman, the attorney representing Popper, explained to NBC Miami that the thrown bottle made a sound similar to a gunshot, explaining his client's actions.