Roasted Chestnuts: Three Easy Recipes and a History of This Holiday Treat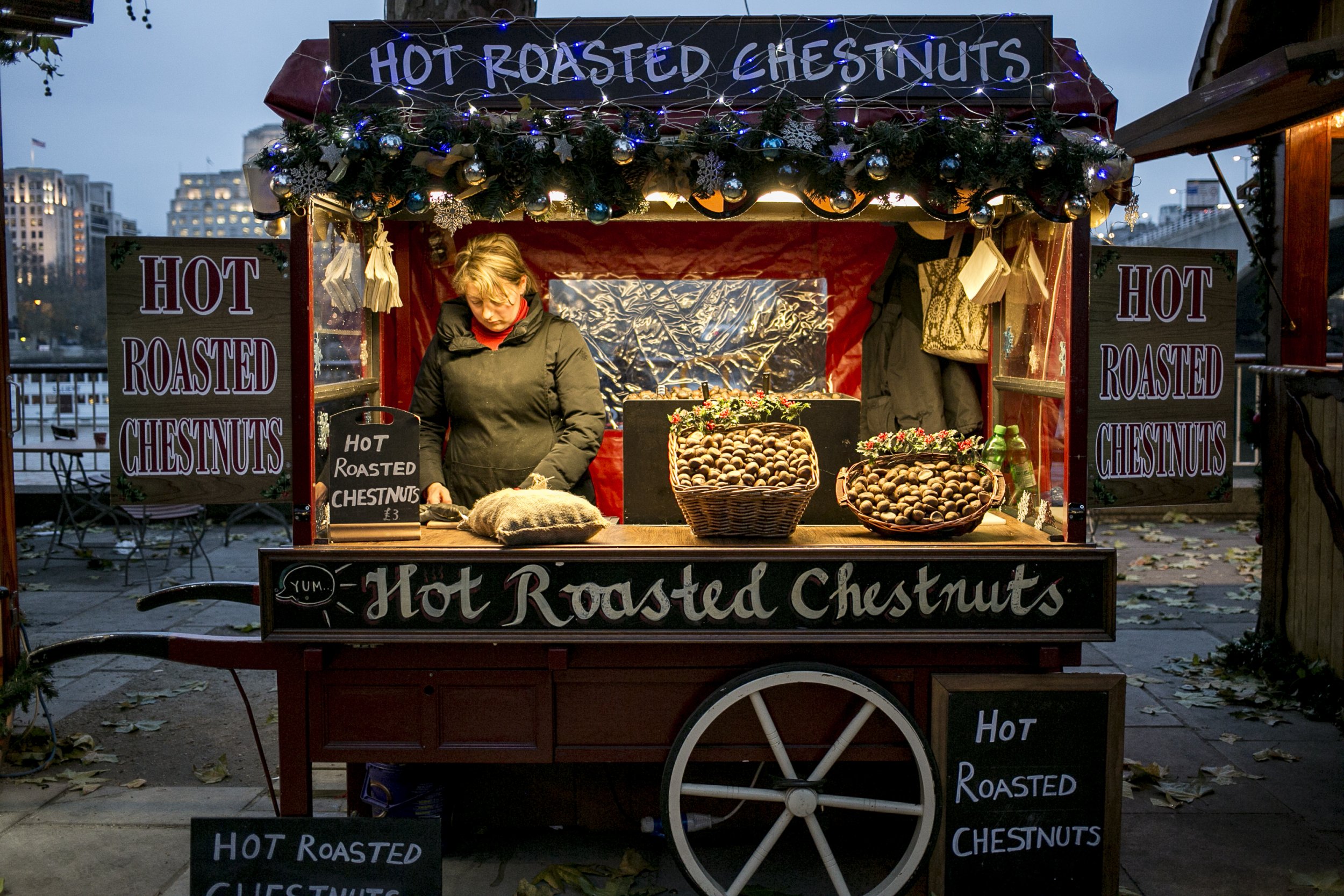 Chestnuts roasting over an open fire is a classic winter time image, thanks to Nat King Cole. But the origins of this holiday staple span long before the jazz singer crooned about the food. Here is a look at the history behind this tasty tradition—and three simple recipes.
Related: What to Drink on Christmas: Holiday Punch Recipes and Other Festive Cocktails to get in the Spirit
As LiveScience explained, chestnuts have been roasted for centuries, and not just as a way to celebrate the season. Thousands of years ago, chestnuts were a typical food source for those living near the Mediterranean Sea because inhabitants weren't able to grow other grains. So, they feasted on these nuts thanks to their fat, fiber, mineral and vitamin content. Full of vitamin C, folate, potassium, copper, selenium and manganese, the versatile food is a good source of nutrients, the University of California, Davis, wrote in a blog post on their Integrative Medicine website.
According to the LiveScience article, the first appearance of roasted chestnuts are a mystery, though they were thought to signify chastity for Christians. Some believe they popped up as a street snack in Rome during the 16th century. Others think they were first enjoyed on one of two holidays: St. Martin's Day in Portugal or St. Simon's Day in Modena, Italy.
Although we call them nuts, the food is actually a seed, according to UC Davis. The thick shell is called the burr, and as the chestnut ripens, the fleshy inner part is revealed, which is the part we typically eat.
Roasting might be the most well known preparation, but there are many ways to enjoy the seed. Chestnuts can be added to soup, stuffings, and even cheesecake.
Celebrate Christmas with this traditional snack by following one of these easy roasted chestnut recipes:
Martha Stewart's Roasted Chestnuts
Beginner to the world of chestnut roasting? Check out this easy recipe from the queen of all things domestic. Stewart teaches you how to pick, slice and roast chestnuts in this step-by-step guide.
Oven-Roasted Chestnuts with Spiced Butter
This creamy, buttery and sweet recipe is best paired with some brandy or whiskey, according to Serious Eats. The key to perfect roasting is to slit each chestnut with an "X" as a ventilation process to let steam escape while cooking.
Buttery Roasted Chestnuts in Foil
Serious foodies will want to try this recipe from Bon Appétit, which is super simple. Cooked in the oven with butter and rosemary, nutmeg and pepper, these can be whipped up quickly and roast in only 45 minutes.