Rob Gronkowski: 'In the NFL, You Can't Look at the Future'
Since the advent of the Super Bowl era, certain aspects of football have changed beyond recognition.
One facet of the sport that has remain unaltered, though, is its notorious competitiveness. The NFL has always heralded the balance between the teams and the potential for upsets as the quality that puts it head and shoulders above its competitors.
To some, "any given Sunday" might sound like a tired, old cliché, but Rob Gronkowski believes you underestimate the league's competitiveness at your peril.
"Anyone can beat anyone every single week, and it's such a tough league that you've got to be ready at all times," the New England Patriots tight end told Newsweek. "There's great players on every side of the ball and on every single team."
The figures back him up. After five weeks of football, only the Kansas City Chiefs and the Los Angeles Rams remain unbeaten, while a third of the remaining teams have won three games.
The Patriots are among them. New England was slow out of the blocks this season, going 1-2 in the opening three weeks, before back-to-back wins against the Dolphins and the Colts gave them a more respectable 3-2 record.
Slow starts aren't unusual for the franchise, which lost two of its opening four games three times between 2001 and 2004 and then again in 2014 and last season.
In the first four occasions, the Patriots ended up winning the Super Bowl, while in February they fell short of a sixth title, losing 41-33 to Philadelphia in Super Bowl LII.
While the inauspicious start fueled speculations of a dynasty approaching its winter, the team was unaffected. Again, Gronkowski pointed to the competitiveness of the league and stressed the importance of being unfazed by criticism.
"You've got to be prepared every single week," the two-time Super Bowl winner said. "You win some, and you lose some. When you win, you can't get too high, and when you lose, you can't get too low. You've just got to stay in the middle and move on to next week, win or lose."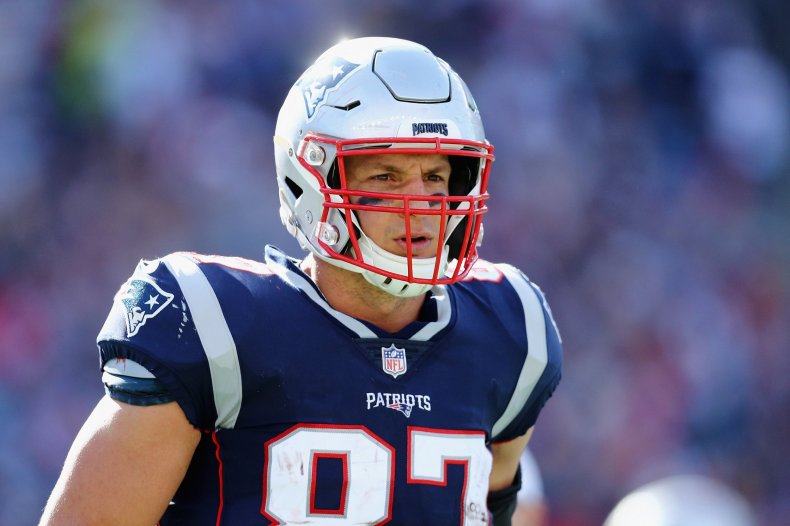 Not getting carried away can be harder for the Patriots than for the other 31 franchises, given their incredible run of success over the last 17 years. Under coach Bill Belichick, the Pats have won five Super Bowls since 2001, reaching the title game in another three occasions.
The Pats have been a mainstay of NFL's most important game in the last four years, reaching the Super Bowls three times and winning twice occasions.
No team has made the Super Bowl three times in a row since the Bills fell at the final hurdle four consecutive times between 1991 and 1994, and Gronkowski concedes the key to sustained success can be elusive—even for a ruthless machine like the Patriots.
"It's difficult to be competitive every single year," Gronkowski said.
"You can't look too far ahead. You've got to take one game at a time and don't look too far into the future—but you can't look at the past either. You've just got stay in the present and work hard every day."
The Future and Tom Brady
The future is something the former Arizona student is notoriously reluctant to discuss. After last season's finale, Gronkowski admitted he had contemplated retirement. He did not attend the Patriots' first voluntary training session of the pre-season in April, which only fuelled speculations over his future.
Eventually, Gronkowski and the Patriots agreed to a reworked contract in the summer, which added $4.3 million in incentives for the current season. Last month, however, the 29-year-old revealed he came incredibly close to abandoning his football career, threatening New England with retirement rather than accepting a trade.
Following the Patriots' defeat against the Lions in Week 3, Gronkowski admitted he was ready to walk away from the game when he found out New England was considering trading him to Detroit.
"Yeah, it happened," he told reporters in the locker room, as per Bleacher Report. "[Tom] Brady's my quarterback—that's all. Wasn't going anywhere without Brady."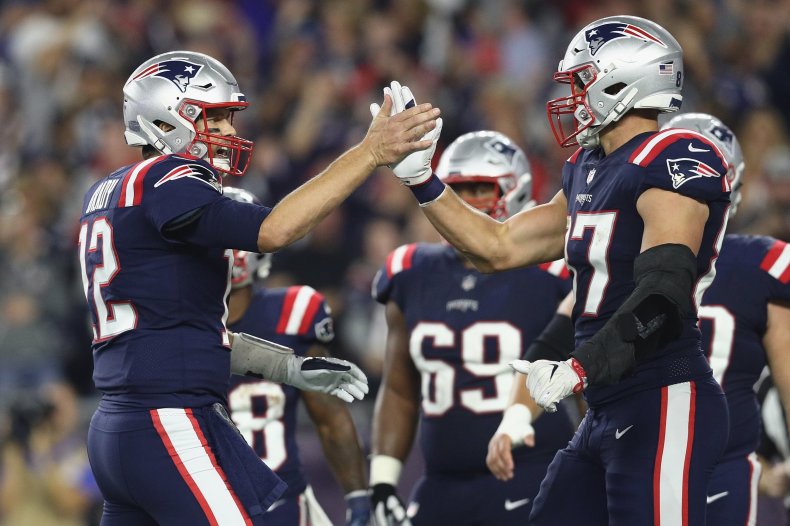 While he remained understandably coy with Newsweek on both his future and the proposed trade, the five-time Pro Bowler was happy to talk about Brady, who in Week 5 became only the third quarterback in NFL history to throw 500 touchdown passes, after Brett Favre and Peyton Manning.
A "surreal achievement" is how Gronkowski described the milestone, and one gets the feeling his admiration for Brady continues to grow even after seven seasons alongside him.
"His [Brady's] playing career is just unreal and to have been a part of it it's an honor," he explained.
"To have a percentage of touchdown passes [Brady is responsible for 76 of Gronkowski's 77 career touchdowns] thrown my way from Tom is an honor, and to be out there with him and to be a part of it, it's an honor."
Brady turned 41 in August but has repeatedly stated he intends to play well into his fifth decade, an extraordinary feat that, thanks to his dedication, no longer seems implausible.
"He works so hard every single day, and he brings his best every day, and it shows on the game field the work he puts in. That's why he's as successful as he is," Gronkowski said when asked to pinpoint the secret to Brady's longevity.
At 13.4 and 61.6 respectively, Gronkowski's yards per catch and yards per game are the lowest since his rookie season, but he has caught 74.2 percent of his passes so far in this campaign—the highest rate of his career.
His hands have been full away from the field too, as he has recently teamed up with Honey Nut Cheerios to promote the Good Rewards campaign. The program gives families the opportunity to collect a virtual currency that can be donated to one of three different teams, with the winner securing $100,000 for a charity of their choice.
Should he win, Gronkowski has already pledged to donate the money to his Gronk Nation Youth Foundation, which is dedicated to inspiring youth to reach their maximum potential through sports, education, community and fitness.
Hollywood stars Lucy Hale and Michael B. Jordan are proving to be tough opponents, but Gronkowski is confident he can overtake both. After all, in seven seasons in the NFL, he has made a habit of winning.