Rob Lowe Reflects on His Wife Giving Gwyneth Paltrow Oral Sex Lessons
Rob Lowe has opened up about Gwyneth Paltrow's revelation that she was taught how to perform oral sex by his wife, Sheryl Berkoff.
During an appearance on Lowe's Literally! with Rob Lowe podcast in July 2020, Paltrow, 49, surprised the 57-year-old actor by explaining that his wife, 60, had taught her about fellatio some three decades earlier.
The former Parks and Recreation and The West Wing star joked that Paltrow's husband Brad Falchuk—and her ex Chris Martin—should thank him for the helping hand in boosting her bedroom prowess.
Lowe said during an appearance on Jimmy Kimmel Live! on Tuesday: "Here's the thing. The good news is my wife doesn't watch anything I do so she won't be watching this, so I can say it.
"When Gwyneth was a little, precocious 18 year old, my wife was still a makeup artist on a movie that Gwyneth's mother, Blythe Danner, was working on. Gwyneth came to visit and Sheryl would give her cigarettes and they'd go out and smoke behind the trailers. She was like a big sister to Gwyneth—still is."
"And, apparently, Gwyneth told me on the podcast, I had no idea but I must thank her, that my wife taught Gwyneth how to … how should we say this on network television? It's your show," he asked host Jimmy Kimmel.
Kimmel drew laughs from the audience as he replied: "I think 'perform oral sex' would be the way to go. Which is a very nice thing for her to do."
Lowe then quipped to the camera: "Or, as I like to say, Chris Martin and Brad Falchuk, you're welcome!"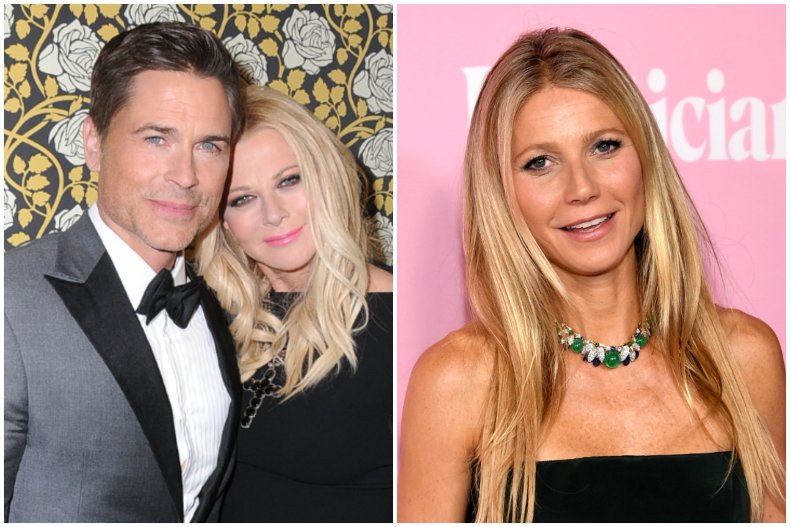 During her appearance on Lowe's podcast, Paltrow spoke about how much she appreciated that Berkoff treated her like an adult.
Paltrow was a teenager when they met, she said, according to People. "She was doing my mom's makeup on this TV movie, and I went down to visit. It was in Florida. I met Sheryl, and I was like immediately obsessed with her.
"First of all, she was dating Keanu Reeves, who was my celebrity crush. And she was so cool. And she knew that I was sneaking cigarettes, and she would come smoke with me behind the trailer, and she taught me how to give a blow job—and, you know, all the classic Sheryl stuff."
The Oscar-winning actress added that she "just worshipped" Berkoff, who married Lowe in 1991. The couple have two sons.
"I thought she was literally the coolest chick of all time," Paltrow said. "She was so awesome to me. And I was a high school kid. Like, the fact that she's loved me that much before I was anyone or anything, you know?"
The Sex, Love & goop host told Lowe: "It was so cool to have someone treat me like an adult and see me as like a young woman and someone who is sexual. She just made me feel so free."
In October, Paltrow shared more revelations about her sex life on Jada Pinkett Smith's show, Red Table Talk.