From Robert De Niro to Cardi B, These are the Celebrities Endorsing Joe Biden
As Election Day gets closer, celebrities are sharing who they think would be the best choice as president of the United States. Although President Donald Trump has his base of supporters, many celebrities have voiced their support for Democratic nominee and former VP, Joe Biden.
Here are the celebrities who have endorsed Biden for president.
Jay Leno said that "People like Joe because he's got a good character," in March, via The Hill.
Mark Hamill endorsed Biden this past April, after Trump called the Wall Street Journal fake news. "Perpetually obsessed with ratings & praise for himself, but still not a word of sympathy for the suffering or those who died," the Star Wars icon wrote. "The lack of empathy is remarkable. The Thing imitates human behavior far more convincingly than he does."
George Takei tweets his support for Biden and bashes Trump on Twitter. "He must have some "alternative polls,'" Takei wrote regarding statistics from July. "Keep your head in the sand, Donald, as we continue to work every day to elect @JoeBiden."
Billy Porter supported Biden during a virtual rally he held in April. "We need to elect a steady, experienced leader to guide us through this storm and forward. Someone with decency, character and empathy whose own life has taught him to persevere," Porter said, as per CBS News.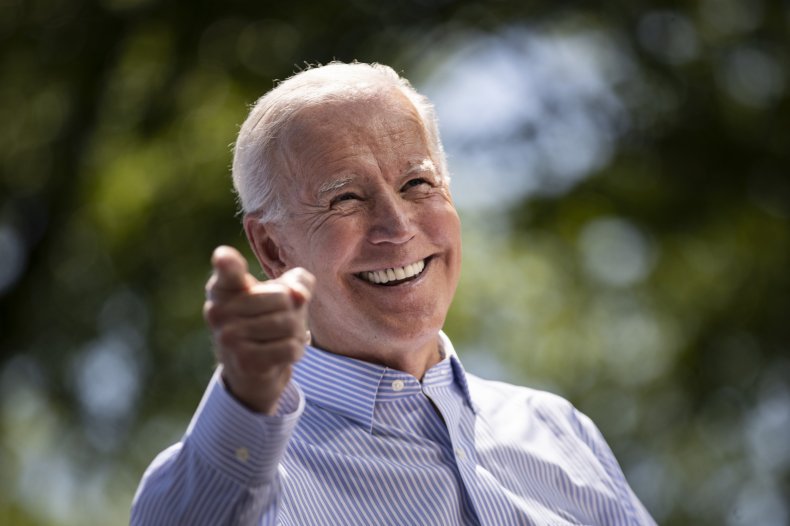 Cardi B was very vocal about her support for Bernie Sanders, but officially endorsed Biden this August. "I want a president who makes me feel secure. I want a president who understands the pain of the people. I want a president who is going to give us answers," the rapper explained to ELLE.
"Those people that he caters [to], he's not going to do anything for them. It's not like Republicans are getting better housing," she continued. "It's not like Republicans are getting better benefits. They're not. He's not doing anything for anybody. He's just saying things that appease the same people."
Rob Reiner wrote about supporting Biden in March. "The survival of Democracy depends on the removal of the most Criminally Corrupt President in our Nation's history," the actor-director tweeted. "It's time to put our differences aside and celebrate what unites US by coalescing behind Joe Biden. This Nov. let's blow the Sick Liar away."
Mark Cuban voiced his support for Biden during an appearance on Hannity. "Donald Trump doesn't want to run a country, he wants to run a campaign. Joe Biden actually wants to run a country," he said on June 23 when asked whether he thought Biden has what it takes to be the next president.
Leonardo DiCaprio attended a fundraiser for Biden in March before the coronavirus pandemic shut the country down, as per The Hollywood Reporter.
Robert Redford wrote about Biden in an op-ed for CNN in July. "Biden leads with his heart," Redford said. "I don't mean that in a soft and sentimental way. I'm talking about a fierce compassion — the kind that fuels him, that drives him to fight against racial and economic injustice, that won't let him rest while people are struggling."
Andy Cohen spoke at Biden campaign's Celebration for Change virtual fundraiser concert this past July.
Julia Louis-Dreyfus spoke at a Biden campaign fundraiser event in July, and said Trump was worse than a fictitious president. "[Trump's] actually worse than a fictional president with a team of professional writers working 24/7 to make her as bad as possible," Louis-Dreyfus said, via Deadline.

Billie Jean King expressed her support for Biden this summer. "This Sunday will mark #100DaysToGo until the election," the tennis legend tweeted on July 23. "The change I dream of celebrating is an America where we can live & love authentically, & where every marginalized community is ensured equality."
Barbra Streisand endorsed Biden in March. "I wholeheartedly endorse Joe Biden for President," she tweeted. "Trump must be beaten in November before he does more damage to our democracy, environment, health, safety and standing in the world."
Jon Stewart told Stephen Colbert during an episode of The Late Show with Stephen Colbert that he thinks Biden is the leader America needs right now. "I actually believe something in (Biden's) life experience can benefit this country at a moment where it desperately needs it," he said.
Cyndi Lauper appeared on an LGBTQ+ social hour with Dr. Jill Biden in April.
Robert De Niro also told Colbert in May that he is "for Biden." "I'm for Biden and I want everything to go well for Biden," the film legend said, "but at least we have a person who is a very capable backup if you will, if something would change, God forbid nothing will change."
David Crosby commended Biden's public speaking skills in June. "Ok ...that's a president speaking ...right on Joe ...I believe in you," he tweeted.
Anna Wintour wrote about Biden in a VOGUE op-ed this past March. "(Joe Biden) is unmistakably a man of character and has so many qualities that we are in desperately short supply of in Washington right now: decency, honor, compassion, trustworthiness, and best of all experience," Wintour said.
Cher endorsed Joe Biden in March in an all-caps tweet. "JOE BIDEN
SINK OR SWIM, I'M WITH HIM," she wrote. "PRESIDENT OBAMA CHOSE JOE 'TWICE' BECAUSE HE THOUGHT HE WAS THE RIGHT MAN FOR THE JOB.I KNOW PRESIDENT OBAMA THINKS JOE'S THE RIGHT MAN FOR THIS JOB."
John Legend tweeted that he supports Team Joe this past June. "I support #TeamJoe because this nightmare of a presidency needs to end. Join us tomorrow, Thursday, June 11th."
Additionally, Deadline reported in July that the Biden Victory Fund received donations from Jane Fonda, Lily Tomlin, Alyssa Milano, Shia LaBeouf, Tom Hanks, Ben Affleck, Dustin Hoffman and Donna Dixon, among many others in the entertainment community.
Billboard also revealed that Biden's supporters include Alec Baldwin, John Leguizamo, Debra Messing, Seth MacFarlane, author George R.R. Martin, Melissa Etheridge and Carole King.
And, of course, former president Barack Obama.