Robert Downey, Jr., James Gunn and More Celebs Defend Chris Pratt After He's Criticized on Twitter
Chris Pratt is continuing to receive support from his Marvel movie co-stars and others after the actor was lambasted online over assumptions about his political views and religious beliefs.
Pratt, who has remained largely silent about politics, was called out after he appeared in a tweet alongside other famous actors named "Chris" with a caption of "one has to go," a play on a meme from last year that asked people to choose between their favorite candy bars.
"What a world... The 'sinless' are casting stones at my brother, Chris Pratt... A real Christian who lives by principle, has never demonstrated anything but positivity and gratitude," Pratt's Avengers:Endgame co-star Robert Downey, Jr. wrote on Instagram on Tuesday.
"AND he just married into a family that makes space for civil discourse and (just plain fact) INSISTS on service as the highest value," Downey added.
Downey was referring to Pratt's wife Katherine Schwarzenegger Pratt, the daughter of the actor and former Republican Governor of California Arnold Schwarzenegger and journalist Maria Shriver, who also came to her husband's defense.
"There's so much going on in the world and people are struggling in so many ways," Schwarzenegger Pratt wrote in response to a different Instagram post. "Being mean is so yesterday. There's enough room to love all these guys. Love is what we all need not meanness and bullying. Let's try that."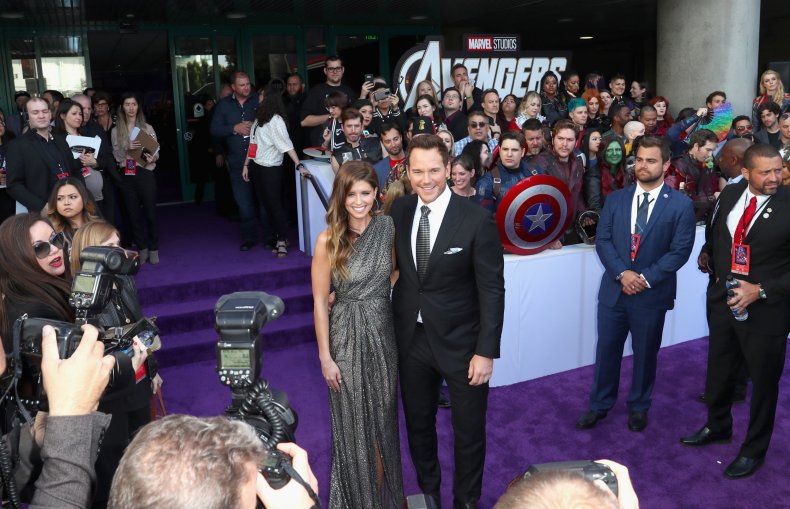 Some who responded to the Twitter meme noted that Pratt had not joined his Avengers co-stars in a recent fundraiser for Democratic presidential nominee Joe Biden, while speculating that he supports President Donald Trump instead.
The actor has not indicated that he supports any candidate or political party, although he donated to former President Barack Obama's 2012 reelection campaign. He told Men's Fitness magazine in 2017 that he did not "feel represented by either side" of politics and would like Americans to find "common ground."
The Twitter post also provoked criticism of the actor over renewed claims that he attends a church that promotes homophobic views. Actress Ellen Page said last year that Pratt goes to an "infamously anti-LGBTQ" church.
Pratt has denied the claim, saying "nothing could be further from the truth" and that he "believes that everyone is entitled to love who they want free from the judgment of their fellow man," according to the BBC.
Pratt's character was defended by several more of his Avengers colleagues on Tuesday, including Mark Ruffalo, a prominent supporter of Senator Bernie Sanders during the Democratic primaries who is now backing Biden in the general election.
"[Pratt] is as solid a man there is. I know him personally, and instead of casting aspersions, look at how he lives his life," Ruffalo tweeted. "He is just not overtly political as a rule. This is a distraction. Let's keep our eyes on the prize, friends. We are so close now."
Actress Zoe Saldana, who appeared with Pratt in Avengers: Infinity War, Avengers: Endgame and two Guardians of the Galaxy films, also offered support and words of encouragement for her co-star.
"You got this," Saldana tweeted to Pratt. "Your family, friends, colleagues & everyone who's ever crossed paths with you knows your heart and your worth!"
In response to a tweet asking if Pratt had ever publicly expressed support for Trump, Marvel Director James Gunn responded "no" and added that "it's weird" people online are "assuming this and tweeting this." He also asked that people "please stop assuming what he believes, politically or in any other way, because he's a Christian."
Newsweek reached out to Pratt's representative for comment.