Robert E. Crimo Video Shows Moment Highland Park Shooting Suspect Arrested
The moment that suspected shooter Robert E. Crimo, 22, was arrested, after an attack on a Fourth of July parade in Highland Park, Illinois, has gone viral.
The shooting at the Independence Day parade in the Chicago suburb left at least six dead and more than two dozen injured.
ABC 7's Tre Ward shared a video of Crimo being arrested in Lake Forest following the shooting. It has been viewed over 1 million times.
"He was arrested near U.S. Highway 41 & Wesley Road in Lake Forest around the time when those police units sped off from where we are staged at in Highland Park," Ward wrote in a follow-up tweet to the video.
"[His car] was originally spotted at Buckley Road & 41 in North Chicago and a brief pursuit ensued."
The video, recorded by someone in a car at an intersection facing Crimo's vehicle, shows police attempting to apprehend the suspect.
Officers can be heard ordering Crimo to step out of the car and put his hands up.
An armed police officer can be seen approaching the car from the front, while police parked behind Crimo continue to instruct the suspect.
Crimo is then seen stepping out of the car and raising his hands. He proceeds to lie on the ground.
Multiple officers, with some pointing their guns at Crimo, then descend on him and he is searched.
The recorder of the video remarks that the person being arrested is the shooter.
The Chief of Police for the Highland Park Police Department, Lou Jogmen, held a press conference after the shooting, ahead of Crimo's arrest.
"On behalf of the city, we extend our condolences to the family and friends of the loved ones who were impacted by this horrific incident that took place in Highland Park this morning.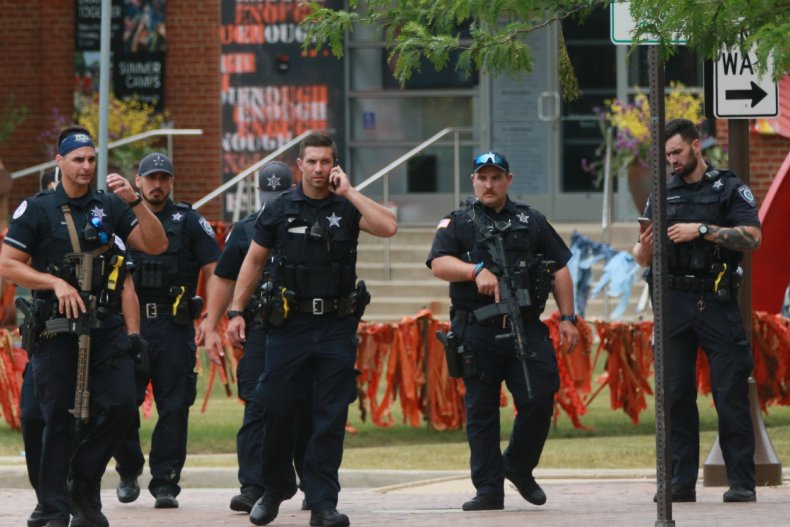 "Our investigators have been working tirelessly on this active shooter investigation."
He also asked that police be contacted if Crimo was located and that the suspect not be approached by the public as he was considered armed and dangerous.
President Joe Biden released a statement following the shooting, reflecting on the need for more work to be done regarding gun reform.
"Jill and I are shocked by the senseless gun violence that has yet again brought grief to an American community on this Independence Day," Biden said on Monday in the statement.
"I recently signed the first major bipartisan gun reform legislation in almost thirty years into law, which includes actions that will save lives," the president said. "But there is much more work to do, and I'm not going to give up fighting the epidemic of gun violence."
Newsweek has contacted the Highland Park Police Department for comment.