Patriots-hating NFL fans and critics of President Donald Trump have intersected at the Jupiter, Florida, day spa at the center of a far-reaching prostitution and sex-trafficking investiagion, where New England Patriots owner Robert Kraft was allegedly a customer.
Update: Kraft has officially been charged by the State Attorney's Office in Palm Beach County, Dave Aronberg, on charges of soliciting a prostitute. Aronberg said during a statement Monday Kraft and other alleged customers could face up to one year in prison.
Dozens of self-described "haters" have flocked to take selfies and photos with friends outside the Orchids of Asia Day Spa to mock the 77-year-old Patriots owner, and to take shots at his friend Donald Trump. The State Attorney's Office in Palm Beach County could charge Kraft as early as Monday with soliciting prostitution. Prosecutors said the billionaire, who was accused of receiving "paid acts" of sex, was not expected to be arrested Monday.
Jets fans, Patriot haters and others looking to ridicule the six-time Super Bowl champion franchise have appeared outside the Jupiter spa alongside South Florida news crews for several days since the investigation went public last week.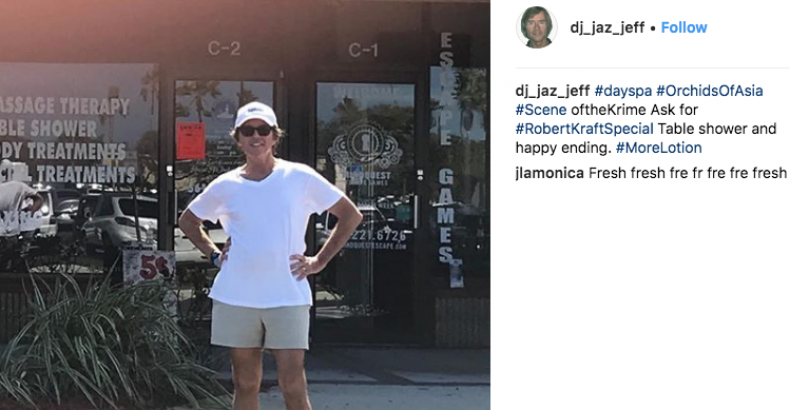 Former Jupiter resident Judy Dabbs, 70, was seen outside the now-closed spa with several frienids on Friday, taking photos to commemorate "a piece of history," The Palm Beach Post reported. Hashtags included "#OrchidsOfAsia #SceneoftheKrime Ask for #RobertKraftSpecial Table shower and happy ending. #MoreLotion" read an Instagram post showing a man named Jeff Mullen posing outside the spa.
"At the Robert Kraft Day Spa" reads a Sunday Facebook post from a man named Nick Schulz, showing him and several others smiling and posing in front of the spa.
"I am a Jets fan, so I'm here to take a picture," a Port Jefferson, New York, man named Steve told the New York Post while posing outside the spa. "It's so sad—you're reading all this stuff, and Kraft was contributing to all of this," he said, referring to the statewide sex-trafficking investigation that led to the business closure.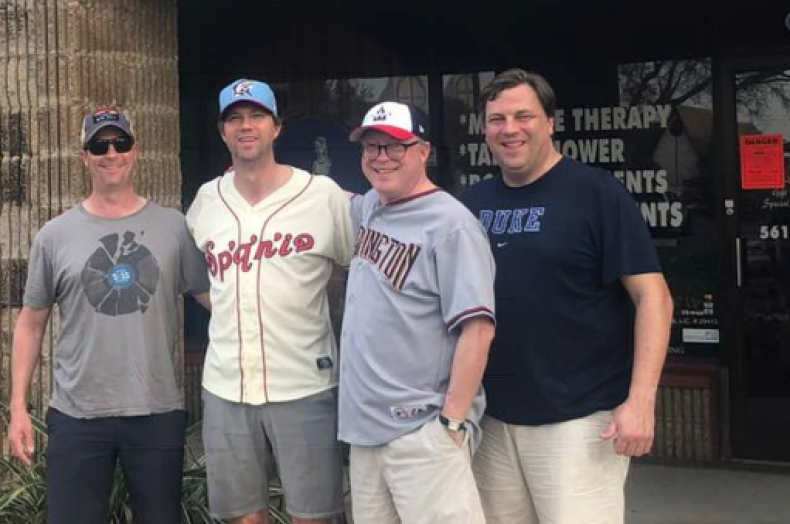 Sidewalk gawkers could be seen in dozens of social media posts peering behind the orange warning side of the former business located at 103 South U.S. Highway 1 Suite C2. "This unit is unsafe and its use or occupancy is prohibited."
"We're horrified," said owner Leah Trietiak, who owns MindQuest Escape Games, which borders the closed spa, in an interview with The Palm Beach Post. "This is a family business."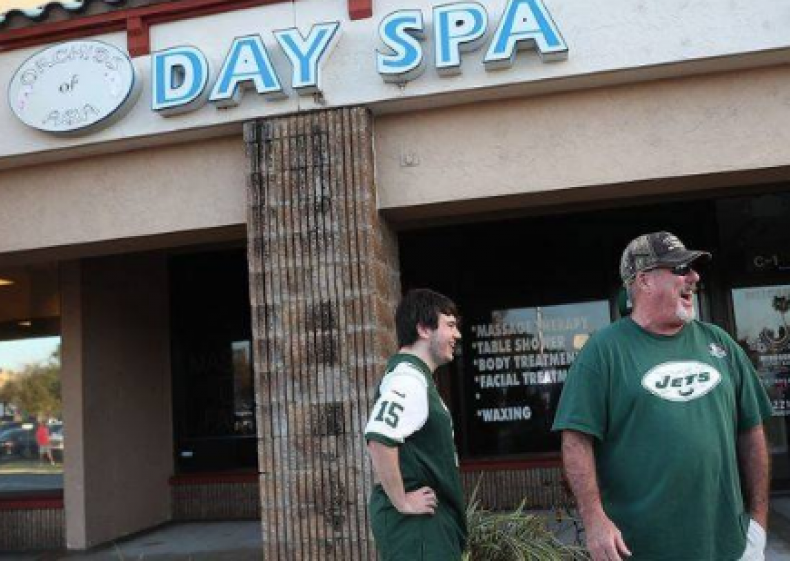 Some social media users were floating their own conspiracy theories that the suburban strip mall, the Jupiter Square Shopping Center, was not exactly the place you'd expect to find billionaires seeking any services, let alone illicit ones. Several posts included directions from the Trump National Jupiter Golf Club to the Day Spa, saying it's only 16 miles by taxi.
Memes and even bogus reviews of the Orchids of Asia Day Spa emerged making absurd, attention-seeking claims of Kraft and Trump sightings.
Trump, when asked about the accusations made against his friend, defended Kraft. "It's very sad. I was very surprised to see it," Trump said last week. "He's proclaimed his innocence, totally, but I am very surprised to see it."
The NFL issued a statement Monday saying it was seeking "a full understanding of the facts" before deciding what type of punishment it would consider against Kraft once the investigation released more details on Kraft's alleged connection.
Last week, Kraft released a statement denying any wrongdoing despite authorities saying they had video evidence of Kraft at the spa.
"We categorically deny that Mr. Kraft engaged in any illegal activity," a statement for Kraft read. "Because it is a judicial matter, we will not be commenting further."