Robinhood App Blocks GME Stock Trading, Is Flooded With 1-Star Reviews
Stock trading app Robinhood was swamped with negative reviews on the Google Play Store on Thursday after citing "market volatility" as its reason for delisting support for securities including GameStop, AMC, Blackberry and Nokia.
The move sparked outrage on Twitter and the Reddit community r/WallStreetBets, which was at the center of a stock-trading storm this week after its members poured money into the retail company GameStop in order to disrupt hedge fund short sellers.
On Google Play, the investment and trading Android app has been left with a rating of one out of five after being bombed with a barrage of critical reviews.
The general vibe was anger, with commenters lashing out at the company for seemingly siding with Wall Street and alleging it was taking part in market manipulation. Some said it could face legal action. Others said they would be switching to different apps.
"Robinhood participates in market manipulation and does not support a free and open market," one person wrote. Another review said: "They were supposed to be here for us, the small people, not bow down to the Hedge Fund Gods. Disappointed."
A third critical comment about the Android trading app fumed: "In the pocket of Wall Street, blocks stocks from trading where Wall Street has overloaded positions. Enables Wall Street to continue manipulating the market. Pulling all of my money today."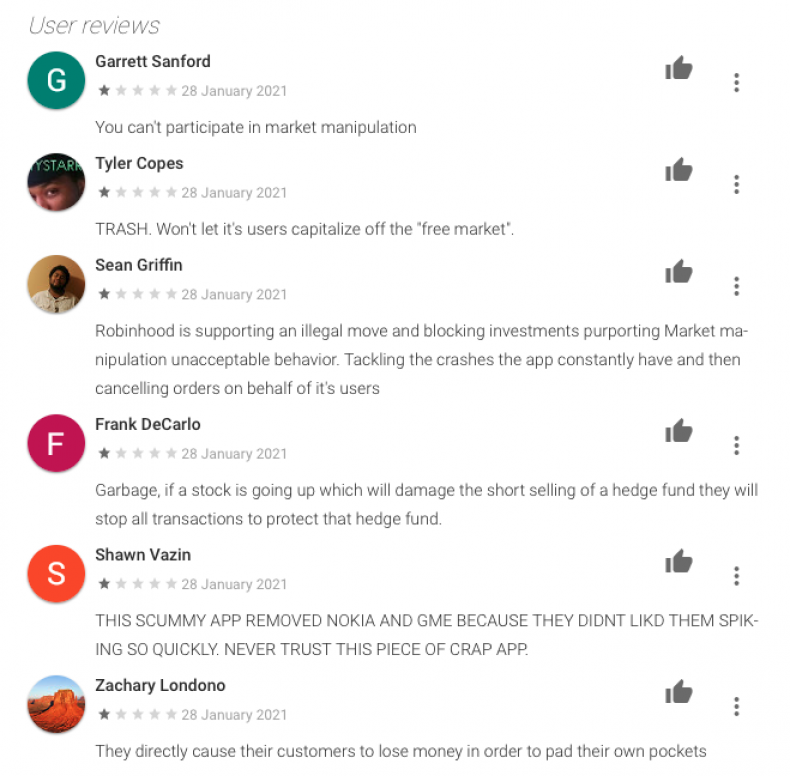 The frustrations spilled over onto the official Robinhood Twitter account, where its blog post announcing the transaction changes was met with derision and anger. The ratio spoke for itself, as the update attracted more than 30,000 responses in an hour.
One widely-like response read: "You'd think with a brand name like Robinhood you'd be all about the working class outsmarting the rich. You guys [expletive] blew it."
Robinhood said in the blog its mission was to "democratize finance for all" and asserted it fundamentally believes "everyone should have access to financial markets."
What it did not seem to provide was a clear explanation of why the stocks were delisted, only suggesting an influx of trading this week demanded the changes be made.
"We continuously monitor the markets and make changes where necessary. In light of recent volatility, we are restricting transactions for certain securities to position closing only, including $AAL, $AMC, $BB, $BBY, $CTRM, $EXPR, $GME, $KOSS, $NAKD, $NOK, $SNDL, $TR, and $TRVG. We also raised margin requirements for certain securities," it said, using financial terms for firms, including GameStop (GME).
The massive GameStop stock rally this week had extended to additional companies, including American Airlines (AAL) Nokia (NOK) and BlackBerry Limited (BB).
Trading app WeBull confirmed in a tweet that it had also stopped trading on GameStop stock on Thursday, citing "extreme volatility in the symbols AMC, GME, and KOSS."