Robinhood and Other Investment Apps Could Face Tighter Regulation Over GameStop Actions
Robinhood, the trading app that allowed many of the investors responsible for inflating GameStop's share price to purchase stock, should face tighter restrictions in the future, industry figures have told Newsweek.
The California-based app, founded in 2013 with the promise of "commission-free stock trading," is one of a raft of easy-to-use broker-dealer apps, that includes Webull, Moomoo and etoro, responsible for introducing millions of individuals investors to stock trading.
It was the route used by many of the first-time traders on the subreddit r/wallstreetbets to purchase shares in GameStop, after the stock was earmarked for collective action by Reddit investors to both reap quick gains and impose losses on hedge funds and other short-sellers who have betted against the video game retailer's value falling.
Robinhood and its competitors are now set to face scrutiny as regulators respond to the dramatic price inflation of GME shares. The White House and U.S. Securities and Exchange Commission said yesterday they were "monitoring" the latest developments around GameStop's stock surge.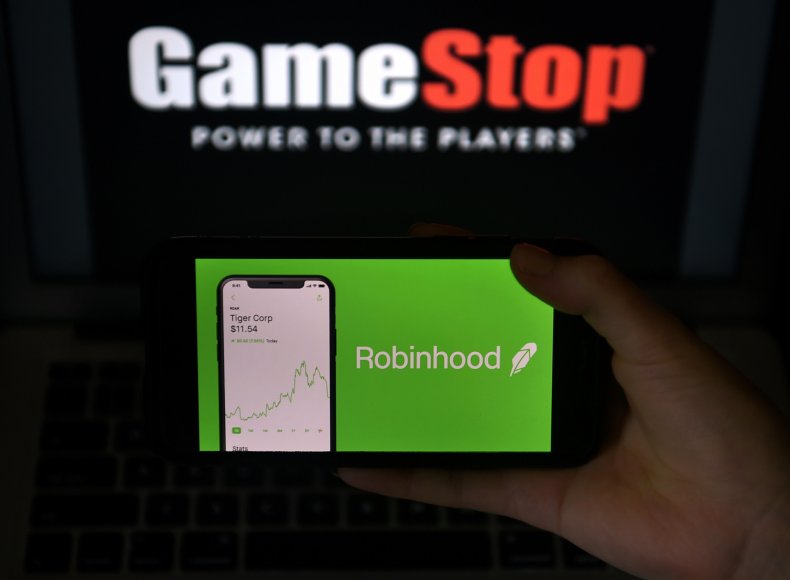 Analysts and leading figures in the finance industry added weight to the calls, telling Newsweek that apps such as Robinhood may have acted in breach of the law, and calling for tighter regulations, or even for them to be "shut down."
Ross Gerber, CEO of Gerber Kawasaki Wealth & Investment Management, accused Robinhood of acting "illegally" by gamifying trading options, and said he believed the platform should not be allowed to continue trading.
Asked whether individual investors could expect to see increased regulation in response to the rollercoaster ride that GME stock has taken in recent weeks, Gerber instead pointed the finger of blame directly at apps such as Robinhood.
"It's regulators jobs to protect investors," Gerber said. "The problem isn't the market. It's Robinhood. They gamified option trading for small clients. This is not legal and they should be shut down. Nothing wrong with the markets at all. Just corrupt Robinhood."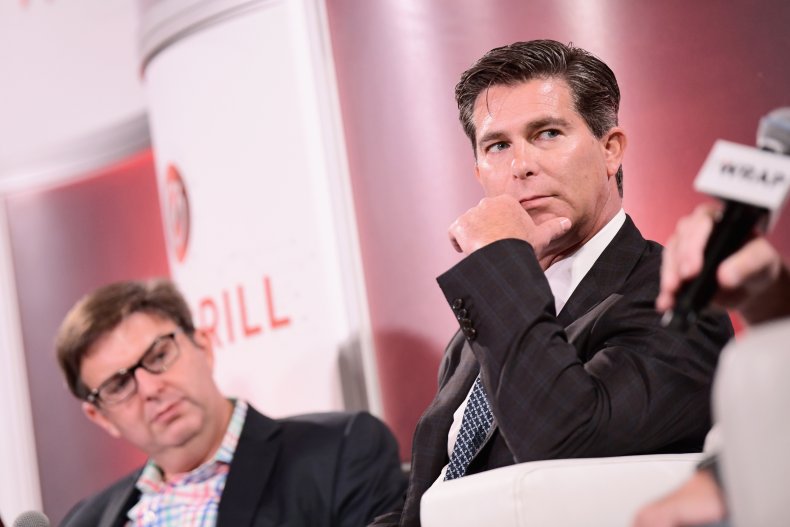 Peter Hanks, an analyst at DailyFX echoed Gerber in telling Newsweek that impetus for regulation lay not just on limiting the actions of individual traders. He instead highlighted the relationship between "market makers, brokerages and retail traders" as an area for any likely focus from regulators.
"This event has certainly caught the eye of U.S. regulators for a multitude of reasons but I believe the relationship between brokerages and their institutional clients might fall under more scrutiny than the board of Reddit users," Hanks said.
"It is difficult to regulate such a large collective with varying intentions and the market has seen discourse like this before on Yahoo message boards during the Dot-Com Bubble.
"Exactly what regulation will come is yet to be seen, but the relationship between market makers, brokerages and retail traders might be a starting point as a conflict of interest seems present."
Gerber, however, was more critical of the role of subreddit r/wallstreetbets, known as WSB, in inflating the price of GameStop stock, saying it amounted to market manipulation, an illegal activity.
"None of this is new and institutional traders have been playing these games forever," Gerber said. "There are many low volume / value companies that can be manipulated. Although stock manipulation is illegal, it's never really enforced."
He did, however, welcome the influence of WSB and apps such as Robinhood for encouraging individuals to invest in stocks and shares.
"I think the whole thing is great in some ways. We love to see individual investors back in the market. They've been told for so long to buy index funds and forget it. But stocks are the key to building wealth so people are super excited to invest in stocks," he said.
Robinhood faces backlash
Robinhood has meanwhile raised $1 billion in additional emergency funding, in part to finance payouts to customers in the wake of a frenzied week of trading on the app.
The app was criticised for limiting trading on a number of stocks, including GameStop and American Airlines, on Thursday, a decision it said was down to "high volatility." Broker-dealers such as Robinhood run the risk of over-exposing themselves on some positions, if they do not have the liquidity to fund a mass cash-out by individual investors.
The decision by Robinhood and other trading platforms such as International Brokers to curtail trading on certain stocks led to massive price collapses. GameStop (GME) finished the day yesterday down by 44 percent, with a total of $11 billion wiped off its stock price.
AMC and Blackberry, both highly traded stocks on Robinhood and the focus of attention on the subreddit r/wallstreetbets which hosted the speculation that pushed GME stock to be the best-performing of this year so far, ended the day down 57 percent and 41 percent respectively.
Robinhood faces legal action from one user who filed a court case in Manhattan against the company, saying it had removed GameStop stock in order to "purposefully and knowingly manipulate the market." Robinhood did not respond to reporters' requests for comment in response to the action.
Hanks commented that had Robinhood not removed trading options on this raft of stocks, the markets likely would have seen further volatility yesterday.
"It seems brokerages are making a concerted effort to stem any "highly" speculative interest by their clients," he said, pointing to Robinhood's suspension of purchasing of American Airlines stocks. "If not for this proactivity, I suspect there may have been considerable moves in other stocks or even commodities as we're seeing to some degree with silver."
Elon Musk and Representative Alexandria Ocasio-Cortez are two figures who have called on Robinhood to further explain its decision to cease trading on these stocks. Hanks added: "How they [Robinhood] determine what is 'highly' speculative could use some transparency."
Neither Robinhood nor the U.S. Securities and Exchange Commission had responded to Newsweek's request for comment at the time of publication.