Dwayne Johnson is part of a wrestling dynasty and now his daughter is set to become a WWE star in her own right.
The Rock was beaming with pride for his eldest girl Simone Johnson during an appearance on Jimmy Kimmel Live! on Wednesday and told host Kerry Washington about her WWE debut and he revealed he can't wait for his mini-me to start laying "smackdowns" in the ring.
Going by the stage name Ava Raine, Simone Johnson made her first WWE appearance in front of a live crowd at an NXT house show in Orlando, Florida last Sunday (July 10).
"I'm really proud of her," Johnson said when Washington said that Simone is "making history" with her WWE debut.
"So Simone Johnson, my oldest daughter made her debut uh in WWE in its smaller federation NXT—she did so good," the proud dad told the audience.
"She went out there on the microphone—you got to be poised when you go out there."
The Rock then went on to discuss his 20-year-old daughter's "cool" wrestling name, Ava Raine.
When asked how a wrestler comes up with their pro name, The Rock explained: "Well, it comes from all different areas. Usually, it's a mix of what she wanted to do and what she wanted to be called. Ultimately, what the 'powers that be' want her to be called to... She's the first fourth generation of pro wrestlers in WWE."
Simone Johnson follows in the footsteps of her dad of course, who retired from the WWE in 2004 as well as her grandfather "Soul Man" Rocky Johnson, and Dwayne Johnson's grandfather, Prince Peter Maivia aka "The High Chief."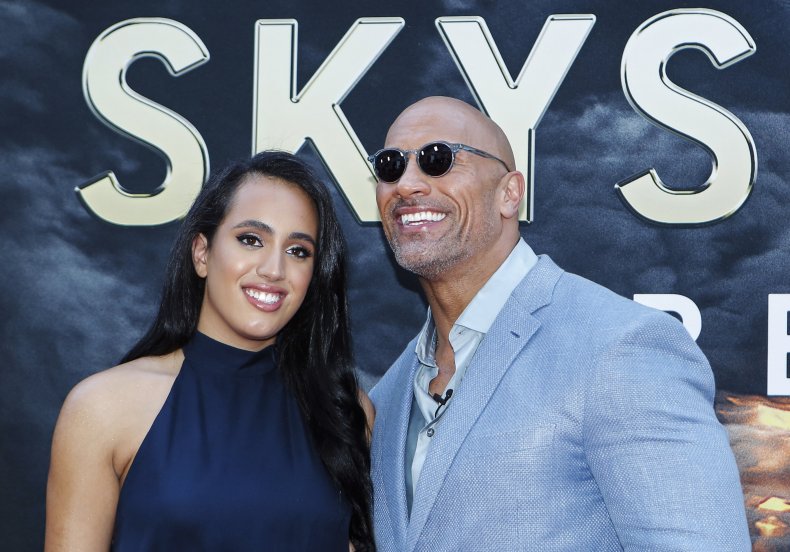 However, the name means something different to him and he proudly added: "I always like to say that the name Ava Raine could mean a lot of things, but to me, it means she's going to lay 'The Smackdown' on candy-asses when she goes."
Johnson spoke about his daughter carrying on his family's wrestling legacy last week, telling Entertainment Tonight: "She is fiercely independent. It's very important for her to make her own way. Blaze her own trail. Blaze her own path. She doesn't come to me looking for a lot which I respect that. And I'm here watching and supporting."
Simone Johnson faced some criticism for her name earlier this summer, when some wrestling fans thought she wasn't honoring her family's legacy.
"I probably sound like a broken record & hopefully this is the last i'll mention this, but I don't understand why people being portrayed as separate individuals from their family name is such a heated topic," she tweeted. "A name doesn't discredit any prior accomplishments from any family."