The Rock Announces Appearance at SmackDown Live Premiere on Fox
Dwayne "The Rock" Johnson confirmed that he will take part in the premiere episode of WWE's SmackDown Live on Fox this Friday.
The "most electrifying man in sports entertainment" took to Twitter to inform his followers that he will return to the place where his on-television career began. The Rock said, "FINALLY...I come back home to my WWE Universe. This Friday Night, I'll return for our debut of SmackDown Live on FOX. There's no greater title than the people's champ. And there's no place like home. Tequila on me after the show."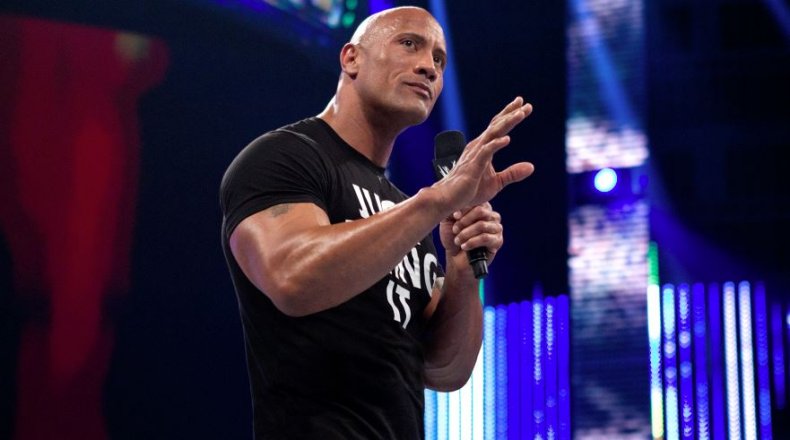 The Rock's inclusion on the first episode of SmackDown Live on Fox is another way the promotion is making the event a big deal.WWE announced that the October 4 episode of SmackDown on Fox will celebrate the brand's 20th anniversary with plenty of special guests.
There are scheduled appearances from Kurt Angle, Lita, Mick Foley, Booker T, Hulk Hogan, Trish Stratus, Goldberg, Jerry Lawler, Mark Henry, Ric Flair and Sting.
The Rock was last seen on WWE television at WrestleMania 32 when he defeated Erick Rowan in an impromptu match before fending off the Wyatt family with the help of John Cena. He also made a non-televised appearance after the February 20, 2017 episode of Monday Night RAW to promote Fighting With My Family, a film he produced.
In the days leading to the Fox premiere, the WWE has announced some high-profile matches for the show. The biggest is the WWE Championship match between current champ Kofi Kingston and a returning Brock Lesnar.
The Kevin Owens and Shane McMahon feud will likely end this Friday in a ladder match where the loser must leave the WWE. Also confirmed for the show is a singles match between Roman Reigns and Erick Rowan and a tag match between Becky Lynch and Charlotte Flair and Bayley and Sasha Banks.
SmackDown's premiere on Fox is a part of WWE's "premiere week," which starts Monday Night with the season premiere of RAW. Brock Lesnar, Ric Flair and Hulk Hogan are all scheduled to make appearances while Seth Rollins puts his Universal Championship on the line against the legendary Rey Mysterio.
There are also two other championship matches for fans to look forward to, the US Title match between AJ Styles and Cedric Alexander, and the RAW Tag Team Championship match between Robert Roode and Dolph Ziggler and Heavy Machinery.
What do you think of the upcoming episode of SmackDown Live on Fox? Are you excited for The Rock's appearance? Let us know in the comments section.