WWE SmackDown 20th Anniversary Show to Begin Fox Broadcast on October 4
SmackDown Live moves to Fox this October, but the first episode of the blue brand's new home will mark the show's 20th Anniversary.
WWE announced the special anniversary episode on Monday with fans being able to watch and attend the show when it goes live Friday, October 4 from the Staples Center in Los Angeles.
"SmackDown has been delivering action-packed, family-friendly programming for two decades, and we look forward to entertaining generations to come as we begin this next chapter on FOX," said Vince McMahon, WWE Chairman & CEO in a press release.
Tickets for the SmackDown 20th Anniversary show will go live Friday, August 16 starting at 1 p.m. EDT via the Staples Center box office, www.AXS.com or by calling 1-888-929-7849.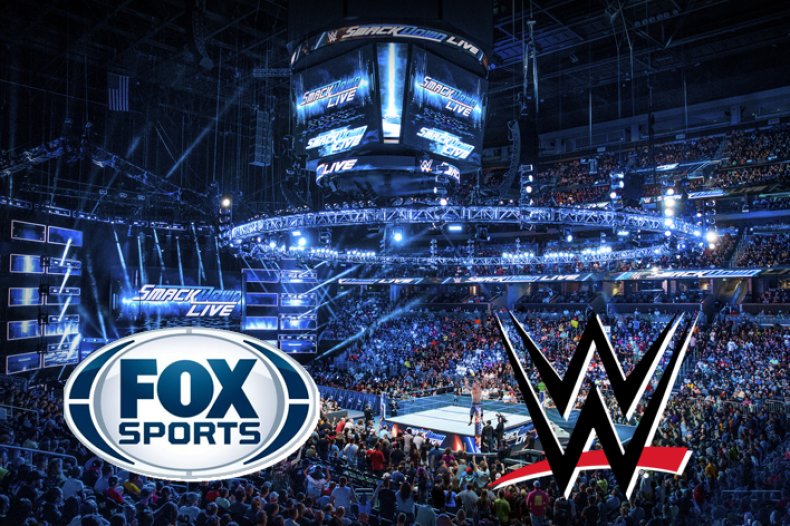 As common with these big anniversary shows, WWE is bringing out past superstars to celebrate the occasion. There are scheduled appearances from Kurt Angle, Lita, Mick Foley, Booker T, Hulk Hogan, Trish Stratus, Goldberg, Jerry Lawler, Mark Henry, Ric Flair and Sting.
SmackDown Live is currently airing Tuesdays on the USA network, but the move to Fox was finalized last year.
In March 2018, reports that WWE and Fox were in agreement to bring SmackDown to its channels surfaced. NBCUniversal reportedly declined to keep the blue brand on USA, which opened up the possibility for another channel to buy it.
Fox's deal with WWE is reportedly for five years worth $205 million annually. The deal was made official in June with the WWE also announcing a five-year extension with NBC to keep Monday Night RAW on USA.
"Since we announced our five-year agreement last June, we have been eagerly counting down the days to the launch of SmackDown Live on FOX Sports," said Eric Shanks, Chief Executive Officer and Executive Producer of FOX Sports in a press release. "We couldn't be more excited and are pulling out all of the stops to commemorate SmackDown's 20th anniversary celebration."
The 20th Anniversary SmackDown comes almost a year after SmackDown 1000, a special episode celebrating 1000 episodes of the blue brand. That show emanated from Washington D.C., and saw the reunion of the Evolution stable that consisted of Randy Orton, Triple H, Ric Flair and Batista.
This also pushed the angle that would eventually become Batista vs Triple H at WrestleMania 35. That match would also be Batista's last as he announced his retirement from in-ring competition shortly after.
Are you excited for the SmackDown 20th Anniversary episode? Let us know in the comments section below.