22 Journalists Killed in Philippines Since Rodrigo Duterte Became President
A journalist who was part of a Pulitzer Prize-winning team which investigated the brutal war against drugs waged by President Rodrigo Duterte has died after being shot, sparking outrage from lawmakers and rights groups.
Jesus "Jess" Malabanan, 58, was targeted by two men riding a motorcycle past a stall run by his family in the city of Calbayog in Samar province, the Philippine National Police (PNP) headquarters said in a Facebook statement.
He was shot once in a head as he watched television at the stall on Wednesday night and died on his way to hospital.
His wife, Mila, said, according to the Manila Standard newspaper where he was a correspondent, that he was watching television "when a shot rang at close range."
She added, "I didn't see the gunman because it was dark."
Malabanan was also a stringer for Reuters, with whom he worked on the drug war stories that netted it the Pulitzer Prize in 2018.
A Reuters spokesman said in a statement the agency was "deeply saddened" to hear of his death and described him as a "talented and tenacious journalist".
Malabanan is at least the 22nd journalist to be killed in his country since Rodrigo Duterte became president in 2016, according to the National Union of Journalists in the Philippines (NUJP).
The Philippines has long been considered one of the most dangerous countries in the world for journalists, and is where at least 189 journalists have been murdered since 1986, according to the NUJP.
Duterte, who has announced he would step down from politics, has been criticized by global media watchdogs and human rights groups for the seeming impunity police forces have had in enforcing his crackdown against illegal drugs.
The Pampanga Press Club said in a statement that it "condemns in the strongest terms" the killing of Malabanan, who "had proven himself to be a man dedicated to his duties as a journalist," according to the Manila Standard.
Meanwhile, the senator Richard Gordon, who chairs the Senate Justice and Human Rights Committee, said: "we are saddened to learn about the assassination of Jess Malabanan."
"The culture of silencing journalists, who are purveyors of truth, must be stopped," he added, according to the Manila Bulletin.
PNP chief General Dionardo Carlos said a task force involving regional units were being coordinated to solve the case.
"We understand the call of the family and different groups to expedite the investigation of the case," he said in a statement on Facebook, "these requests will not fall on deaf ears."
Newsweek has contacted the Philippine National Police for further comment.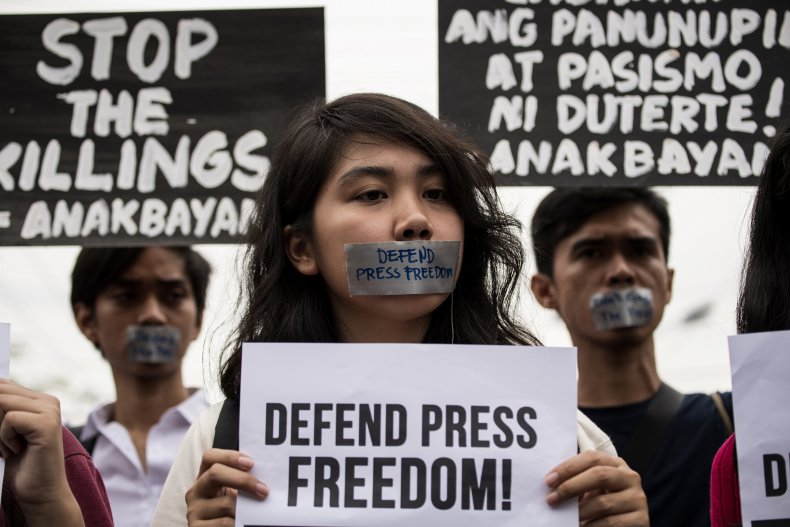 Manny Pacquiao, a retired boxing champion and presidential contender, said in a statement: "This cold-blooded murder is an undeniable proof of the glaring impunity that continues to pervade in our country."
Acting presidential spokesperson Karlo Nograles said "we condemn in the strongest possible terms the tragic murder of Jesus 'Jess' Malabanan in Calbayog City."
He said a presidential task force "is now looking into the incident and exploring all angles, including the possibility that the killing was related to his work as a journalist."
"It likewise urges everyone with information to come forward to authorities and cooperate with law enforcers in order to immediately bring Mr. Malabanan's killers to justice," he added, The Sun Star reported.
Meanwhile, the country's Commission on Human Rights (CHR) will also investigate the killing.
"We call on the government to urgently address killings and similar threats to the media, who continue to form part of the working democracy," CHR spokesperson Jacqueline Ann de Guia said.
In October, Philippines' journalist Maria Ressa became the joint recipient of the Nobel Peace Prize for her fearless work that was critical of Duterte and his government, which has cracked down on media freedoms.