Who are Maria Ressa and Dmitry Muratov, Nobel Peace Prize Winners?
Maria Ressa and Dmitry Muratov, two journalists who fearlessly criticized their country's governments in the Philippines and Russia, have been awarded the Nobel Peace Prize.
In announcing the prize on Friday, the chair of the Norwegian Nobel Committee, Berit Reiss-Andersen, said the pair represented journalists who fight for the ideal of standing up to an "abuse of power, lies and war propaganda."
Ressa is the CEO of the news outlet Rappler, which was praised for its "critical attention on the (President Rodrigo) Duterte regime's controversial, murderous anti-drug campaign," the Nobel committee said.
The outlet also won plaudits for its documenting of "how social media is being used to spread fake news, harass opponents and manipulate public discourse."
Muratov heads the independent newspaper Novaya Gazeta, which faces down physical and mortal threats in its criticism of the Kremlin.
"Muratov has for decades defended freedom of speech in Russia under increasingly challenging conditions," Anderson said.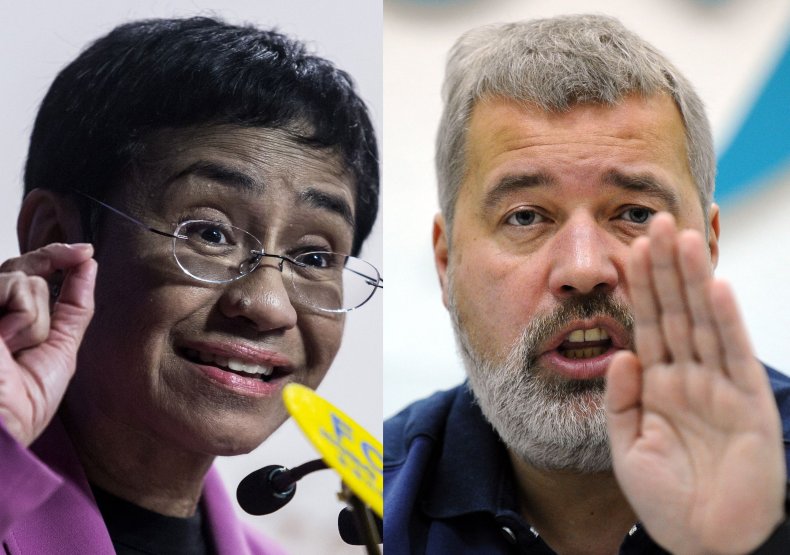 Ressa, 58, is a former CNN bureau chief and was named TIME Person of the Year in 2018 among a group of other journalists who had fought against fake news.
She says she has been targeted because of her news site's critical reports on Duterte, who has just announced he would step down from politics.
Last year, she was convicted of cyber libel under her country's controversial Anti-Cybercrime law, which was condemned by rights groups as an attack on press freedom.
She is on bail pending an appeal against the conviction for which she faces up to six years in prison.
"I'm a little shocked. It's really emotional," she said on Friday, Al Jazeera reported, "but I am happy on behalf of my team."
Muratov, 59, said the win was unexpected, and that he thought the incoming phone call from a Norwegian number telling him of his prize, was spam.
Since he founded the paper in 1993, six journalists have been murdered. His prize comes amid a crackdown on independent media outlets many of which have been branded "foreign agents" although his publication is not among them.
He told the Podyom news site: "Russian journalism is being suppressed right now. We will try to help people who are now recognized as 'foreign agents' and who are being attacked and expelled from the country."
News of the first Russian winner since the fall of the Soviet Union and was reported by state news agencies. Dmitry Peskov, who is a spokesman for the Kremlin which Novaya Gazeta is so critical of, praised Muratov as a "talented and brave" person.
While known in their field, Muratov and Ressa do not have the global recognition of other contenders for the prize, which included climate activist Greta Thunberg and Russian political activist, Alexei Navalny.
The prestigious award accompanied by a gold medal and 10 million Swedish kronor (more than $1.14m) will be presented on December 10.
Update 10/8/2021 9.30 a.m. ET: This article has been updated with additional information.