Roe Leak Prompts U.S. Senate to Begin Process to 'Protect' Abortion Rights
In the wake of a leaked draft opinion from the Supreme Court stating the majority is poised to overturn Roe v. Wade, Senate Majority Leader Chuck Schumer vowed the Senate would "protect a woman's right to choose."
On Monday, the Supreme Court draft opinion was leaked, mobilizing citizens and lawmakers in the face of a broad GOP push to ban abortion. Schumer announced that the caucus will hold a vote on legislation that would protect a woman's right to get an abortion.
Schumer and fellow Democratic leaders are working on a bill to protect women's rights. On Tuesday, the Senate began the Rule 14 process to bypass the referral of a bill to a Senate committee and have the measure placed directly on the Senate Calendar of Business. Placing a bill directly on the calendar does not guarantee that the full Senate will ever consider the bill, but makes it available for floor consideration.
The proposed legislation, S.4132, is a bill "to protect a person's ability to determine whether to continue or end a pregnancy and to protect a health care provider's ability to provide abortion services," according to the Senate Periodical Press Gallery.
Simultaneously, Schumer said the Senate will hold a vote on legislation to codify the right to an abortion in law.
"This is as urgent and as real as it gets," Schumer said. "We will vote to protect a woman's right to choose and every American is going to see on which side every senator stands."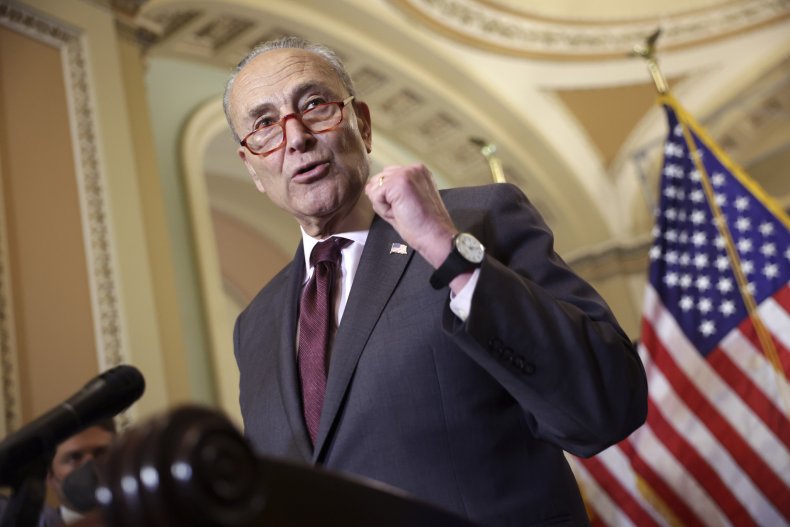 Schumer said the blame for the Supreme Court draft opinion falls on Republican senators "who spent years pushing extremist judges, spent years confirming three far-right justices to the Supreme Court, but who claimed somehow this day would never come."
The majority leader said since the day has now come, it is up to the American people to do their due diligence and fight.
"November will have consequences because the rights of a hundred million women are now on the ballot," Schumer said. "To help fight this court's awful decision, I urge every American to make their voices heard this week and this year."
If the Supreme Court officially overturns Roe v. Wade, abortion will instantly become illegal in 13 states and many other states might follow suit.
The landmark decision would see abortion banned in states that have so-called "trigger bans" that would go into effect if Roe is overturned.
Newsweek reached out to Schumer for comment.