Roger Goodell Net Worth Revealed: NFL Commissioner Gets Five-Year Contract Extension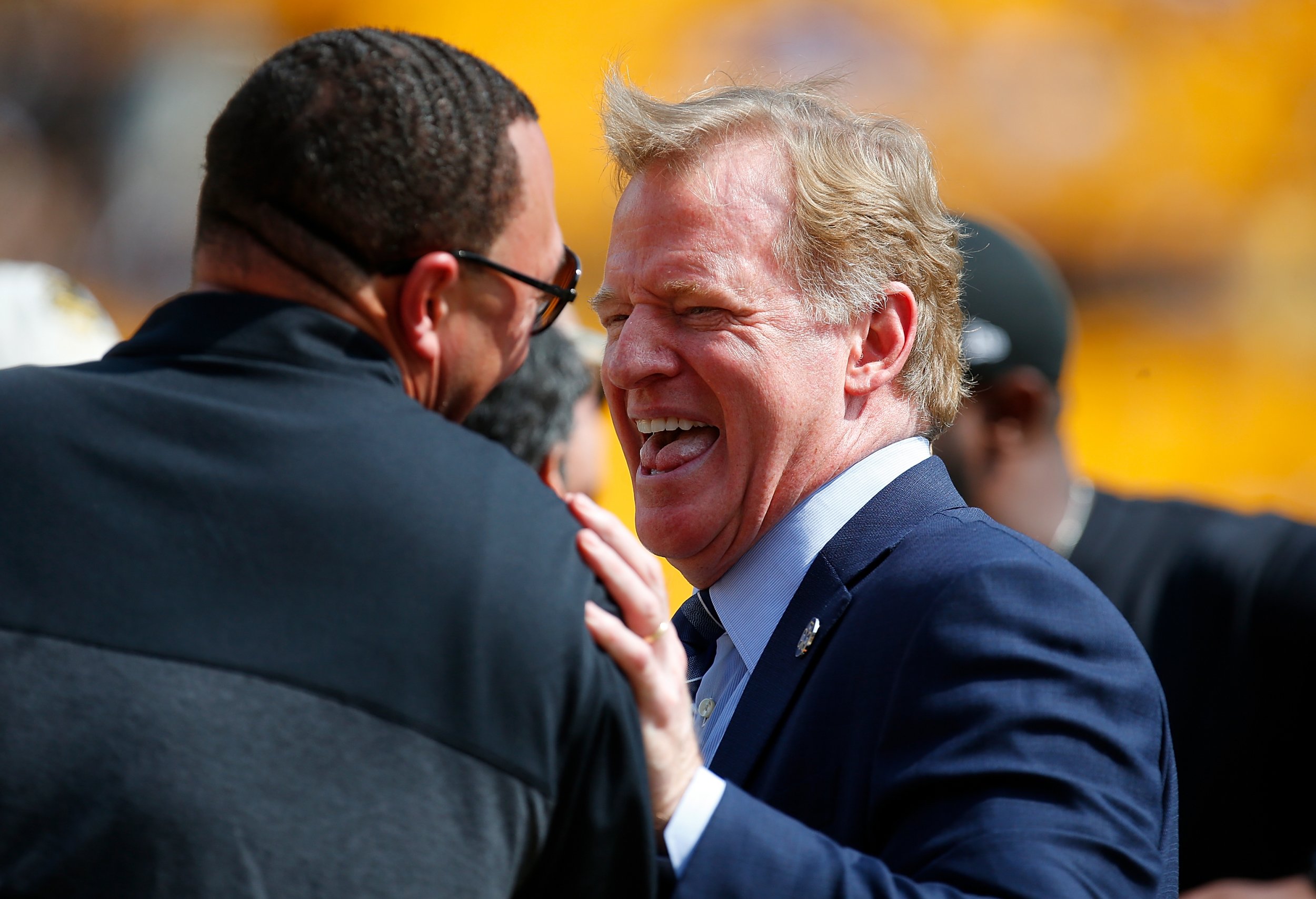 The very rich just got even richer.
Roger Goodell was given a five-year contract extension from NFL owners Wednesday, according to reports from FOX Business' Charles Gasparino and MMQB's Albert Breer.
The total contract, which takes effect in 2019, could be worth $200 million. But 90 percent of the payout is tied to the NFL hitting a variety of financial goals, the New York Times reported. Fox Business reported Goodell's guaranteed annual salary would be $3.5 million, with the incentives potentially pushing that figure as high as $50 million.
Goodell's current contract regularly paid him around $35 million to $40 million per year, more than most every player in the league. In other words, Goodell certainly isn't poor. Finance-focused sites The Richest and Motley Fool last year both estimated he was worth around $75 million.
That number will likely only grow. Amid contract negotiations between Goodell and the NFL owners' compensation committee, reports surfaced in recent weeks that the commissioner had demanded not only $50 million per year but also the lifetime use of a private jet and health care for his family for life.
But Dallas Cowboys owner Jerry Jones, arguably the NFL's most powerful mover and shaker, reportedly has a major beef with Goodell. It was reported that he worked to push the commissioner out because of Goodell's decision to suspend Dallas running back Ezekiel Elliot. Goodell was reportedly irate that the idea of a performance-based contract was floated his contract and insisted upon by Jones and others.
"He feels as if the owners have made a lot of money and he should be compensated accordingly," said an unnamed source who had talked to Goodell, according to a November ESPN report. "The incentives thing really angers him."
Goodell's tenure has, indeed, made owners a ton of money, largely through massive TV contracts. But the NFL has also been beset by myriad problems, including an ongoing concussion crisis and Goodell's repeated bungling of disciplinary issues such as the Tom Brady "Deflategate" saga or the domestic violence incident involving former Baltimore Raven Ray Rice.
Neither Goodell nor Jones got exactly what they might have wanted: The commissioner's contract is structured around incentives, and Jones will probably have to deal with Goodell for at least five more years. But the two can take solace knowing they'll both likely continue to fill their bank accounts all the same.