Roger Stone Considers Running for Senate in Florida Against Marco Rubio or Rick Scott
Roger Stone has suggested he is considering running for the Senate against Republican incumbent Marco Rubio or Rick Scott in the next Florida primaries.
The U.S. political consultant and close Donald Trump ally has been campaigning and pedalling claims of voter fraud during the 2020 presidential election after Joe Biden sailed to victory.
Now Stone has spoken about who he might run against in the Florida primaries for the Senate, which will take place on November 8, 2022.
In a post to the social media site Parler on Sunday—Stone shared a photo of himself making a speech at the "Stop the Steal" rally in Miami on Sunday.
In the background, a crowd member can be seen holding up a sign which reads: "Where is Marco?"—referring to the incumbent Republican Senator Marco Rubio who was presumably absent from the rally.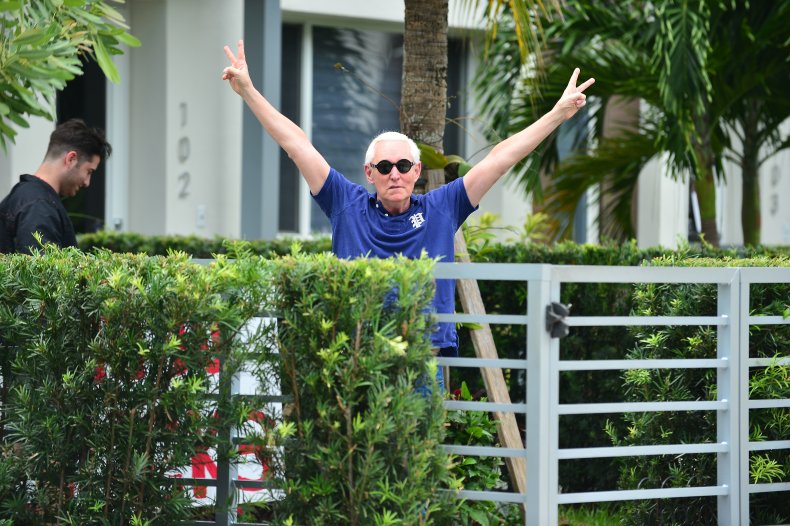 Stone wrote on Parler: "Where is Marco, indeed? A growing number of Florida Republicans are urging me to challenge Marco Rubio in the Republican primary."
Scott was CEO of Columbia/HCA in the 1990s when the Department of Justice launched an investigation into the possible fraud at the company. By 2002 they had fined it $1.7 billion for defrauded Medicare, Medicaid and other federal programs.
It comes after Stone joined self-described "proud Islamaphobe" Laura Loomer at the Stop the Steal rally by Freedom Tower in Miami on Sunday.
Demonstrators could be seen waving US and Venezuelan flags as they also chanted "Stop the steal."
Stone said: "We are here because we object to and we will not accept the heist of the 2020 election from the American people. Not only did this president battle his way back from the precipice in the face of phoney polls, in the face of a mainstream media digital-based mass censorship campaign like we have never seen in this country.
He added: "I am absolutely convinced that Donald J. Trump won the majority of the legal votes back."
Last November, Stone was found guilty on charges linked to an investigation led by Robert Mueller that found Russia tried to boost the Trump 2016 election campaign.
The political operative, who has a tattoo of President Richard Nixon on his back, was convicted on seven counts, including witness tampering and lying to investigators.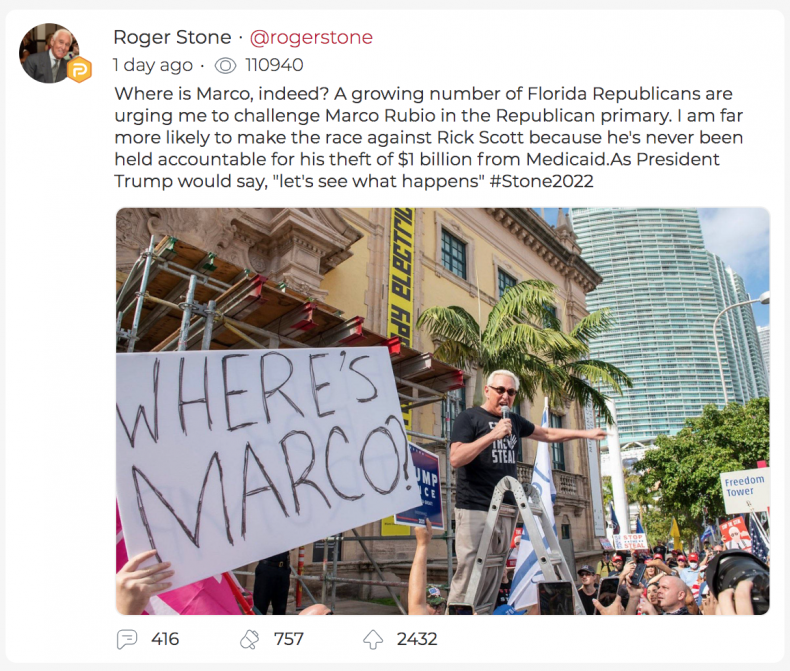 During the 2016 campaign, Stone had tried to obtain information from WikiLeaks regarding emails stolen by Russian agents from top Democrats and the Democratic National Committee. Additionally, he attempted to pressure a friend to corroborate his lies about his actions.
Trump frequently accused Mueller's investigation into alleged Russia collusion as being a "witch hunt," aimed to undermine his election victory over Hillary Clinton.
Stone was one of the more high-profile indictments that stemmed from the investigation. He was originally sentenced to between seven and nine years in jail after being convicted for obstruction, witness tampering and making false statements to Congress, before Barr himself intervened to help get it reduced to 40 months.
Trump commuted the sentence in July just days before Stone was due to report to prison.